KGA Crowns Fall Season Champions
Coach Wins on the Team Road Trip!
High Plains Amateur
Results -- Photo Gallery

The Southwestern College golf team likes to take a "pre-season" road trip to Southwestern
Kansas each year for the High Plains Amateur Championship held at the Golf Club at Southwind in Garden City.  The assistant coach and five team members enjoyed two days of mild weather conditions and a challenging set up to celebrate a championship win by one of the group – the coach!
Tim Jasper, now in his fourth year as the assistant golf coach for the Southwestern College Moundbuilders in Winfield, Kansas, played the difficult links at Southwind like a member familiar with all of the bumps, rolls and turns of the unique layout.   Despite an opening bogey and three more that followed, Jasper carded six birdies in his opening round of the 36 hole championship.   Three of those birdies were made consecutively starting at #12 when he was even par.   His final score of 2-under par 69 put him tied for the lead with Syler Tebo of Ellis, Kansas.  Tebo's round was highlighted by four consecutive birdies on the opening nine beginning at #2.
One stroke back at one-under par 70 was Kantapong Chaisiriwichian, a freshman member of the Dodge City Community College golf team and a native of Thailand.  Former High Plains Amateur champion Grant Vollertsen who is a member at Southwind shot an even par round of 71 putting himself in position for his second title.  The best performance by a golfer still in high school went to Grant Herrenbruck of Salina.  He shot an even par 71.  Lamar Carlile from Denver, Colorado made the most of his first High Plains appearance with a strong showing at 1-over par 72.    Also at 72 were Zac Burton of Manhattan and Thirawat Chantrakantaond, another freshman from Thailand on the Dodge City team.
In the Masters Division, KGA president Gary Lucas from Topeka, posted a four stroke lead with an even par round of 71.  An eagle on the par five #3 hole helped him shoot 2-under par
33 on the front nine.
The Senior Division was where all the birdies were made.  Kansas Senior Amateur champion Tim McKinnis of Lyons made six birdies and an eagle with no bogeys in route to what might have been an unsurmountable lead at 8-under par 63.  But Tracy Chamberlin of Wichita managed to make almost every birdie opportunity placed in front of him.  He posted a 7-under par 64 to stay within one stroke of  McKinnis.   Former High Plains senior champion Steve Newman of Wichita came in a 4-under par 67 and easily within range of the two leaders.
Jasper changed his approach for the final round by getting his birdies early and building a cushion while his nearest rivals were struggling with the opening holes.  On another mild day, the 25-year-old Jasper birdied the opening par four and then birdied #3 and #5, both par fives, to build a lead of six stroke lead over Tebo and three stroke lead over Chaisiriwichian at the turn.    Carlile was also fading with his one-over par 36 on the front nine.
The back nine at Southwind is what makes this event interesting and competitive.  Every hole is a potential double bogey or higher, but the player that can keep drives in the fairway under typical windy conditions will usually find a way to the top of the leaderboard.
Jasper did not make another birdie on the back nine and managed to negotiate the tricky par five #15 and par four #17 with bogeys and posted a closing 38 for a total of even par 71.   His total of 2-under par 140 was the only player to finish under par for the championship.  Carlile had the most impressive back nine performance with one birdie and bogey each for an even par 36 to bring him in at 1-over par 72 and total of 2-over par 144 and the runner-up finish.    Third place went to Chaisiriwichian who struggled with a closing nine of 4-over par 40 which put him in at 75 and a total of 145 for the two days.
Gary Lucas shot a 2-under par 33 front nine on Sunday and then coasted to a 2-over par 73 for a 144 total to take the Masters Division title by six strokes over Lee Barrett of Garden City.
The Senior Division was a shootout between McKinnis and Chamberlin.   On the strength of three birdies over the opening eight holes, McKinnis built his overnight one stroke lead to four strokes, but then Chamberlin made a birdie at the par three #9 hole to get within three strokes.  Chamberlin might have thought it was all over after an untimely bogey at the par five #10 hole when McKinnis built his lead back to four strokes with a par.   But amazingly McKinnis bogeyed the next four holes while Chamberlin made a birdie at #11 and parred the next three holes to take a one stroke lead over McKinnis with only four holes to play.
McKinnis got off his bogey train at #15 with a birdie, a hole where most of the field found even a par elusive.   Chamberlin did manage a par at #15 so the two were tied with three to play.  McKinnis then ran off three straight pars.  The difference was a Chamberlin bogey at the par four #17 hole.   Both golfers finished the day at even par 71 giving McKinnis the one stroke win for the Senior Division at  8-under par 134.
No doubt the Moundbuilders from Southwestern College have the 2016 High Plains Amateur already on the calendar for next year's "pre-season" road trip to see if they can beat the coach!
Wichita Country Club Wins Its First Kansas Cup
Joe Cassell, Wichita Country Club member and captain of the club's Kansas Cup team, struggled over recent years to field a competitive team for the annual
statewide competition for KGA member clubs.  But he kept after his goal to build a good, representative team.  Last year WCC came close but they narrowly missed the finals.  But like any savvy coach or team manager, Cassell found the right combinations for the Wichita Country Club Kansas Cup team in 2015.  His persistence paid off in September when his WCC Kansas Cup squad travelled to Eagle Bend Golf Course in Lawrence for the final two rounds of the Kansas Cup.
Wichita CC faced cross-town rivals in Reflection Ridge GC in the first semifinal round while Colbert Hills was matched up against Firekeeper in the other semifinal at the neutral site.
Colbert Hills, a frequent participant in the Kansas Cup final two rounds, lost to Firekeeper 5 ½  to 3 ½ again denying the Manhattan team a trip to the finals.  Firekeeper knew it would face a team from Wichita, but it took some late heroics to identify their opponent in the finals.
Wichita CC and Reflection Ridge played out their 9 matches in various formats to 4 wins each leaving only the Senior singles match on the golf course.  That match would decide whether a sudden death play-off would be needed if that match point ended all square, splitting the remaining point, or which team would advance to the finals outright.
Reflection Ridge had a seasoned competitor in its senior singles match with Tracy Chamberlin who has several KGA team and individual champion trophies in his possession. 
Rolf Gunderson was the Wichita CC senior singles player.  While a good player with a low handicap, Gunderson has little KGA competitive experience.  His "sharp pencil" golf is limited to club events.
Captain Cassell knew something about Gunderson.  He would not be intimidated and he would welcome the challenge of playing one of the state's best senior amateur golfers.  The two toured the links at Eagle Bend trading hole wins but by the time the two stood on the 18th tee their match was all square.   With their 15 teammates watching, the Chamberlin/Gunderson match would decide which team advanced to the Saturday morning finals.
Both Chamberlin and Gunderson managed to get their ball onto the putting green after two strokes on the difficult par four final hole.  Gunderson was away and putted first.  If he felt any pressure, it didn't show.  Gunderson made the perfect stroke sending the ball on its 30-foot curving path to the bottom of the cup!  The sound of the celebration could be heard at the scoreboard where KGA officials were plotting a play-off.   Chamberlin could not match the birdie by Gunderson, so Wichita CC took the final point to secure the team win 5 to 4, averting the need for a play-off.
Captain Cassell made some needed substitutions for the finals against Firekeeper as both clubs played in their first Kansas Cup final match.
Firekeeper claimed some important early match points including one by Matt Ewald, 2009 Kansas Amateur champion, shooting a 7-under par 29 on the front nine on his own ball in the Net Open Four-Ball match for an eventual point.  Wichita CC took the Professional/Amateur Four-Ball point.  By the time the Open/Senior Mixed Four-Ball match reached the 18th tee, Wichita CC had posted five points on the board to secure the Kansas Cup title.  The final result was Wichita CC 5, Firekeeper 4.
Congratulations to Wichita Country Club on winning its first Kansas Cup title!
KGA Senior Series Championship
Kansas Senior Teams Qualified for Upcoming Battle with Missouri
Results -- Photo Gallery

KGA Senior Series Commissioner Dick Kendrick is ready to turn the tide against Missouri in the annual Ozark Senior Challenge and Association Senior Cup.  Missouri seniors have been
dominating Kansas senior teams in these two goodwill matches for several years.  While always competitive, the Kansas teams have not been able to get the final edge for a victory.
After September's KGA Senior Series Championship at Falcon Lakes, Commissioner Kendrick is confident he has a team that can return one or both of these travelling trophies to the Sunflower State.
Wichita's Tracy Chamberlin found himself tied for the individual honors with John Bailey at one-under par 141.  Bailey, a Nashville, TN resident with Kansas ties and affinity for KGA events, tried to deny Chamberlin a defense of the individual title in a sudden death play-off.  But Chamberlin's easy birdie on the reachable par five #1 hole was all that was needed to get him the repeat title.
Chamberlin and Bailey will lead a Kansas Ozark Senior squad completed by Bob Hartmann (Shawnee), Tim Tyner (Council Grove), Pete Robbins (Olathe), Mark Worthey (Kansas City), Randy Vautravers (Andover) and Brad Swanson (Winfield).  The four net players for Team Kansas will be Matt Rose (Shawnee), Jay Warren (Garden City), Jerry Kruger (Topeka) and Calvin Clough (Wichita).
Bill Quattlebaum of Wichita was more than his usual steady self over two rounds by posting an even par 72 round followed by an impressive 5-under 67 for a total of 139.   His second round was highlighted by four consecutive birdies on the back nine at Falcon Lakes.
The "super senior" Kansas team for the Association Senior Cup will include Quattlebaum with Doug Kaup (Phillipsburg), Richard Landon (Olathe) and Bill McDonald (Topeka). The net players will be Richard Markley (Cleveland, MO) and Jim Lodes (Lenexa).
The jointly conducted Ozark Senior Challenge and Association Senior Cup will be played at Topeka Country Club, October 14th and 15th.
Winkler Wins!
KGA Mid-Amateur Championship
Results -- Photo Gallery

For two days in early October at Milburn Golf and Country Club in Overland Park during the Mid-Am Stroke Play Championship the frequently asked question was "who is that guy"?  A
newcomer in the midst of a veteran field of just under a hundred competitors caught a lot of attention with his consistent play.  The new face and big smile belongs to Michael Winkler.
In his first KGA championship, Winkler, a 34 year-old public course player from Overland Park, posted a 2-under par 142 for a one-stroke margin over Bradley Lane of Lawrence.  All the more impressive was Winkler's late season win over Lane, the runaway winner of the KGA's 2015 Mid-Amateur Player-of-the-Year award.  Both Winkler and Lane shot a second round 3-under par 69, the lowest score by any player in either round.  But the difference between the two came in the first round when Winkler posted a 1-over par 73 to better Lane by that needed one-stroke margin.
Playing in different pairing groups but within sight of each other, it was apparent that both were moving through the difficult Milburn course with its treacherous, hard and fast putting greens with the intent to break away from the field.  Both Winkler and Lane made three birdies on the front nine.  Winkler got his in a four hole stretch beginning at the sixth hole, a difficult par five.   Lane posted his three birdies on all of the front nine par five holes.  The birdie on #8 was a result of a greenside bunker blast that lipped out of the hole for what would have been an eagle.
Lane got within one stroke of Winkler with a birdie at the par four #10 hole, but gave that back with a three-putt bogey at #11.   Winkler cruised through the string of par four holes,
#9 through #14, with nothing but pars and then built an apparently comfortable lead of two strokes by holing a two-footer for a birdie at the short par three #15 hole, a hole that Lane could not birdie from 12 feet above the hole.
With only #18 yet to play, Winkler had a two stroke lead over Lane who had just finished at one-under par 141.  Winkler's final drive found the left rough and a difficult lie near a tree root.  His approach still managed to find the putting green surface, but a rare three-putt followed for his first bogey in the last 24 holes.   No matter – it was a win for Winkler.
Chances are that Kansas mid-amateurs may see more of Michael Winkler in the future.  The father of four, ages 8 years to 8 months says he has to get and keep his kids interested in golf so he has more time to play and practice.  The University of Oklahoma law school grad moved his family to the KC area a few years ago to work with a large law firm and is now an in-house counsel for Kansas City-based H&R Bloch.
Other notable performances were given by Tim McKinnis , who won the Kansas Senior Amateur in August, and top senior Steve Groom.  They tied for top honors in the senior division at 2-over par 146 and a tie for fourth overall.   First round leader Brad Pfaltzgraff of Kansas City, KS shot the only score under par on day one.  His 1-under par 71 got him into the final group for round two but a slow start ruined his chances for a top ten finish.


Kansas Aces Worth Noting
What are the odds that two players in the same group would make back-to-back holes-
in-one?  Might depend on the length of the hole and the skills of the two golfers, but still it would have to be a rare event.  But how about the odds of those two golfers being related – say, a father and a son?
Former KGA intern Keaton Hilst, a native of Hutchinson now living and working in Kansas City, was home for a family visit last month.  His dad, Kent, invited Keaton and his brother for a golf outing at nearby Cottonwood Hills Golf Club.  The three were joined by wife and mom, Debbie, who operated the video camera just for fun.
What she did not know was she would capture the "viral" footage of Keaton and Kent filling up the cup on the par three #4 hole in back-to-back swings.   You can see the amazing footage at www.kwch.com/news/local-news/hutchinson-father-and-son-hit-holesinone/35027134.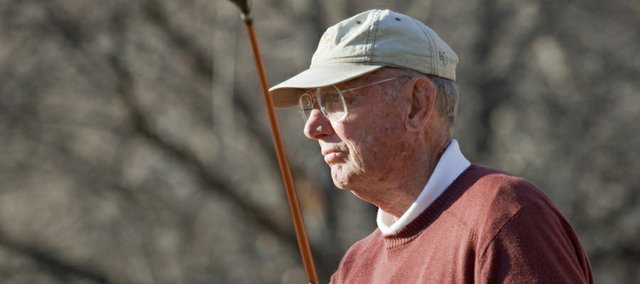 Did they split the bar tab?
Past KGA President and Kansas Golf Hall of Fame member Jerry Waugh of Lawrence, how 88 years old, was playing his home course at Alvamar Country Club last week with some of his usual companions on his way to again shooting his age or better.
On Alvamar Country Club's 8th hole Waugh made his 8th career hole-in-one.  Oh – and don't forget – Jerry is 88 years-old!  Did he hit an 8 iron?
Herrenbruck Likes The Beach!
Salina junior golfer Grant Herrenbruck had a great season this year finishing second on the
KGA's Junior Player-of-the-Year points list by less than 25 points to winner Blake Allen.  If the KGA offered points for the First Tee's national championship event at Pebble Beach (yes, the one on the Monterey Peninsula!), Grant might have been the 2016 KGA Jr. POY!  You see, Grant finished 8th in a national field of juniors who played alongside some of the game's biggest senior names on the Champions Tour.  Read all about it at http://www.pgatour.com/champions/tournaments/nature-valley-first-tee-open-at-pebble-beach/leaderboard-juniors.html.
Congratulations, Grant!