All types of balls, including golf balls, are dogs' favorite toys because they can easily be chased and held in a dog's mouth. Dogs love fetching and returning, rolling around, and even chewing the ball.
Such behaviors are very normal for dogs of any breed since they have the innated habits of chasing things as an act of hunting and chewing objects to keep their teeth strong and clean.
However, is it fine to let your pet play with golf balls? Are golf balls safe for your dogs? What to do if the dog gets choked by golf balls? How to avoid such accidents? Let's explore this article!
>> See also: Can a Golf Ball Kill You? How to Stay Safe in a Golf Game
Are Golf Balls Safe for Dogs?
It's hard to answer yes or no absolutely, because it also depends on how your dog plays with the ball, but the chance that unexpected cases happen is great.
It's totally safe if your dog only chases, rolls or fetches using legs. However, most dogs use their mouth to pick, bring and even chew the golf ball while playing, which may cause accidents like choking or some long-term health damage.
Check out the following explanation to see what may happen if you let your dog play with a golf ball!
1. Choking Hazard
Among several types of balls, golf balls are the top dangerous ones as they have slippery outer coats.
The common ball game for dogs is probably fetching, in which you throw the ball in the air so that your dog can catch and bring it back. This can make the ball wedge into the dog's throat when they jump up to catch the ball with their mouth widely opened.
Even if your dogs pick up the golf ball after it lands on the ground, choking can happen on the way dogs bring the ball back, holding the ball in their mouth.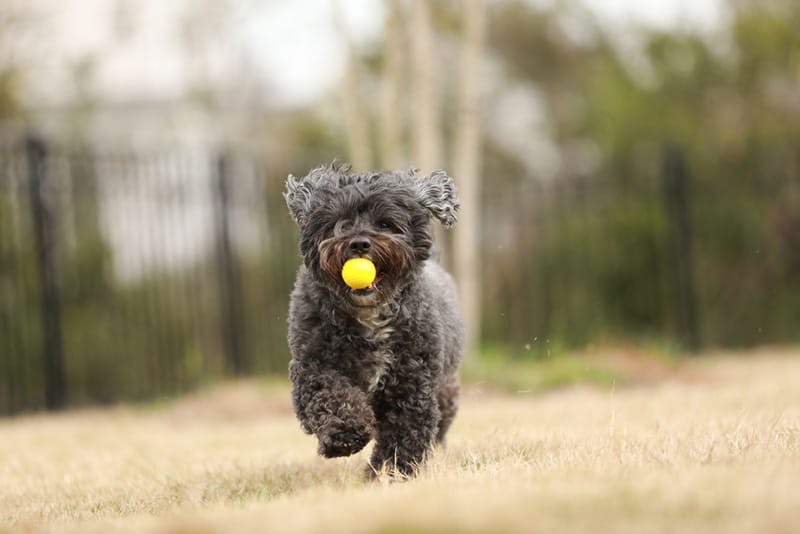 Such accidents are particularly a great threat for medium and large dogs because golf balls are small enough to get lodged into these dogs' windpipes.
For small dogs, it's unlikely that they get choked by the whole golf ball. However, they may suffer from other health problems.
2. Health Damage
Regardless of their size, dogs can suffer from other hazards outside choking, leading to health damage in the long term.
Toxins
Materials used to make golf balls are synthetic and originated from chemicals like polyurethane, polybutadiene, zinc acrylate or zinc oxide.
These chemicals are toxic for dogs, especially zinc acrylate or zinc oxide inside the liquid core golf ball. Therefore, golf balls can impact the dog's health if swallowed, and the situation may be more serious if the dog can peel out the ball's coat.
In fact, the toxins inside golf balls are not deadly, but long-term exposure may cause severe disease and health damage. Additionally, they may also lead to allergic reactions in dogs, which is dangerous in the absence of instant aid.
Dog's teeth
Do you think that chewing things makes dogs' teeth stronger? That's true, but not with a golf ball. Instead of doing good for a dog's teeth, chewing golf balls can cause oral damage.
Particularly, golf ball materials contain fiberglass, which acts like sandpaper that causes abrasive impact to the surface of teeth. Therefore, if your dog swallows golf balls regularly, it's likely that they would have their teeth worn down at old age.
Esophagus and Intestines
As the dog keeps gnawing on the golf ball, they may chip off some pieces. It's even more likely to happen if the golf ball is old or has cracks.
Particularly, the piece may be quite hard or sharp in some cases, thus hurting the esophagus of dogs, causing discomfort and difficulties in digesting food.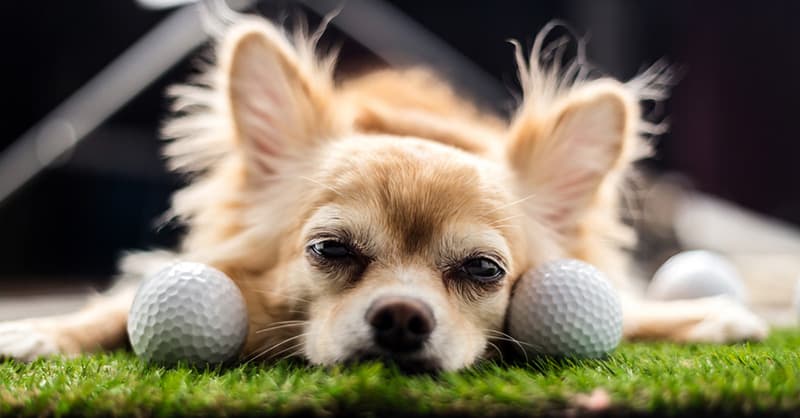 Besides, some large pieces may get stuck in the intestines, which may cause blockage. The risk is higher for small dogs, as their digestive system is not big enough for the piece to pass through.
It's quite difficult to realize and thus may threaten the dog's life. Therefore, you should keep an eye on your dog when it plays with golf balls and seek professional help as soon as possible if you find any weird behaviors or attitudes.
What to Do if a Dog Chokes on a Ball?
When playing with a golf ball, many problems can happen to your dog, but choking is the highest risk, especially if you have a medium or large dog.
If you are worried about that, check out the following explanation to understand more about choking signs and what to do if your dog chokes on a golf ball!
1. Choking Signs
Dogs explore the world with their mouth, so you may often see a dog chewing inedible things and getting choked. It's not rare for a dog to choke on something, and in most cases, they can vomit or swallow the object.
However, sometimes your dogs may not manage to get through golf ball choking. Therefore, you should understand the choking signs to react immediately when needed.
Here are some common and noticeable signs of choking. You should pay attention to your dogs and see if they have any of the following symptoms for timely action:
| | |
| --- | --- |
| Signs | Seriousness |
| Gasping for breath | Emergent, need immediate medical care |
| Pawing at/rubbing mouth & shaking head | Normal, something is stuck in the mouth but not the windpipe |
| Retching, coughing or gagging | Normal, easy to mistake with symptoms of cold & other diseases |
| Weakness, distress, refusal to eat, lethargy, insomnia, distended abdomen and inability to defecate, etc. | Serious, need medical care as soon as possible |
You can also refer to this video for additional information on choking signs in dogs!
2. What to Do?
Once you have confirmed that your dog is choking on a golf ball, try to know how serious the situation is.
If it's not an emergency, try to open your dog's mouth and see if you can take the golf ball out. If it's impossible or your dog is getting more serious, you are recommended to look for professional help from a vet or people with experience and qualification.
However, in case immediate aid is unavailable, you can try the following methods to lengthen the time before seeking medical care.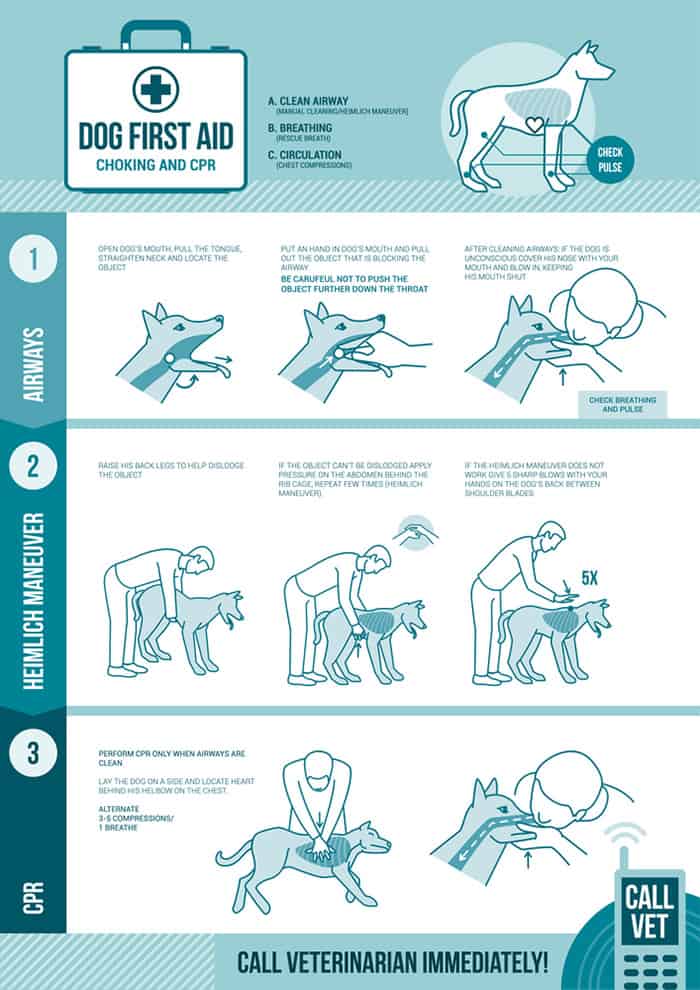 Dislodge
It can be successful if the situation is not really bad, and you can try as a first aid before veterinary care.
For small breeds, lift and hold the dog with its head pointing down to the ground to dislodge. For large breeds that you can't raise the whole body, lift their rear legs to make the head down and dislodge.
You can dislodge by firmly pressing underneath the jaw with both thumbs, preferably at the base of the throat, then pushing forwards until the ball is out.
Another method to dislodge is to hit sharply between the shoulder blades using your hand's palm.
If all those dislodging methods are not helpful, try Heimlich Maneuver or find a professional to take care of your dog.
Heimlich maneuver
Another first aid that you can try at home is Heimlich Maneuver. It's helpful if your dog is losing breath and can't wait for medical care. Follow the below steps to carry out:
Stand (large dogs) or kneel down (small dogs) behind the dogs.
Grasp around the dog's waist, your fist is placed on his abdomen, just below the ribs with your thumb side up.
Squeeze the dog's backbone upwards and downwards, or compress the belly a few times. It would help if you used enough force to move your dog's whole body and may put the other hand behind the dog's back to keep him steady.
Check the dog's mouth, if the object has not come out, give a hard and fast jerk 3-4 times. In case it doesn't help, bring your dog to the veterinary hospital immediately.
To understand more thoroughly on how to carry on the method, watch this video!
How to Avoid Golf Balls Choking for Your Dogs?
No matter how professional you are in caring for dogs, prevention is better than treatment. So, it's better to keep the chance of your dog choking on a golf ball at the lowest.
Have a look and see how to avoid your dogs choking on golf balls simply!
1. Hide Your Golf Balls
It's really simple! Because your dogs will never stop chewing and swallowing things like golf balls, the best way is to hide such objects out of the dog's reach.
Keep golf balls and other items that may cause choking in a secret place and never let your dog see where you hide those things.
If they still see and manage to find the ball, change to another secret place higher than their reach. You can also put golf balls in containers or storage that dogs can't open.
2. Be Well-Prepared
No matter how careful you are, unexpected things can always happen. Therefore, prepare yourself with enough knowledge and understanding to react well and know what to do in an emergency.
Besides risks for your dog, golf balls may also cause other troubles to yourself and surrounding people. Therefore, you should keep researching and learning more about how golf balls are made or how fast a golf ball travels here.
3. Watch Your Dog
As your dog never stops exploring the world with its mouth, you can keep an eye on your pet to prevent him from swallowing strange things.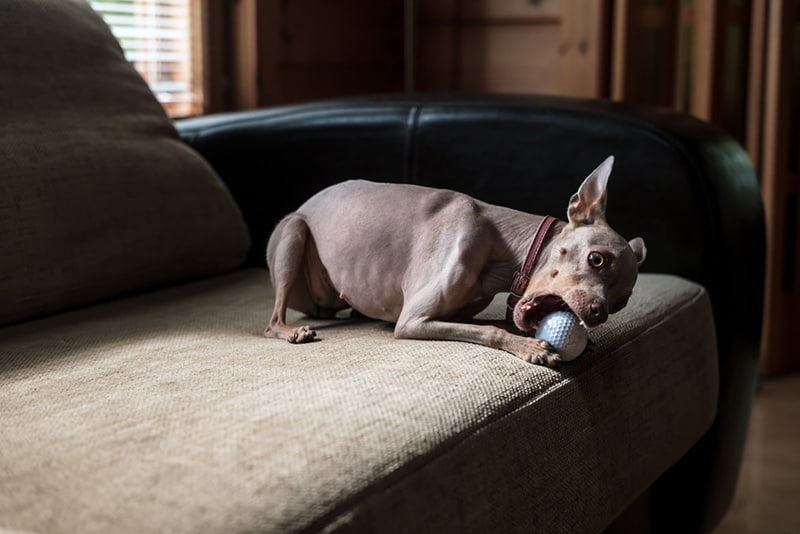 If you let your pet play with inedible things or see him with a strange object, it's better to punish him so he may know that's not good. Also, pay attention to your dog after that to spot any strange signs for timely action.
4. Find Alternative Toys
Of course, if you stop your dog from playing with golf balls, you may need to spend more time with him or find other toys as an alternative.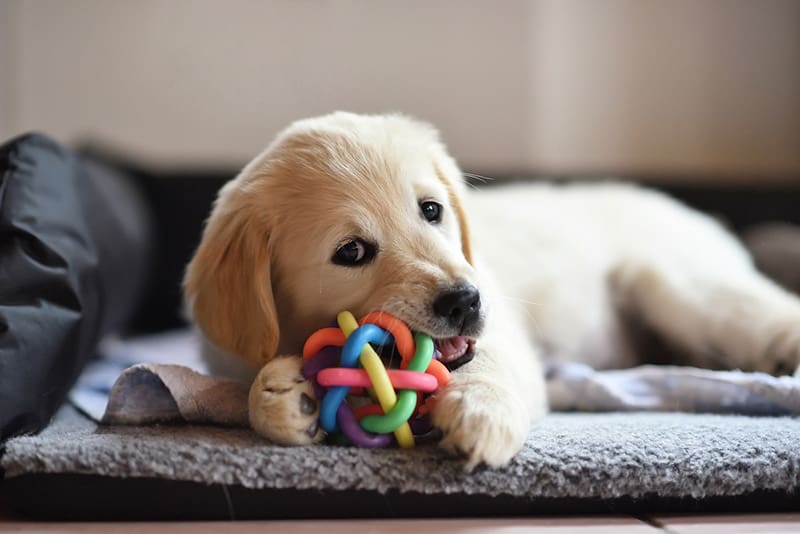 When choosing toys, you should also check out the following criteria:
Choose pet-safe and child-safe toys for your dog.
Check out if the toys are sturdy, firm and sewn closely enough.
Avoid toys with accessories or other small parts that can be torn off easily.
Avoid too small toys (preferably bigger than golf balls).
Toys without any crack or damage.
Edible toys or those can't be swallowed.
Toys without sharp parts.
In fact, there is nothing that is 100% safe for your dog, because all manufactured items in daily life are made from synthetic materials and may contain toxins. Therefore, you must pay attention to the components to make sure that it's safe for dogs.
You can also consider making DIY dog toys if you have a clever hand. Have a look at some ideas in the video below!
FAQs
Knowledge has no limit and once you get to know one thing, you may be curious and desire to know more.
If you still have interest in this topic, have a look at the following questions to see if they can provide any interesting information!
Can a Dog Pass a Golf Ball?
The answer is no. If the dog swallows something inedible and indigestible, it will stay in their stomach and cause vomiting, even leaching out some toxins.
The situation will become an emergency when the gastric contraction happens, forcing the golf ball into the intestine and causing it to become stuck.
What Balls Are Safe for Dogs?
It's hard to tell which is safe, because everything may have hidden risks that we have never known. However, we can still have some alternative options instead of golf balls, such as big balls (for soccer, volleyball, etc.), soft frisbees or hard rubber toys.
Can I Call 911 if My Dog Is Choking?
The answer is no, because 911 is only for human emergencies. If your dog is in an emergency, you should not waste time calling 911. Instead, try to carry out first aid properly and contact a vet.
Conclusion
As you are still here, I believe that you have obtained some knowledge to answer "are golf balls safe for dogs?"! However, that's not all about the issue so I recommend you to research more for further understanding if you have additional questions.
Also, try sharing this with your friend and discuss with them for greater realization! I hope that what I've just explained is helpful and it's my pleasure to have your interest in other articles as well!
Thanks for reading!