Why do oversize golf grips improve your game? When should you use these facilities? If you need to know about this to change your results, you are in the right place.
When watching tournaments, you can easily see the oversize golf grips on the screen. Bryson DeChambeau and K.J.Choi succeed with these kinds of facilities. There must be some reasons why they choose to use these instead of the standard or fitted grips.
If you want to know the benefits of oversize golf grips, you are in the right place. I will use my experience and knowledge to tell you the advantages of these and show you how to choose and when to use them.
>> See also: What Is a Strong Golf Grip? Benefits, Tips, and Everything You Need to Know
The 4 Benefits of Oversize Golf Grips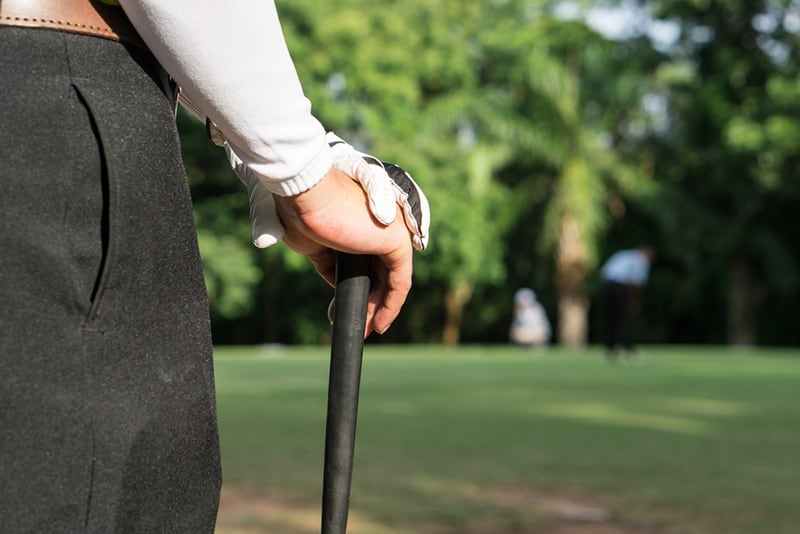 There are more and more players who use oversize golf grips. Not only the seasonal golfers, some pros like to use these. There are many benefits of a larger grip that you can immediately feel. Let me summarize for you the major advantages below.
1. Pain Relief
The first good impression that all large golf grips can provide is pain relief. If you have large hands with arthritis that causes pain while swinging, you need to consider changing your grips to a bigger size.
A midsize or jumbo golf grip has more rubber area than a thin or standard one. This design helps the grips absorb more shock at impact and then reduce the tension on your limbs. Your hand or wrist arthritis can improve after using the large golf grips.
Because of the miracle in pain relief, many seniors use jumbo grip sizes for years. But for now, I see many younger golfers use these too. It does not mean arthritis patients are younger. It means we need the comfort to come sooner.
2. Enhancing Control
Controlling facilities is the essential thing that all kinds of golfers need to learn by heart. A good golf grip can help you more than reduce the pain in your arm and wrist. It can bring the accuracy you need to help you control your game better.
Besides, a large grip can provide more adhesion; your club is not easy to slip. Therefore, you can swing freely without worrying about anything. Comfortability and confidence come at the same time and can change your result and help you build your skill easily.
3. Correcting Trajectory
One of the reasons why golfers create a slice or hook is choosing the wrong club. And the part that we need to pay attention to the most is the golf grip. If it is worn out or not fitted to your hand, your ball trajectory can get affected.
When you grab your club tight enough, your swing improves, and so does your ball flight. Besides, a heavier grip can help you adjust your direction better than a lighter one. After many years of playing sports, I assume it is true for many games, including golf.
4. Adding Power for Distance
If you read my article about how far a beginner should hit a golf ball, you can understand the importance of a golf grip in gaining distance. A good grip can bring you the perfect preparation for a better swing.
When you can remove the excess pressure on your upper body limbs, you can reach another level of swing speed and ball control. The more force you put on your grip, the more chances it can transfer into the distance. Therefore, you can hit the ball further.
>> See also: 12 Best Golf Balls for Distance in 2023
What Size of Golf Grips Do You Need?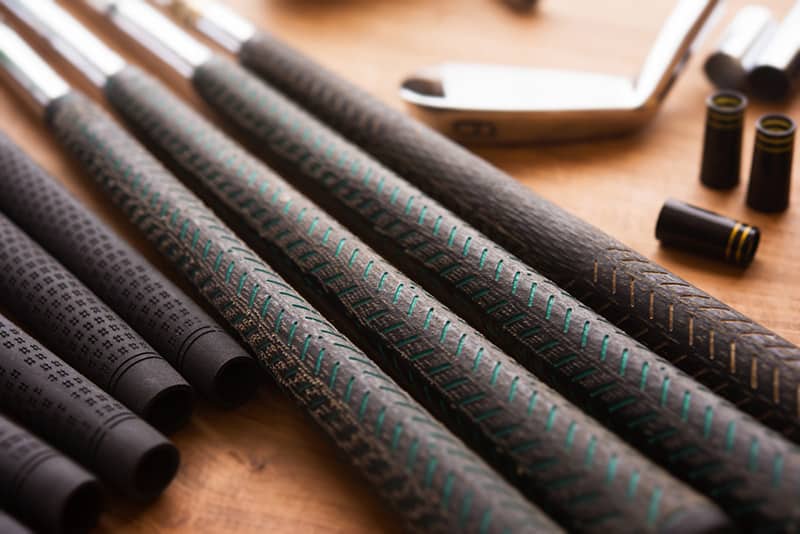 I agree with my friends about the benefits of oversize golf grips. However, after realizing that, I bet you need an explanation about how you choose your matching size. Let me tell you in detail below.
According to the Golfweek e-magazine, you can base on the grip size to know which one is better for you. I gather information and indexes in the table down there for you to see easier.
| | |
| --- | --- |
| Golf Grip Size | Hand Measure (from wrist crease to tip of middle finger) (inches) |
| Standard | 7 – 8.75 |
| Midsize | 8.25 – 9.25 |
| Jumbo/Oversize | >9.25 |
Besides, you can use the glove size to choose a perfect golf grip. If your glove size is S for men or M/S for women, you should consider using undersized grips. If your glove is XL, you are better off using the midsize and oversize one.
An L/M glove size in men and L in women usually requires a standard grip. You can move from the normal grip size to the jumbo one if your hand is larger or you are suffering from arthritis.
For more information about choosing the correct size of the golf grip, you can see the video below:
When Do You Use an Oversized Golf Grip?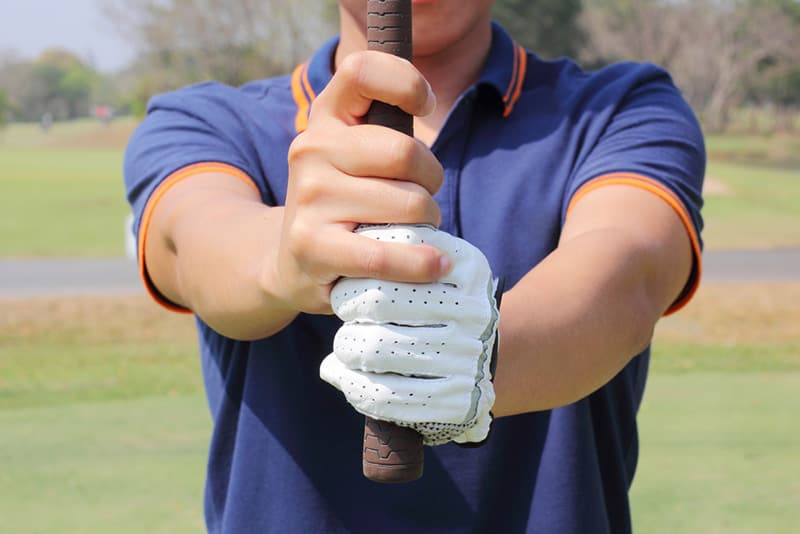 As I said from the beginning, oversize golf grips have become more and more popular, but it is not for everyone. Let's roll on and find out when you need to use these trendy kinds of facilities.
1. Arthritis
Players with arthritis always want to reduce the pressure on their hands. A small grip needs to be held tightly. Only a larger one can give them the comfortability they need.
The convenience that a good grip brings can deliver a better result for your game and even your confidence in you on the green. If you have trouble with your hand, remember to consider changing your grip or using tape or rope to have extra size.
2. Shot Shaping
Shape your shot or correct your ball trajectory are the same. If you tend to create more hooks and slices, you need to upgrade your grip size.
>> Read on: 8 Best Golf Ball for Slice in 2023
A small shaft with a thin grip affects your shot a lot. You have to grab your hands tighter, and then you may find it is harder to avoid wayward shots. However, using a wrong big grip could lead to hooks if your hands are not large enough to hold and control the club.
3. Large Hands
Tall players are those who have larger hands than normal people. Therefore, they need to use special facilities. A jumbo grip size prevents slipping when swinging and adds more confidence for golfers who use it.
A good golf grip that matches your hand size is the key factor that leads to a game-changer.
FAQs
After reading my information and the indexes above, I bet you have many things that need to be explained. Therefore, I choose the most frequently asked questions and answer them below. I hope you can find what you need below.
Do Any Golf Pros Use Oversize Grips?
Yes, they do. Pros like Bryson DeChambeau or K.J.Choi are those who use jumbo grips in their tournaments.
Does Grip Size Affect Golf Swing?
Yes, it does. The grip size decides the way you swing, strike, etc. I assume it affects your overall performance because it is the only part that connects your body to your club.
What Is the Difference between Oversize and Jumbo Golf Grips?
A jumbo golf grip is larger and heavier than an oversize grip. A jumbo size can weigh 70 grams and has more than nine-inches-hand measure. In comparison, a large grip weighs 36 grams and has an eight-inches-hand measure.
Final Thoughts
If you are curious about why oversize golf grips can improve your game, you may not want to miss my article. I gave you all the information and indexes that come from my knowledge and experiences in golf.
Do you agree or disagree with me? Do you have any ideas about the reasons why an oversize grip can change your game? Please share your thoughts with me by commenting below. And remember to share my article with other friends and discuss it.
Thanks for reading!
Related articles: