What is a strong golf grip? How many types of grips do golfers need to know? How to know which one is good for you? If you are a newbie and on the way to finding out how to grab your shaft properly, you will ask yourself all these questions.
In golf, how you hold your club is essential. Everybody goes outside and grabs their tools to make the ball to the target. However, not all of them can make a good shot, and the biggest reason to blame is their unsuitable grips.
If you spend time trying to find what a strong golf grip is, you may get lost on the internet and not have the satisfaction. Don't worry. I am here to help. After golfing for years, I know all types of grips, and I can share my knowledge with you.
>> See also: Why Oversize Golf Grips Improve Your Game?
Key Takeaways:
A strong golf grip refers to the position of the hands on the club, with the V-shape created by the thumb and forefinger pointing towards the right of the golfer's head for right-handed players, or the opposite side for left-handed players.
Benefits of a strong grip include solid shots, decreased slicing, and better control of the backswing. However, it may also cause hook shots if not combined with proper body rotation.
To achieve a strong grip, practice and, if needed, seek guidance from an experienced golfer or coach.
There are three types of golf grips: strong, neutral, and weak. The choice of grip depends on the golfer's preference and the issues they want to solve in their game.
Some professional players who use a strong grip include Dustin Johnson, Zach Johnson, Bubba Watson, Fred Couples, and Paul Azinger.
Tiger Woods used a strong grip early in his career but has since shifted to a neutral grip.
A weak golf grip can cause slices, but it is not the main reason for slicing. Golfers should also work on their swing path and grip to improve their game.
What Is a Strong Golf Grip?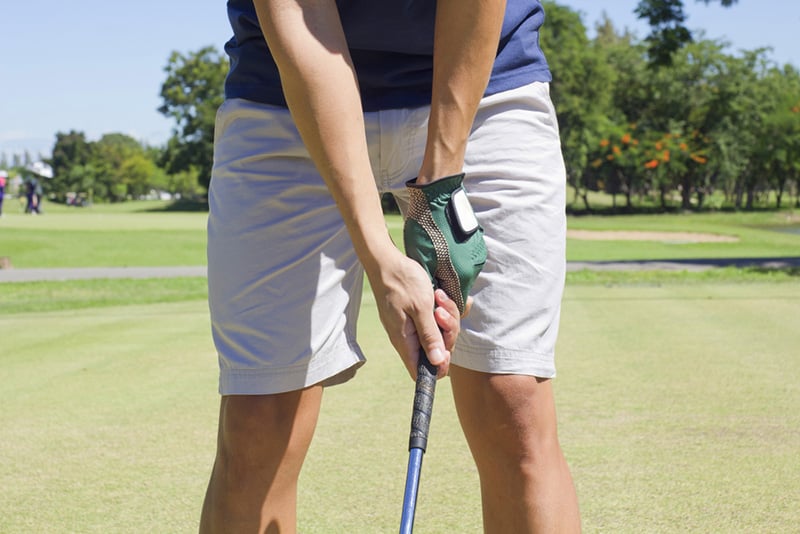 When you play, have you ever heard someone say: "Your grip is too strong"? Do you immediately think about loosening your hands? The funny part here is your friend does not want you to do it; he implies the positions of your hands on the club.
It is hard to measure how many Newtons you put on your shaft to define a strong grip. Therefore, the coaches find another way easier to show what type of grip you are. It depends on the direction of the "V" shape created by your thumb and forefinger.
However, only some of the V shapes are counted. If you prefer your left hand, notice the shape on your right and vice versa.
According to golf.com, a grip is considered strong when the V shape points toward the right of your head. If you are a left-handed golfer, it points to the opposite side.
Moreover, some players have other definitions of a strong grip. Some notice the direction of the thumb. If this finger turns away from the target, your grip is definitely strong. Some count the number of knuckles you can see. But among all, the V shape is more popular.
Benefits of a Strong Grip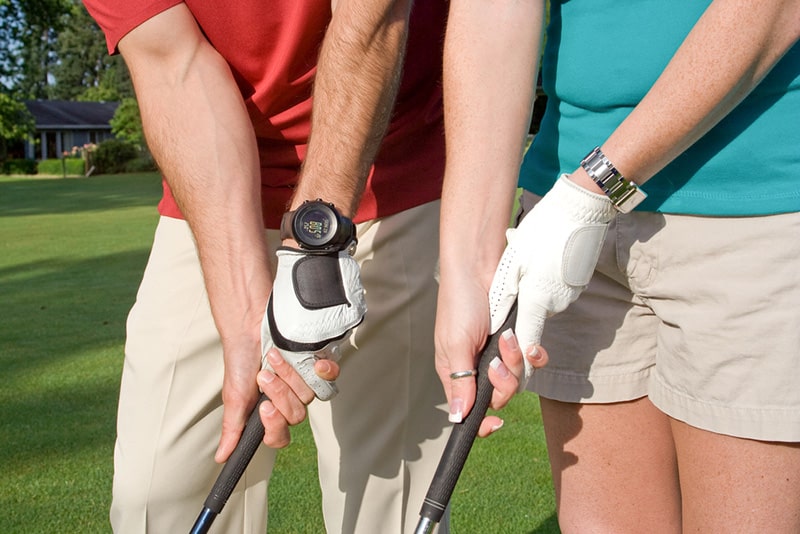 After understanding the definition of a strong golf grip, I assume it is when we discuss what benefits this kind of grip can bring.
The first thing is you can get solid shots and avoid slicing. Keeping a closed clubface with a strong grip can make a ball fly longer. If you tend to hit it to the right and are struggling with slices, it is better to keep the V shape in your hand, as I described above.
The second good thing that a strong grip can deliver is controlling backswing. If you are new to the game and don't know how to have a good swing, let's start with a V shape towards your right shoulder if you are right-handed.
Normally the more you do something, the better you can get. However, it is not right with a golf grip. The stronger grip can create another problem – hook shot. If you don't learn to rotate your body along with this position, your shots can end up among the trees or under the water.
How to Achieve a Strong Grip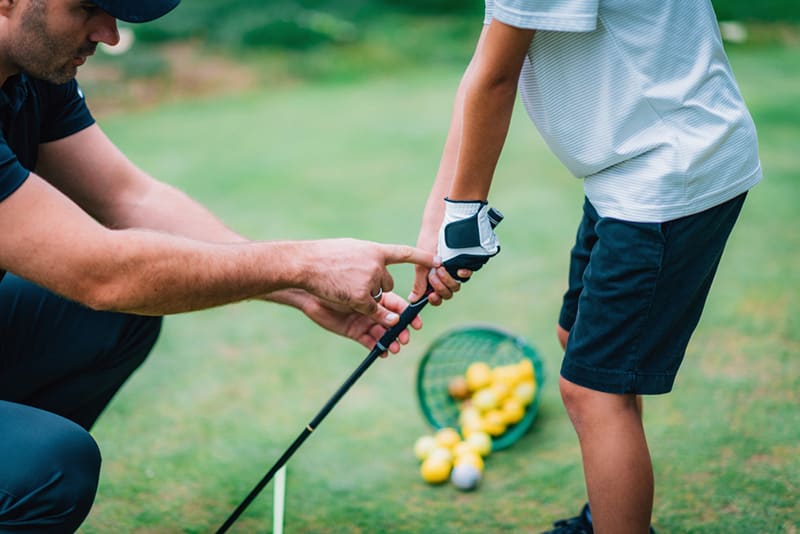 Whatever you want or need to have, you should keep practicing. My coach said this to me when I was younger, and I have kept this advice in my head until now. So if you want to upgrade your position or anything in golf, I suggest you go to the driving range.
If you don't have any experienced friends or don't have enough confidence to play alone, it is better to get a trainer and follow him step by step. He will show you what type of grip you are and how to turn your grip into a stronger one.
In case you are not a newbie and have played golf for a while, but you still have problems with hook shots or can not solidify your strikes, practicing is a wise choice. When it comes to the grip, it is better to change it little by little, and you can see the better result you need.
You can also refer to the video below to learn how a strong golf grip can perform on the course:
Which Types of Golf Grips Should You Choose?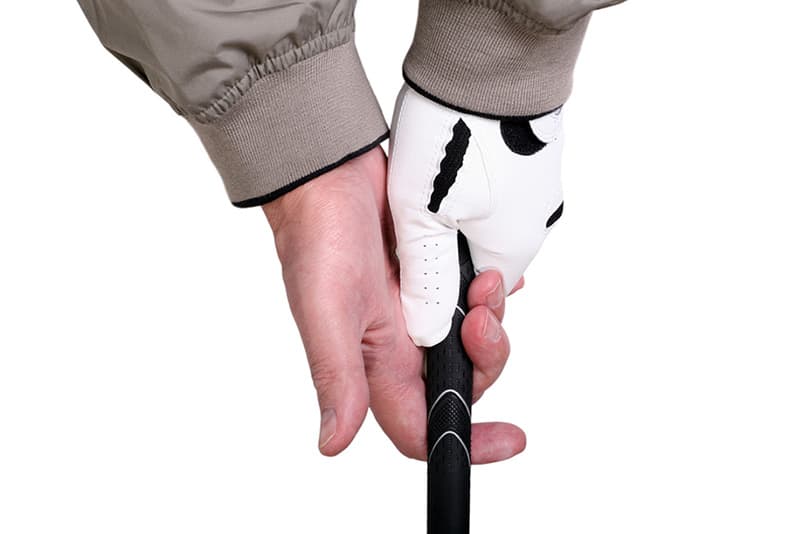 According to golf.com, there are three types of grips: strong, neutral, and weak. You know about the strong one through the information I gave above, and now we move to the others.
Most golfers tend to have strong or weak golf grips. If the strong grip has a V shape pointing over to the right of a right-handed player, then the weak grip points to the opposite side. The weak grip has the clubface open and releases the lazy launching.
An over-strong grip can cause hooks, while the weak one causes slices. Therefore, choosing a neutral one is a better choice for all golfers, especially high handicappers.
You know you neutralize your hand position when seeing around two knuckles on each hand. Others can define it when the V shape points to your chin or nose, not far over to the left or right.
If you are confused and do not know which golf grip is suitable, it is better to think about what kinds of problems you need to solve. If you are facing the hooks, it is better to weaken your grip.

A strong grip is better for people who hate slices. And when you tend to straighten your ball and face a few troubles, the neutral grip is ideal for you.
Professional Players Who Use a Strong Grip
Some of the most successful golfers in the world have embraced the strong grip technique, so let's take a look at a few of these incredible players who have benefited from this gripping style.
Dustin Johnson
DJ, one of the best players globally, has 24 PGA Tour wins, including two major championships. With his 6-4 frame and large hands, Johnson uses one of the strongest grips in pro golf.
This strong grip helps keep his hands quiet, allowing his brute strength and extreme flexibility to launch the golf ball well over 300 yards.
Zach Johnson
Although not related to Dustin Johnson, Zach Johnson also employs a strong golf grip. With 12 PGA Tour wins and two major championship titles under his belt, Johnson's grip is even stronger than DJ's.
His strong grip and excellent body rotation help him make consistent contact off the tee and with his approach shots, contributing to his incredible accuracy.
Bubba Watson
As a lefty, Bubba Watson brings a unique perspective to this list. With a strong golf grip throughout his career, he has won 12 times on the PGA Tour, including two Masters Tournament titles.
Watson's unconventional strong grip works wonders for him as a left-handed golfer.
Fred Couples
Fred Couples, a dominant golfer in the 1990s, boasts 15 PGA Tour wins and a Masters Tournament title. He uses an extremely strong grip, with his wrist cupping in the process.
Interestingly, Couples maintains a light grip pressure, which allows him to generate a smooth swing, proving that strong grip users can still have a rhythmic swing.
Paul Azinger
Paul Azinger, also known as "Zinger," had an ultra-strong grip, with all four knuckles visible on his lead hand. The Florida State University alum racked up 12 wins on the PGA Tour, including the 1993 PGA Championship, despite his unusually strong grip.
Now a popular commentator on the Golf Channel, Azinger's career shows that an unconventional grip can still lead to great success.
The success of these professional players demonstrates the power and potential of a strong golf grip. Give it a try and see how it can transform your own game!
FAQs
After reading my information about three types of golf grip, I bet that you need me to explain more. Therefore, I choose the most frequently asked questions and answer them below. I hope you can find what you need down there.
Does Tiger Woods Use a Strong Grip?
Yes, but it was in the past. According to golf.com, Tiger Woods used a strong grip in his early years when he won the 1997 Masters and back from neutral to stronger grip in 2010.
Do Any Pro Golfers Use a Weak Grip?
Yes, they do. According to golfdigest.com, Johnny Miller, Lee Trevino, David Duval and Arnold Palmer used a weak grip.
Will a Weak Golf Grip Cause a Slice?
Yes, it will. A weak golf grip makes the clubface open at impact and in some cases, it can cause slices or fades. However, it is not the main reason for slicing. You should improve your swing path, grip and even choose a good anti-slice golf ball to get better results.
Final Thoughts
If you are a newcomer or want to know what a strong golf grip is, you may not want to miss my article about this topic. I used my experience and knowledge from reliable sources to explain and give you the detailed answer you need.
Don't hesitate to comment with your thoughts in the box below. I would love to hear your feedback and ideas that can contribute to my golf site. And if you find my article helpful, please share it with your buddies to discuss and help each other to be better.
Thanks for reading!
Related Articles: