If you are a golf enthusiast like me or you are interested in this sport and want to know more about it, you may hear the phrase "shotgun start". Then you may wonder what the definition of this is and why people choose to do this instead of a normal start.
After playing golf for years, I can admit that golf is not a regular sport that is suitable for many people. However, in some cases, like tournaments, the course is crowded, and there are some special things like shotgun start that need to apply.
Researching and understanding special phrases and rules about a sport is the first step everybody should take. And it will take days or weeks. To shorten your phase, let me help you by analyzing and explaining things like shotgun start below.
What Is the Meaning of Shotgun Start in Golf?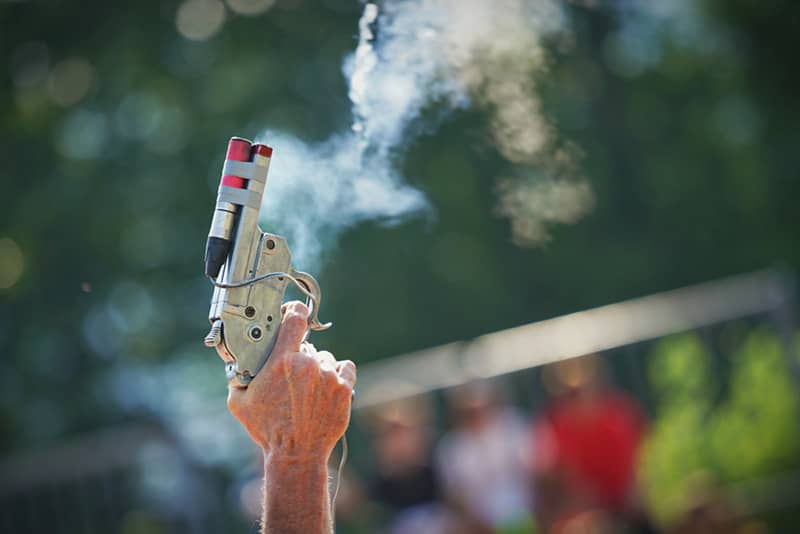 According to Golfmonthly.com, a shotgun start is a moment when all players tee off at the same time. They start at different holes in one course and listen to the sound of a shotgun for their first strike.
In reality, the starting sound is not always a shotgun fired. It can be a pistol or a hooter sound. Sometimes, the starting time is announced to every player, and you just need to look at your watch to strike on time.
The video below can show you an example of the shotgun start in a tournament:
The main purpose of a shotgun start is assuring all players can mostly end at the same time. It is helpful when the tournament provides a prize or a meal afterward. In a large competition, a shotgun start also helps a round happen more quickly.
Moreover, in the winter or in the evening, players can maximize their playtime and use the limited light better, thanks to a shotgun start.
And when all players start simultaneously, it means they play all 18 holes. Then each player will rotate around the course. For example, if someone tees off at 9, he can finish at the 8th green.
>> See also: How Long Does a Round of Golf Take?
Rules of a Shotgun Start
A shotgun start is unique and simple to do. Both professional competitions like PGA and amateur events can use it.
As a player, I assume you should understand and know these rules below:
All players across the course have to tee off at the same time following the sound of a pistol or a horn.
Two players or two groups can not start at the same hole.
When you start at your designated hole, you need to follow the other holes in a coordinated order. For example, after you start at 10th, you will play the 12th to 18th and then come back to play the 1st to 9th green.
A shotgun start not only shortens the time for the tournament but also creates a fair play environment for players.
Variations of Shotgun Start
If starting a golf game in a normal way can cause a slow pace of play and makes other players lack patience, a game with a shotgun start can fix all these.
There are three variations of a shotgun start, and a course can use each of them flexibly. I will explain all these below for you to understand and have a good start in the game.
1. Reverse Shotgun Start
Players usually begin with the closest hole to the clubhouse in a normal shotgun start. However, not all the games start with full 18 participants or groups. Therefore, people invented the reverse shotgun start.
The purpose of a reverse way is that all members can pass the 1st hole at a good time. If the first player starts at the 1st hole, the next one will start at the 18th, and the other can tee off at the 17th. Then other players that are outside the competition can use the green without waiting.
2. Modified Shotgun Start
A modified shotgun start has the same arrangement as the reverse one above. It happens when a competition does not have full members join, and it aims to create a pace of play for others that don't relate to the game.
However, unlike a reverse one, a modified shotgun start can begin and end at any hole and does not need to prioritize from the first hole.
3. Double Shotgun Start
Unlike other forms of shotgun start above, the double one usually happens when there are more than 72 players or groups. The organizer divides two sets of shotgun starts; one begins in the morning and one in the afternoon.
Another option is dividing 72 players into four groups and giving 18 balls to each group. The organizer will adjust the timing to ensure all players can meet at the prize-giving point or meal time.
Besides, two groups of four players can use both tees off in long holes as par 5's. The second group can tee off slightly later than the first group. It's still in the shotgun format and called the double one.
Conclusion
If you are new to the golf game or enthusiastic to know more about the shotgun start, I believe you are in the right place. After reading my explanation above, I assume you can bear a definition and rules obviously in your mind.
Don't hesitate to comment below to tell me your opinion. Even if you agree or disagree with me, all your thoughts are welcome. I hope my article helps you prepare yourself well. Don't forget to share it to discuss with your buddies.
Have a good game day!
Related articles: