If you're an avid golf player like me, you've probably heard the term "knockdown shot" thrown around on the course. But do you really know what it means and how to execute it?
In this article, we will explore the ins and outs of the knockdown shot in golf. From the technical definition to how it can be used to improve your game, we'll cover it all.
By the end of this article, you'll have a solid understanding of what a knockdown shot is and why it's an essential skill. So, let's dive in and get started!
What Is a Golf Knockdown Shot?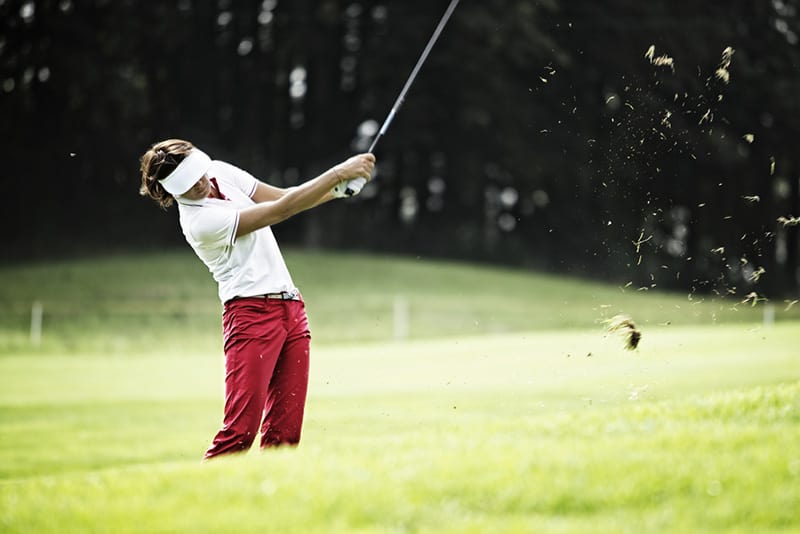 A knockdown shot, often referred to as a punch shot, is frequently employed to cause the ball to fly at a lower trajectory. The knockdown stroke in golf typically prevents the ball from rising as high as it would with a regular swing.
The knockdown shot is the most frequently used when you are playing on a golf course with a lot of strong winds. That's because its low, penetrating trajectory enables it to limit the wind's effect. The knockdown's boring flight prevents your ball from ballooning up into the air as well.
Thanks to that, it will be less likely to lose distance, which explains why this shot is the best option to play against a headwind or crosswind. Besides, the knockdown shot is also practical for overcoming some obstacles, such as tree branches.
A knockdown's low trajectory makes it easier to fly under tree limbs, plus run the ball onto a green. Moreover, the knockdown shot gives you better distance control when you play golf with a wedge.
How to Hit a Knockdown Shot
If you are serious about golf, a knockdown shot is truly something you need to master at some point in your golf career. As I said above, the main advantage of this shot is that it holds the ball closer to the ground than with normal shots.
The knockdown shot can be hit with any club in your golf bags, such as a driver, fairway wood, or hybrid club. Of course, except for the putter! Among various club types, I highly recommend you use an iron to create the knockdown, causing your ball to fly lower and spin less. Besides, you can use a low spin golf ball for the knockdown shot as well.
It is a good idea to remember this rule: The more loft a club has, the more difficult it is to hit a golf ball very low with minimal spin. Another major reason why numerous beginners prefer making a knockdown stroke is its great ease of learning.
While most special golf shots take a long time to learn, you can get comfortable with the knockdown shot in a short period. This shot does not require certain technique adjustments since its swing pattern is so basic.
In addition, you should be good at controlling your swing speed. The knockdown shot needs a steadier and slower swing than usual for any other shot. Grab a golf club and practice making this shot type at different speeds: 100mph, 50mph, 70mph, etc.
The following instructions guide you on how to execute a golf knockdown shot. I advise practicing it at a driving range before hitting it on the green.
Use a longer-than-usual club to make a knockdown shot.
Place the ball behind the center of your stance or to the right of the center if you are right-handed. Also, make sure that your hands are well ahead of the ball. This allows you to keep the loft of the clubface always low, thus lowering the ball's flight path.
Good contact is the key. Choke down on the golf club towards your handle. This gives better club control by reducing your swing. That's because the shorter a swing is, the less a golf ball will spin. Thanks to that, its flight path is always straighter and lower.
If you want to maximize control of your swing, you must shorten your movements as short as possible. It is a good idea to eliminate side sway or gravity changes.
Make sure to always keep your nose in front of your ball while making a 3/4 backswing. To clearly observe how far back your swing is, practice a few shots in front of a mirror. Your feelings and reality can occasionally be very opposite.
Put your lead arm parallel with the ground while making a backswing. In the meantime, avoid letting your hands flip over too much when you are trying to make a sawed off follow-through.
Hold your breath!
Swing through, being careful not to overswing. You should have a steeper impact as well. This will help you keep the ball down with minimal spin as well as avoid making it balloon in heavy winds.
Watch the tutorial video below to learn how to make this shot style quickly and visually.
When to Use a Knockdown Shot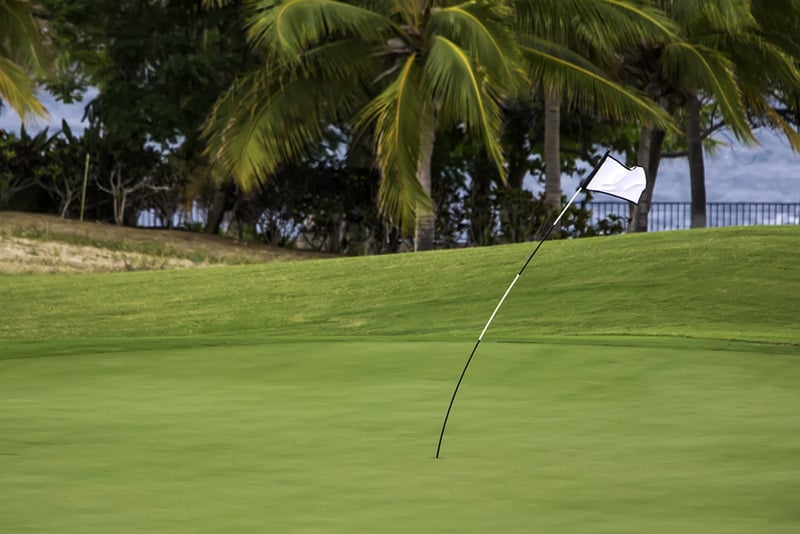 Playing conditions with countless wind gusts and headwinds are the most typical times for a knockdown stroke. In addition, this shot type is regularly used for some particular situations, such as hitting beneath tree branches.
The knockdown shot can help your ball avoid getting intertwined in the leaves. Additionally, it is ideal for running the ball onto a green. The following explains will thoroughly describe when this shot can come in handy.
Windy conditions
On windy days, predicting when and where your golf ball will stop on land is challenging. Besides, if you hit the ball up high into the sky, winds will make it harder to judge accurately as well as read from ground level.
For these cases, you have no choice rather than using the knockdown which helps keep a ball fly closer to the ground. Moreover, a lower trajectory for the golf ball's flight also means easier and clearer viewing.
Thanks to that, you can effortlessly do some guesswork, leading to more consistent results and better scores. Besides, the knockdown shot has a lower spin rate as well. This stops winds from considerably affecting your golf ball's trajectory.
Narrow target
It is obvious that hitting the ball high in the air will give it more time to fall to the left or right of your intended target. This results in less accurate shots as well as lower scores. For that reason, it is wise to keep the ball lower to the ground, which only a knockdown stroke can do.
The knockdown shot generates a lower trajectory for your golf ball, meaning that it is easier to keep it on line until it comes down out of the air. Therefore, you are less likely to make an error before hitting.
This will be a good idea if you want to reach a tight target, especially one surrounded by bunkers or even water. Moreover, consider hitting this shot type to attack small targets with the least chance of missing to the right or left.
Back hole location
This is one of the very best cases for using a knockdown shot. A back hole location is tricky, and most novice golfers find that getting the ball close to it is a complex task. Although you can indeed use approach shots, sometimes they are ineffective.
The back hole position makes it easy to go over the green even if your ball flies only a few yards too far. Hence, keep the ball in the center of the green and bounce it back toward the target. The knockdown shot is a safer choice than one flying the ball all the way to the back.
That's because the knockdown shot's lower trajectory offers almost no chance of flying the ball over the green. At the same time, this shot type guarantees that your ball will land only off the edge, even if it bounces over.
Additionally, it is highly advisable to use the knockdown shot when the hole is near the back edge.
Pressure situation
This seems a bit strange, but it really works. For example, late in the round during a decisive tournament, the majority of players, even the most advanced ones, cannot avoid feeling nervous. This makes it harder to execute a swing properly.
Hence, making a smaller swing combined with hitting a lower shot is the best way to keep the ball consistently in play and on track. That's why a golf knockdown shot is a perfect option in this case. Moreover, this shot type also helps reduce possible errors.
Although the knockdown shot cannot help you obliterate pressure, one of its biggest strengths is to produce a quality shot while feeling the nerves.
Tips to Make a Knockdown Shot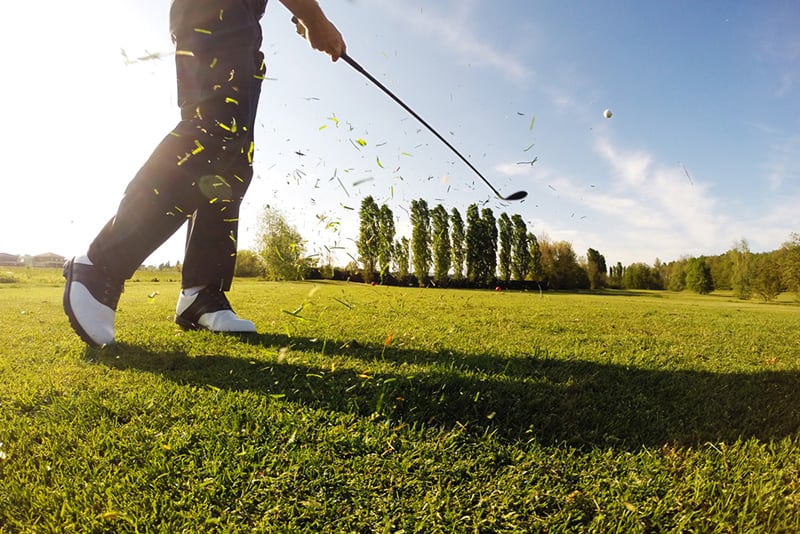 Novice golfers may fail to hit a knockdown stroke properly due to a lack of experience. This section presents some valuable tips which facilitate achieving the knockdown shot successfully. They are in no particular order, and everything you must do now is pick up a few suitable tricks.
Use a suitable club
Using a proper golf club will decide whether you make a successful knockdown shot. First of all, pay close attention to the wind speed since you will need an extra club for every ten miles per hour.
However, avoid using a club with too high lofts because it cannot keep your ball close to the ground.
Hold the ball slightly behind
The ball should be behind the center of your stance so that your clubface will still be delofted a bit when you strike the ball. This promotes a lower ball flight as well. Besides, you should stand slightly closer to the ball than normal.
Proper body posture
The correct stance must keep the head and sternum above or just before the ball. It is a bad idea to make a hit from the back of the ball. In addition, focusing your body weight on the front leg will help you keep the ball low more easily.
Another important thing to keep in mind is to position the ball back a little but at the same time you should open up your stance just a bit.
Grip your golf club down a little
To make a successful knockdown shot, you must control your club as much as possible. Choking up on the golf club is the most effective way to achieve excellent control. Do this by keeping your hands down on the shaft and away from the shaft's butt end.
Additionally, this also ensures your hands are always ahead of the club head, thus delofting it through impact.
Slow down your rate of rotation
Swinging hard or jumping at the ball just leads to bad knockdown shots. Instead, 50-80% of your maximum swing speed is highly recommended. You can also use a golf ball for slow swing speed to get the best results as well.
However, a softer swing also causes you to miss the right timing and tempo, which means that you have to be really focused throughout the swing. Additionally, this will result in excellent acceleration through the ball.
Make sure you hips are turning
If your hips are freezing, your arms will whip around your body. This results in a closed face and tends to miss the far left.
Do not overthink
Sometimes, you only need to release your mind and try not to rock the boat. This can give you the best chances to generate a perfect knockdown shot. Keep in mind that a slower swing always creates a lower, more controlled overall trajectory.
Knockdown Shots vs. Punch Shots
It is true that knockdown shots and punch shots are sometimes used interchangeably. Nevertheless, there are a few notable differences between them, and golfers of all levels should know. Below is a quick comparison table of the two shots. Let's check it out!
| | | |
| --- | --- | --- |
| | Knockdown Shot | Punch Shot |
| Goals | Lower the trajectory to go the full distance to your intended target as if gusty winds didn't exist. | "Punch" the ball out of trouble and back into play. |
| Swing | It is an slow, full swing. | It is a more aggressive, abbreviated swing. |
| Speed | "Abrupt" – like a punch. | Slower – like a takedown. |
See the following video and learn some fascinating facts about knockdown and punch shots.
Final Thoughts
If you are struggling with winds on the green or looking for a go-to shot that can execute under pressure, then you might consider picking up the knockdown shot. All detailed information about this shot type has been provided in this post, and I hope you find it practical.
If you have questions or comments, please forward them to me through the comment section below. Also, sharing this article with other golfers can help them learn the knockdown shot's definition as well as its history. Kindly use the following social media buttons.
Thanks for reading!
Related articles: