As a golfer, you must have heard at least once the names of notable bird species used to call excellent scores in golf. Being the largest flying animal, the albatross is undoubtedly named for one of the rarest golfing scores, mainly because making one extremely difficult.
I believe every player aspires to hit an albatross throughout their career. The albatross is not only an impressive victory but also the quickest way to make a golfer from unknown to legendary. Nevertheless, even for professionals, this golf score can sometimes only be achieved with luck.
In case you are wondering what exactly an albatross is in golf as well as why people use it, you have come to the right place. This article gives a detailed explanation of the term's definition, its origin, along with how to score one. Let's get started!
Key Takeaways:
An albatross, also known as a double eagle, is scored when a golfer completes a hole with three strokes less than the par given.
The probability of making an albatross is quite rare, with the odds estimated to be around 1 in 1 million, making it even rarer than a hole-in-one.
The term "albatross" in golf originated from the bird-naming trend in the sport, with the albatross being a symbol of rarity and skill.
To achieve an albatross, players should focus on hitting longer, straighter, and stronger strokes, with their second shot going farther than 200 yards.
Factors affecting a golfer's ability to hit an albatross include mother nature (wind, ground firmness, and trees), man-made obstacles (cart paths and course elevation), and personal ability.
Tips for scoring an albatross include excellent ball control, proper course management, and the right equipment.
Practicing consistently, staying physically and mentally fit, and having a bit of luck can increase the chances of achieving an albatross.
What Does an Albatross Mean in Golf?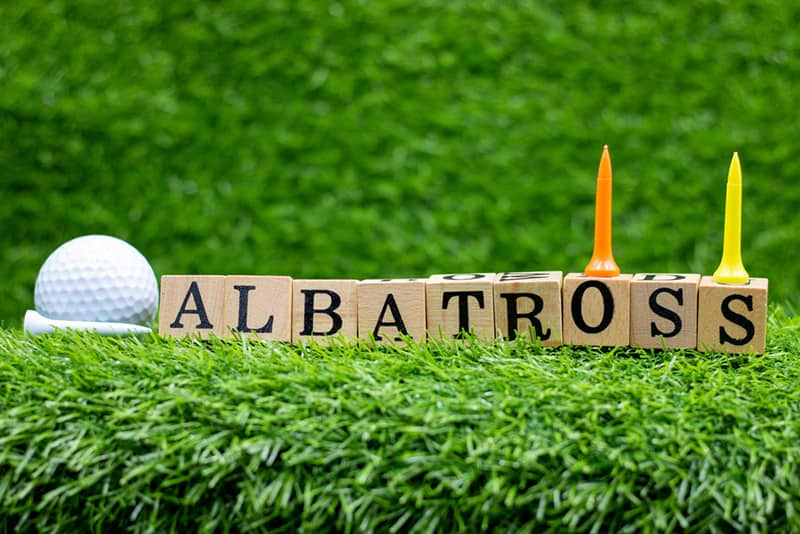 An albatross, also known by a more popular name "Double Eagle", can be scored when you complete a hole with three strokes less than the par give. For example, an average golfer needs five shots to finish a par-5 hole, but an albatross needs only two.
For that reason, every stroke must be taken powerfully, carefully, and precisely as much as possible. Hence, in the PGA Tour and LPGA Tour history, only several professional players were recognized for scoring an albatross.
The albatross is not common in golf. In fact, it is even one of the rarest scores, mainly because it is so challenging to achieve one. There are two significant reasons for this. First, you need to make three shots below the hole's benchmark, which seems impossible.
On a par-4 hole, this means that you must complete it within only one stroke, often called a hole-in-one. Suppose you can do this; a par-5 hole will disillusion you despite succeeding on the first tee.
That's because the second shot is usually at least 200 yards away, which requires a lot of precision and luck to conquer. Another important reason for making an albatross impossible is that a par-6 or par-7 hole is seldom played for recreational purposes.
Therefore, only when you become experienced enough to join in professional tournaments do you have a chance to defeat these beasts and score an albatross.
Some of the greatest albatrosses in PGA Tour history are showcased in the following video:
The Probability of Making an Albatross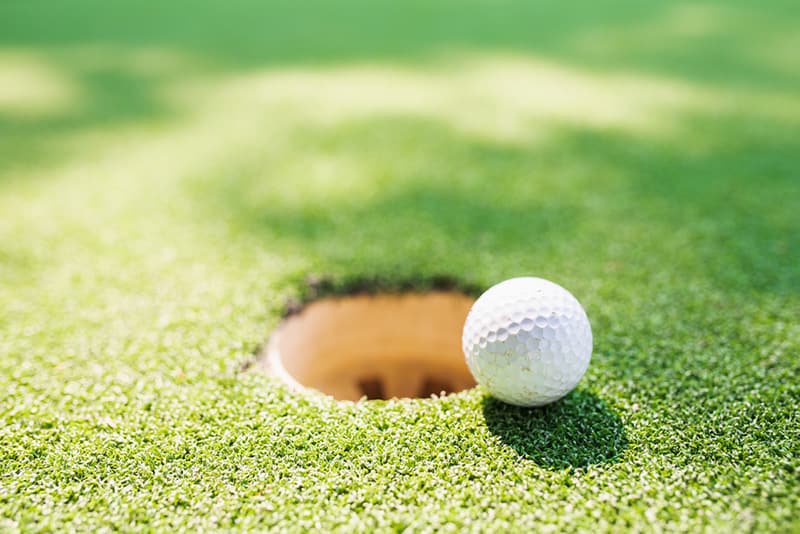 When a golfer completes a par-5 hole in only two strokes or makes a hole-in-one on a par 4, they receive an albatross point. Statistics from the National Hole-in-One Registry (NHR) show that average golfers' odds of a hole-in-one are 12,000 to 1.
But the odds of a golfer making a hole-in-one are 3,000 to 1 for tour players. It is 67 million to 1 that a golfer will make two consecutive holes-in-one in a round. Sadly, less likely than a hole-in-one is an albatross.
The Double Eagle Club asked Scott Hovde from the USGA, "How are the odds calculated for hitting a Double Eagle?". For an answer, he noted that "a single number doesn't represent the odds."
In the meantime, the odds for an albatross are typically stated by sports writers to be 6 million to 1. Dean Knuth, a former senior director of the USGA's handicap department from 1981 to 1997, claimed that although the number is indeed lower, it is still sporadic—roughly 1 in 1 million.
This means that out of all golfers so far, only less than 10% completed a par 5 in two shots and scored an albatross, while the rest were unable to. As a result, the chance of a golfer getting an albatross (1/1,000,000) is smaller than that of being struck by lightning (1/500,000) (source: cdc.gov).
In their lives, much fewer than 0.5% of all golfers will ever score an albatross. Because of this, practicing superior skills is not enough to achieve the albatross. Sometimes, you even need a little luck.
History of the Term Albatross in Golf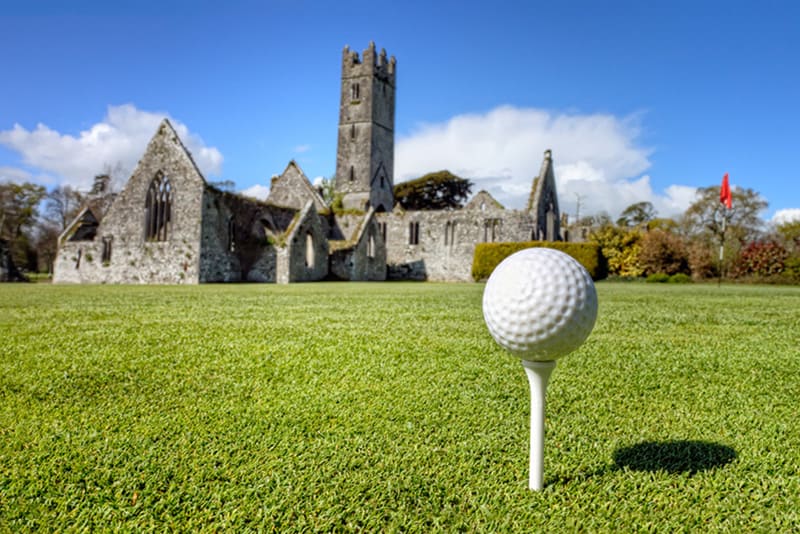 This section will satisfy those who love to study the origin of all things. I discovered some intriguing stories when I looked into the history of the term "albatross" in the golfing lexicon on the Internet. Let's explore!
Americans used the word "bird" as slang to describe delightful things in the 1800s. Therefore, when golf gained popularity in the 1900s in the United States, the term "birdie" became part of the golfing language.
An eagle was chosen to symbolize two shots below the hole's benchmark, continuing the tendency of utilizing bird themes to represent the best shots. This trend was spreading more and more.
The albatross's appeal resulted from its popularity and the common belief that harming one can bring bad luck. Hence, one of the rarest golf scores was identified by this legendary bird's name.
How Can You Obtain an Albatross?
As I said above, scoring an albatross depends significantly on your skill level and a bit of luck. While you cannot create luck on your own, playing skills are enhanced through relentless practice and patience.
Even though an albatross is an elusive score in golf, players of all levels are able to increase their chances by hitting longer, straighter, and stronger strokes. To acquire an albatross, it is a must for your second shot to go farther than 200 yards.
I was hoping you could read my article titled How to Hit a Golf Ball Further for more valuable tips! This guide is intuitive and straightforward so that even beginners can follow it.
>> See also: Top 12 Best Golf Balls for Distance in 2023
For that reason, using a golf club to maximize your distance is a good idea. In addition, I highly recommend you keep your equipment up-to-date to ensure maximum accuracy and strength.
What Might Affect Your Ability to Hit an Albatross?
Scoring an albatross requires golfers of all levels to make a shot with high precision. That's because the distance between two consecutive strokes is often too far and up to hundreds of yards. In fact, there are numerous factors affecting how far your shot can go.
In this section, I will discuss in detail how these elements impact the ball's flight as well as its distance. Let's dive in!
1. Mother Nature
Like many other outdoor sports, nature plays a vital role in how far your golf ball can travel. Below is a list of the most common nature-related factors:
Wind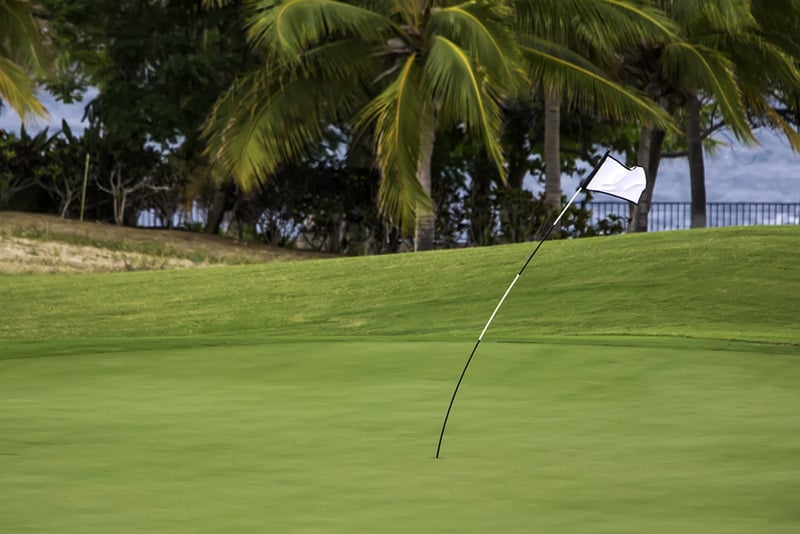 Without a doubt, hitting a ball crosswind will cause it to balloon up into the air. This reduces the possibility of the ball landing correctly on your intended target. For that reason, it would be best to shoot the ball downwind, giving it more power to fly farther.
In case you are forced to stroke upwind, let's consider using a knockdown shot because the most significant advantage of it is to keep the ball lower to the ground. Besides, using a driving iron when playing golf in windy conditions is highly advisable.
>> Read more: What Is a Knockdown Shot in Golf?
You can maximize your shot's accuracy as well as consistency thanks to this kind of golf club better than a driver, a wood, or a hybrid.
Ground Firmness
The more firm the ground is, the more your golf ball will bounce and roll. The more a ball can roll, the more distance it will fly. In addition, if you cannot choose to play on a desert-like golf course, you can add an extra bounce to the ball.
Trees
Water hazards and forests help add more challenges and enjoyment for the game. Nevertheless, they sometimes trap the golf ball and prevent it from reaching your target. It is common for the ball to be trapped in branch trees or dropped into artificial lakes.
But if you know how to take advantage of the bounce of trees, the final result can become better than you expect. If you need more confidence in your skill, it will be best to avoid these obstacles.
Keep in mind that trees can help bring your golf ball closer to the hole, but at the same time, they can disrupt your dream of scoring an albatross.
2. Man-made Obstacles
Artificial obstacles such as cart paths are sometimes convenient to give your golf ball more power to fly and roll farther. However, a notable drawback of them is that you will find a few scuff marks on your ball.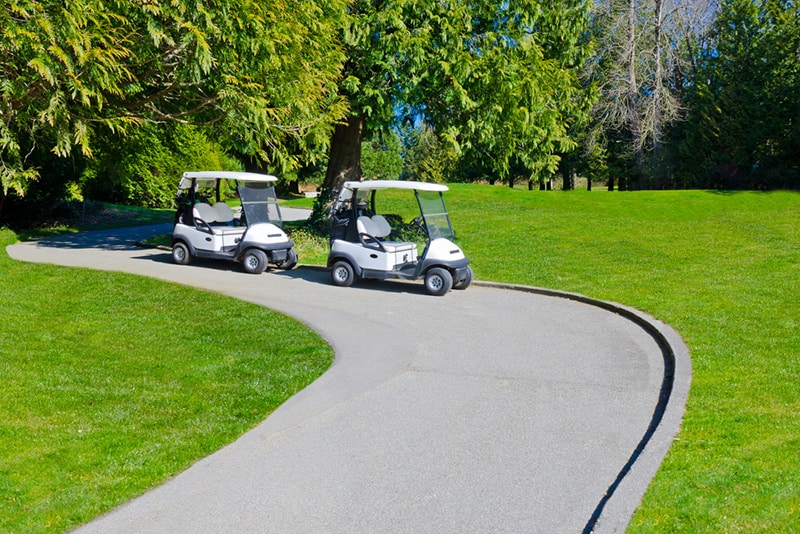 I think this deserves to score an albatross since you can buy a new ball, but you can hardly make another. In addition, you should pay much attention to the height of the hole. Different golf courses are not the same, not only in their services but also in physical conditions.
Of course, playing golf at a golf course built in the mountains is totally different from the experiences you get in the foothills. Moreover, the hole's elevation changes sharply among them, requiring you to use the proper playing strategy as well as hitting style.
For example, I suggest you hit the ball downhill because this diminishes wind resistance and adds extra strength to the ball's flight. Thanks to that, your ball will bounce higher, roll farther, and reach the hole faster.
It is a good idea to consider the shot's angle as well. Usually, the shortest distance between two points is a straight line. However, this also means that you must keep your golf ball flying over or through water hazards like lakes, rivers, and waterfalls, as well as dense forests.
This is truly a challenging task for players of all levels, even seasoned players. Hence, an ideal solution is for golfers to adjust their body posture and pay much attention to the ball's position before teeing off. For example, they often reach the hole by hitting a shot at 45-90 degree angles.
3. Your Ability
The ability to hit a ball far is a prerequisite to scoring an albatross. Without this, you cannot become legendary even when you master the above-listed factors. Please practice as much as possible since hitting long shots is not effortless for everyone.
In addition, you also need to train your mental and physical health so that you have enough power to maintain effective swings. Do not forget that all tournaments are stressful, and you must keep your mind clear and calm to ensure every shot is accurate and consistent.
Advice on How to Catch an Albatross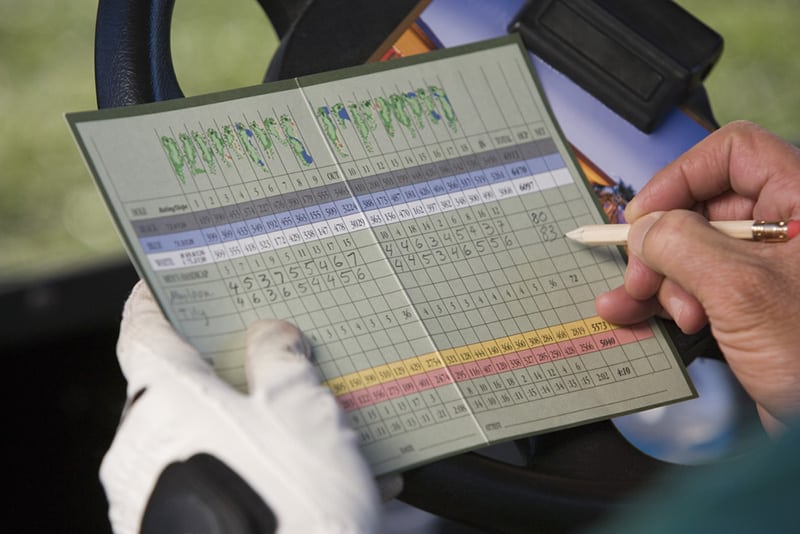 Although it is challenging to achieve an albatross, there are always some tips and tricks to make everything easier. Read the following part and learn some useful knowledge that may help you score an albatross in the future. Professionals, indeed, should take advantage of this!
Excellent ball control
You can only get an albatross by mastering ball control. To be specific, excellent ball control helps you know where your ball will land as well as how far it can go. To be good at controlling a golf ball, predicting wind direction, monitoring ball trajectory, and dealing with rough terrains is imperative.
Course Knowledge
It is apparent that the chances of scoring an albatross on a golf course you have played several times before are always higher than a totally strange one. That's because you have been familiar with its terrain; thus, you know some tricks to improve the final result.
Choose the proper club
Entry-level golfers use a club because it is easy to play and operate, but advanced ones opt for items that help them perform best. And these preferable models are driving irons that enable them to keep the lower ball's trajectory.
While irons are the best choices on par-5 holes, drivers are highly recommended if you play on a par-4. No matter how experienced you are, it is critical to enhancing knowledge about different types of golf clubs. That's because each hitting style is the most effective on its respective club.
When it's nice out, practice
As mentioned above, various nature-related factors significantly impact the chances of scoring an albatross. Even though there are some tricks to reduce these unfavorable elements, I advise avoiding them.
You cannot decide the weather conditions when playing in a tournament, but you can choose when to practice. Please only practice when the weather is sunny and less windy and the golf course's ground is dry and firm.
Relentless practice
The fact is that you cannot master any sport without a lot of practice. Practice makes perfect. Be patient, and you will see your improvements as the days pass. Even professional golfers practice every day!
Furthermore, an outstanding benefit of relentless golf practice is strengthening your muscles. Thanks to that, you can create more power for each stroke and make your golf ball fly farther and farther.
What in Golf Is Superior to an Albatross?
A hole-in-one on a par four is also called an albatross, while a hole-in-one on a par five is commonly known as a condor. This term refers to the case where you complete a hole with less than four strokes compared to its benchmark.
Condor is the name of an endangered bird species, and maybe due to its extreme rarity, it is used to name one of the best scores in golf. That's because a condor is even rarer than an albatross. To get a condor, you must play on a par 5, a par 6, or par 7.
However, finishing a par-6 hole within two shots seems impossible, even for the best golfer. Only six players have been recorded in golf history to achieve a condor.
Why did the word "condor" make it to the golfing lexicon? Some people think this is an extension of the bird-themed low scores, where the bigger the animal, the lower the score: Birdie, Eagle, Albatross, Condor, and Ostrich.
A condor is rarer than an albatross, but an ostrich is even more occasional because you must make a hole-in-one on a par-6 hole to get it. The ostrich has never been achieved in golf history.
That's because only a few golf courses have a par-6 hole, and the hole distance (more than 600 yards) often exceeds average teeing ability.
Frequently Asked Questions
You should go over this section if you have any questions regarding what an albatross is in golf. Kindly check some of the most frequently asked questions and their brief answers below.
Has Tiger Woods Ever Had an Albatross?
Sadly, Tiger Woods has not made an albatross until now, although he is one of the golfers who have achieved the most major records currently. This proves that scoring an albatross is incredibly difficult, and you truly need a lot of luck to get it.
He nearly achieved an albatross in 2015 at the Waste Management Phoenix Open when his second shot was just 7 inches from reaching the hole. I hope that someday, he will be lucky enough to get that accomplishment as a well-deserved reward after his relentless practice.
Is a Double Eagle the Same as an Albatross?
Yes, a Double Eagle is another term for scoring three strokes under par on a hole in golf, which is also called an Albatross. Many golfers use these terms interchangeably in golf.
Final Thoughts
Only a few of the best golfers have scored an albatross in golf history, which explains why achieving this point can become a significant milestone in any player's career. Although the hit rate is relatively low, hundreds of golfers still practice daily, hoping to one day get it.
With regard to this topic, I welcome inquiries, ideas, and comments. Use the comments thread below to send them to me. By sharing my article, you may also transmit this valuable information to other golfers. Just press on any of the following social media buttons.
Happy golfing!
Related articles: