What degree loft is a sand wedge? When should I use it? How to choose a good one to play? I assume that all beginners ask themselves these questions. Before becoming an experienced player, I was a newbie and understood all these.
A wedge is always an essential tool among fourteen clubs that a player can bring along. Your golf bag needs at least one wedge, even if you are a newcomer or a professional. Especially when you play short games, the first thing you should take is your fitted wedge.
If you search for the degree of a sand wedge and how to choose a good one to play, you can spend a lot of time, and the results may not be good enough. Don't worry. I am here to help. I will explain all these to you using my knowledge and experience below.
>> See also: What Degree Loft Is a Pitching Wedge? How to Choose a Suitable One?
Key Takeaways:
The loft of a sand wedge typically ranges from 53 to 57 degrees.
Sand wedges are crucial for short games, and they are especially useful when playing around hazards like sand traps or high grass.
The role of a sand wedge includes chipping, pitching, and hitting high balls in short games, as well as helping the player navigate sand traps or other obstacles on the course.
To choose a suitable sand wedge, you can either borrow different lofted wedges from friends or a range and practice with them, or customize your own sand wedge with a reputed fitter.
What Degree Loft Is a Sand Wedge?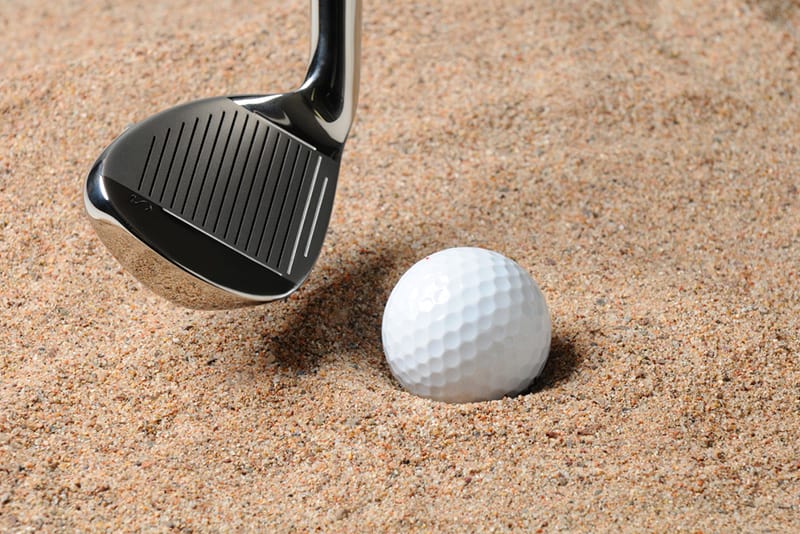 Before answering the question of what degree loft a sand wedge is, you should clearly know about the definition of a loft degree and the difference between wedges based on this index.
According to pga.com, the loft of a golf club is the angle that counts from the clubface to the ground. The higher loft means the stronger one launches the ball higher with more spin. Meanwhile, the lower loft delivers more distance.
There are four different kinds of wedges based on the loft degree and function. According to the Curated, I listed them in the comparison table below:
| | | |
| --- | --- | --- |
| Clubs | Loft (degrees) | Distance (yards) |
| Pitching wedge (PW) | 44 – 48 | 95 – 110 |
| Gap wedge (GW) | 50 – 54 | 80 – 95 |
| Sand wedge (SW) | 54 – 56 | Sand wedge (SW) |
| Lob wedge (LW) | 58 – 64 | 50 – 65 |
As you can see in the table above, the loft of a sand wedge is from 53 to 57. This index can lower or higher slightly. I usually use the 56 one, but some of my friends use the 53.
The loft of a sand wedge can be considered a stronger number among other clubs. It can help you get high launching enough and a lot of spins you need around the green. There is no specific rule about the loft degree, so you are free to choose what index can be suitable to your ability.
My advice in choosing a loft degree for a club is to notice how many yards you want to make. The lower the loft is, the longer the ball can fly. For example, if you need your shot to reach 80 yards, I suggest choosing a 53 or 54 degrees club.
>> Read also: What Degree Is an Approach Wedge? Learn the Optimal Angle for Your Shots
However, if you need your ball to go higher, you should pay more attention to the higher loft degree. A 56 degrees sand wedge can bring around 65 yards, but it can deliver higher launching than others.
For more information about getting a full wedge shot, you can refer to the video below:
What Is the Role of a Sand Wedge?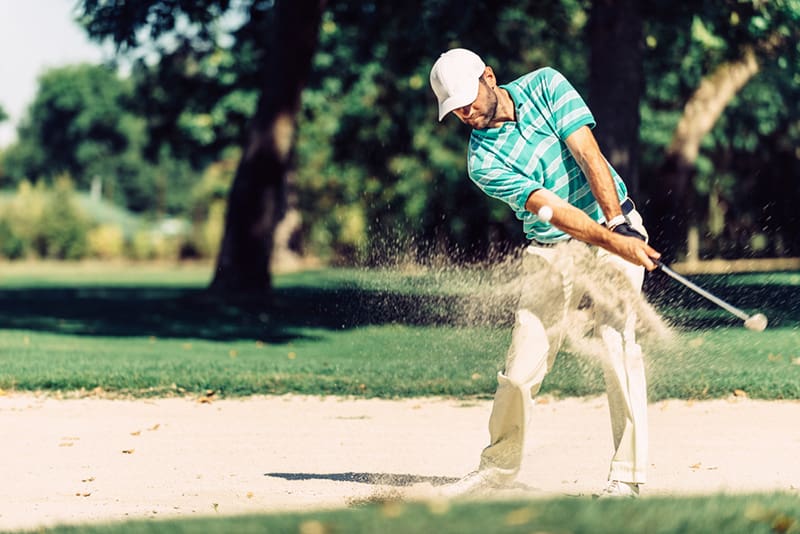 If you read my article "How many clubs can you have in your golf bag?", you know that when joining an official competition, a player is allowed to bring a maximum of fourteen clubs. Therefore, knowing the role of each club is essential.
Like a pitching wedge, a sand wedge can be used in chipping, pitching, and hitting high balls in short games. The unique sole of the club makes a sand wedge have more bounce. Therefore, your ball can go higher than normal.
As said in the name, people usually use a sand wedge when a course has hazards like sand traps or high grass.
However, there is one thing that you should notice how hard the sand traps are. If it is compacted and not soft, I suggest you choose other irons or a pitching wedge instead. Otherwise, a soft trap with sand or grass is the most suitable case to use a sand wedge.
How to Choose the Suitable Sand Wedge?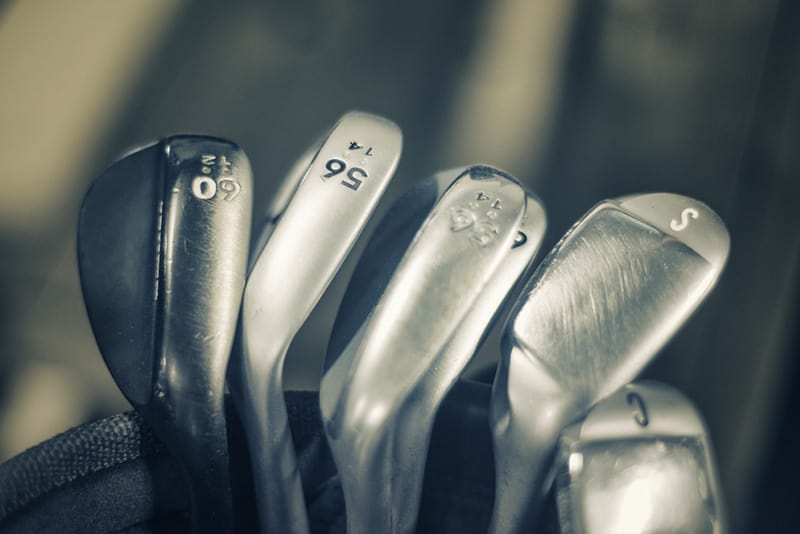 I wrote about the rules of equipment in the article "How many clubs can you have in your golf bag?" and mentioned that a player does not have a chance to change or borrow clubs from anyone if he brings 14 clubs and has one of them broken.
It means that choosing a club carefully is the most unforgettable step that all players should take. I bet that you do not want to waste your time fixing a broken club to use or playing without any tools.
We all want things to happen as we plan. Therefore, I suggest for you two ways to choose the suitable sand wedge.
First is the traditional way. You can borrow some sand wedges with different lofts from your friends or a range. Then after practicing for hours or days, you can realize which degree loft matches your needs.
Second is the shortest and smartest way. It is customizing your own sand wedge. You can choose a reputed fitter and test with whatever loft degree you want. There are many brands to choose from, and you can get the club that is closest to your ability and finance.
For more information about customizing sand wedges, you can read my article: "How much does it cost to get fitted for golf clubs".
Final Thoughts
If you are choosing a sand wedge and don't know what degree loft to pick, you may not want to miss my article. After sharing all my knowledge and experiences above, I hope that you can use them to save your time and energy.
Please leave your comment in the box below if you have any ideas and want to share them with me. I am willing to hear everything from you. And if you find my article helpful, please share it to discuss with your friends.
Thanks for reading!
Related Articles: