How many clubs can you have in your golf bags? Did people have rules about that? What should a player do if he needs to replace the lost or damaged clubs? Can you borrow clubs from your playing partners or not?
If you are new to the game or you have been playing for a while but just for fun, you may have wondered all these questions above. So did I. There are so many things you need to learn in golf, and the maximum number of golf clubs you can carry has to be the first priority.
Spending time exploring how many clubs you can have in your bags may not be easy. There are a lot of answers on the internet, and many of those can not provide you with the convincing evidence you need. Don't worry. Let's roll on, and I will show it to you in my article below.
How Many Clubs Can You Have in Your Golf Bag?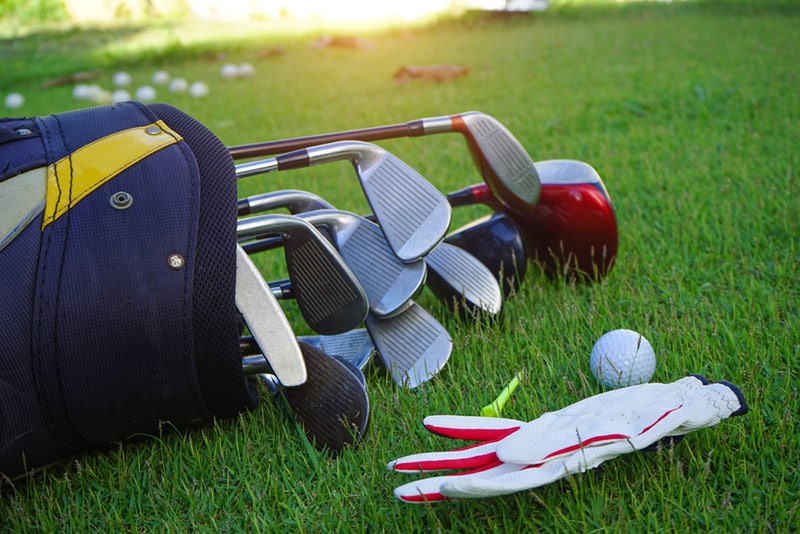 Unlike other games, golf requires many tools and equipment. If you play basketball, all you need to bring along is an orange ball. However, playing golf needs more than ten clubs, gloves, golf balls, and other small things like a ball marker.
According to the USGA – rule 4 about player's equipment, you must bring no more than 14 clubs. And you have to make sure all your clubs are legal. Whenever you attend a tournament, remember to obey this rule and prepare your bag well enough to ensure your games.
I read all the rules of tools and equipment and found out that there was no specific regulation that required the name of the clubs you should carry on. It means you can choose which hybrids, irons, and woods you need as long as the total number of them are under 14.
It sounds easy, right? But the vital thing is waiting for you behind.
Choosing which club is essential is hard for beginners. In the article How much do golf clubs cost, I suggested choosing a set of the driver, fairway woods, hybrids, irons, wedges, and putter.
You can refer to usatoday.com to know at least you should choose a set of 12 clubs. Your bag should have one driver, two woods (number 3 and 5), seven irons (from 3 to 9), one pitching wedge, and one putter.
If you are still confused, I suggest you see what Rick Shiels – a PGA golf professional, has in his bag in the video below:
It is ok when your club set has fewer than 14 clubs. The USGA only restricts the maximum number. You can bring less than what it requires. There is no minimum number of clubs. Though, I assume no one brings less than ten.
Besides, there are no rules for weekend players. If you play golf for fun with your buddies, don't worry about the number of clubs in your bags. There can be 15 or even 20 clubs. And you can bring any kind you need as long as these are parts of your fun games.
What Happens If You Carry Too Many Golf Clubs or Need to Add More Clubs?
As I said before, there are many cases where players carry more than 14 clubs, and some carry fewer ones. If you break the rule when bringing more clubs, the punishment will definitely apply to your result. And when you bring fewer, you can add more to have enough 14 clubs.
1. What Happens If You Carry Too Many Golf Clubs?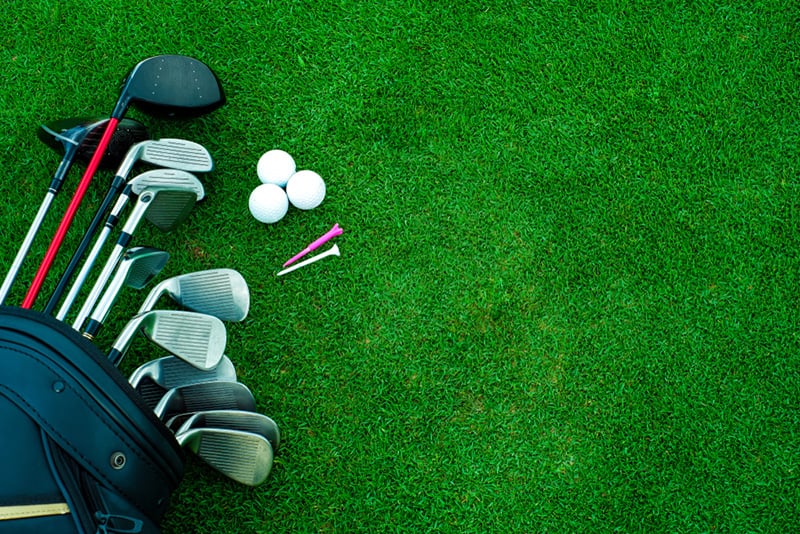 Whenever there is a rule, there comes a punishment after it. And in this case, I mention the penalties you can receive if you carry too many golf clubs. The penalties divide into two kinds depending on the format of play: stroke or match gameplay.
In match play, the maximum deduction is two holes in the round. It means when you finish the hole, the match score is revised to deduct one hole for each hole.
For instance, if you get three up in the match and realize you get more than 14 clubs in the previous hole, the maximum adjustment is applied, deducting two holes. Finally, you now be one up in the match.
In stroke play, when the breach happens, you will get two penalty strokes for each hole. The maximum penalty is four strokes; you still have a chance to try your best and catch your opponent.
Overall, the penalty is applied when you are aware of the breach. If you are playing one hole, you will have to finish it then the penalty will adjust your result. And one more notice the penalty only affects the hole you just finished, not the next hole.
2. What Happens If You Need to Add More Clubs?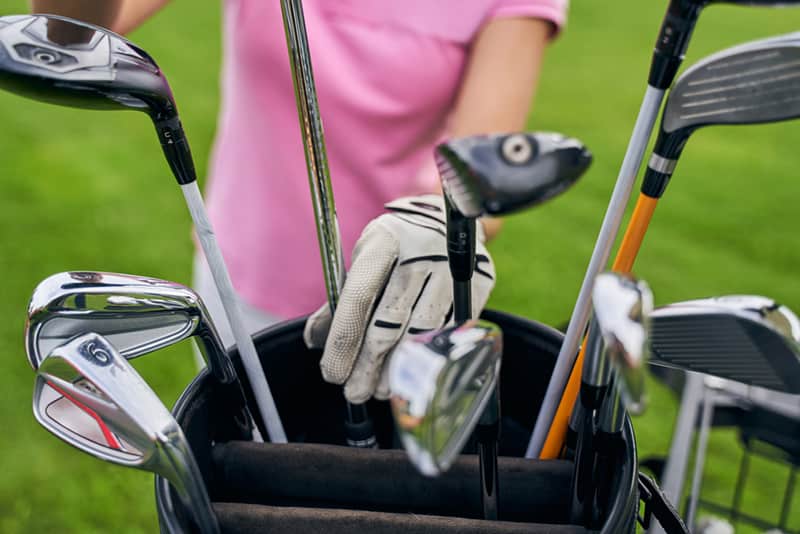 The information above is about carrying excess clubs. And when you have fewer and need to add more clubs, there are some restrictions that you would notice:
You can add more clubs whenever you carry fewer than 14 clubs.
The number of clubs added is not restricted, but the total number of these, after all, is limited at 14.
Adding clubs can not delay the play for any reason.
You can not build a club from parts that anyone carries during the round.
You can not add a club to anyone else who is playing on the course (including players in different groups or competitions).
Besides, there is one case where you can add clubs when you already have 14.
It happens when your club is damaged and can not be used to play. However, you must not be the reason that causes damage to the club. It has to be the outside influences, natural forces, or anyone other than the player or his caddie.
When you replace your damaged club, you have to make sure the total number in your bag is not over 14 and immediately take the broken one out of play.
Can You Use Your Playing Partner's Golf Clubs?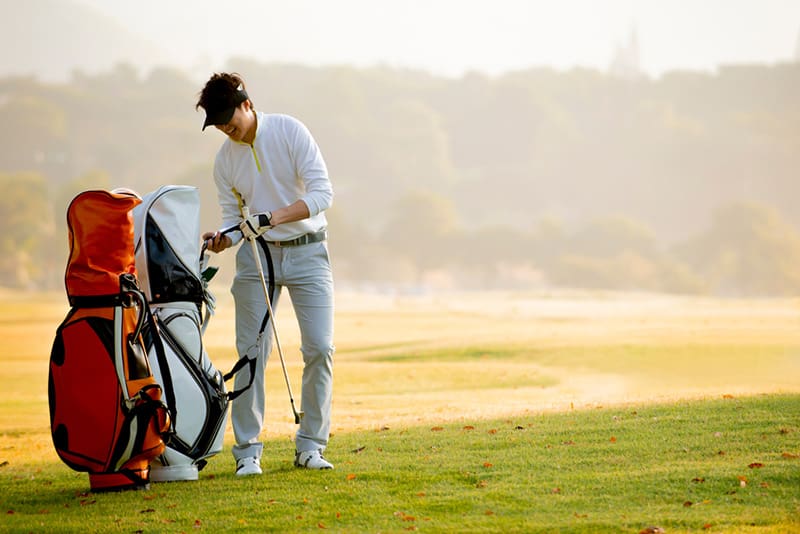 The rule of the playing equipment was changed by the USGA at least three or four times, as I remember, and it related to borrowing clubs in the course.
In 1988, the USGA allowed players to borrow clubs from anyone. But in 1992, it only allowed players to borrow a club from the one you are teaming up with during a tournament.
In the latest version of equipment rules that was released in 2019, players can not use clubs from others that play in one course, even if they are not in the team or in the competition.
Besides, the USGA equipment rule allows players to carry clubs for each other or use the same bag. However, you can not use your partner's club in this case. Both of you should identify which ones are yours.
If you and your teammate have different bags, but he mistakenly put his club in your bag without your knowledge, the club is not treated as the excess one, but it must not be used.
FAQs
After reading all the regulations and rules about the number of golf clubs you should carry above, I think you may wonder something. Therefore, I choose the most frequently asked questions and answer them below. I hope you can find what you need.
Is There a Minimum Number of Clubs You Can Have?
No, there is not. The USGA only restricts the maximum number of clubs you can bring to a tournament. Moreover, there are no rules for the number of clubs you can have in the range or on the weekend when you play for fun or train yourself to be better.
Can I Add Clubs to My Bag During A Round?
Yes, you can add clubs to your bag during a round when you bring fewer than 14 clubs, or your device is damaged by outside influence or natural forces. When you add clubs, you have to make sure the total number of clubs is not over 14.
Are You Allowed 14 Clubs and a Putter?
No, you are not allowed to use 14 clubs and a putter. It means the total number of clubs you have is 15, and you break the rule. When you need to bring a putter, you must eliminate another club (iron or wood) to make sure you meet the maximum of 14 clubs.
Final Thoughts
If you are new to the golf game or planning to attend a tournament for the first time, you may want to see my article about how many clubs you can have in your bag. I assume it is the most vital thing that a player should remember to avoid unexpected penalties.
Don't hesitate to show your thoughts about this topic. If you have any ideas, please comment in the box below. I am willing to hear anything from you. If you find my article interesting, please share it to discuss more with your friends.
Thanks for reading!
Related articles: