Golfers may find that their golf balls become worse at least once in their life. It's likely that the ball gets cracked, waterlogged, or simply gets old and loses its excellent performance.
Several reasons may cause golf balls to deform or lose their properties. These reasons range from internal factors like the ball's quality to external reasons like how they are used and stored.
So, do golf balls go bad? What makes a golf ball deteriorate? How often should you replace golf balls? Check out this article for more understanding!
Do Golf Balls Go Bad?
Obviously, the answer is yes to the question. Things wear down over time as natural law, and golf balls are not an exception. Everything, especially those that are frequently used and impacted like golf balls, will get worse, deform and gradually lose its original properties.
For each impact with the club, the golf ball suffers a considerable force that leads to compression. When the golf ball compresses, it deforms and recovers to its original shape.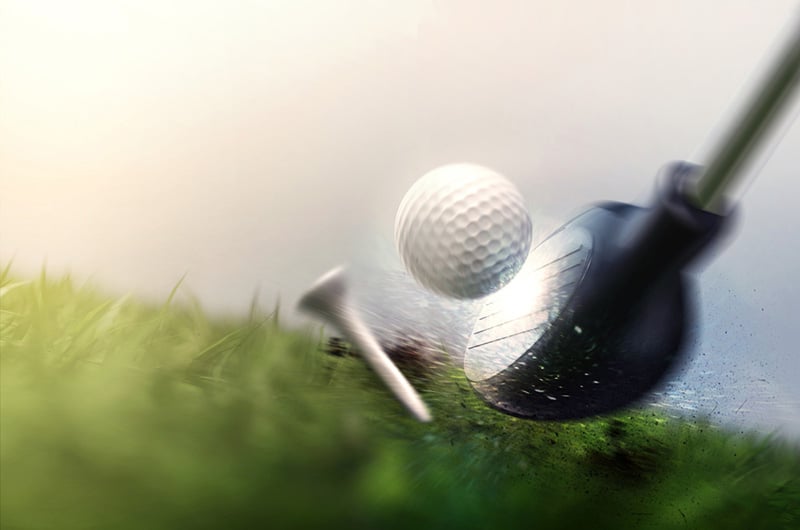 Such a continuous and repetitive process probably challenges the durability of golf balls, causing them to lose their resilience gradually. Moreover, if the force put on golf balls exceeds their resilience limit, the balls can totally be deformed.
Additionally, golf balls may accidentally hit solid objects like walls or trees. These contacts may result in severe scratches and even micro-cracks that significantly affect golf balls' performance in terms of spin, flying distance, rolling distance, and the like.
Besides, various unavoidable external deteriorations like rain, heat and more also make golf balls bad. The most frequent cases are golf balls being exposed to heat, water, and cold weather.
Do Golf Balls Go Bad in Heat?
It's hard to completely answer yes or no because it depends on the extent of exposure.
Particularly, a golf ball can perform better on a hot day since warmth enhances resilience and elasticity. Moreover, warm weather may also equal less air density. Therefore, a golf ball can compress better, travel farther, and bounce more on a hot day.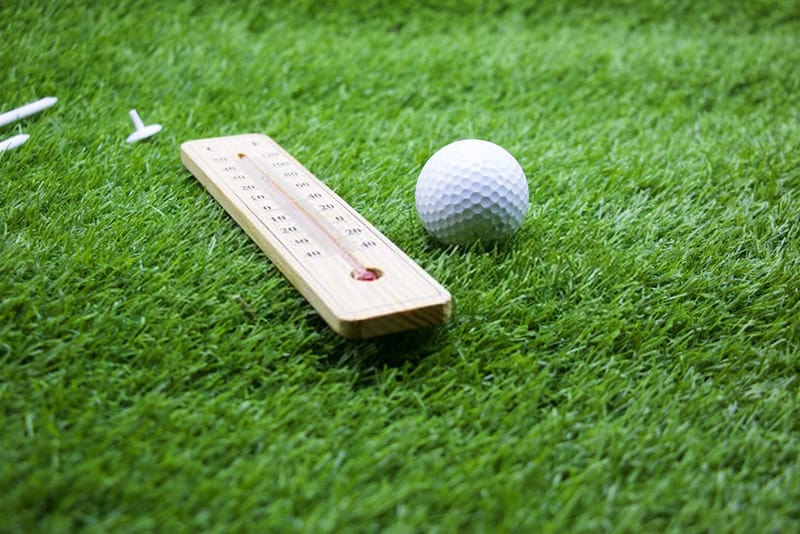 However, it may deform if kept in heat and humidity for a long time. To explain, as the golf ball covers are mostly made from thermoplastic, they can melt if exposed to excessive heat of above 170°F.
As a result, the dimples on the surface of golf balls may disappear or change, thus affecting the aerodynamics of the golf ball.
Do Golf Balls Go Bad in the cold?
In contrast, cold weather means denser air. Therefore, the golf ball would travel shorter with an equal force because it has to cut through the air density.
So, what happens if your golf ball is frozen? The answer is that your golf ball will become harder because the material properties are altered in freezing conditions. As a result, the resilience is not as great as before.
Additionally, a frozen and hard golf ball has more spin and less bounce, affecting how fast the golf ball travels after impact. Consequently, the ball flight is more unstable, shorter and lower than a normal one.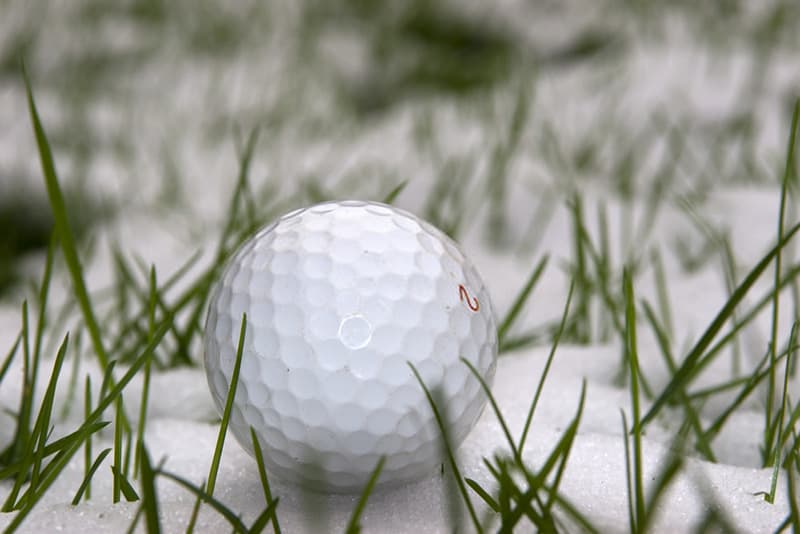 Although the golf ball theoretically gets worse in freezing conditions, some manufacturers like Srixon or Taylormade have come up with specific golf balls that perform well in the cold. You can consider buying these balls if you live in regions with extreme winter days.
Do Golf Balls Go Bad in Water?
It may depend on how long the golf ball is exposed to water or stays underwater. Normally, golf balls have a water-permeable coat that is protective enough for them to submerge underwater for hours.
However, the coating is not totally waterproof, and the water can penetrate after about 12 hours. The time can be shorter if the golf ball has some cracks on its surface.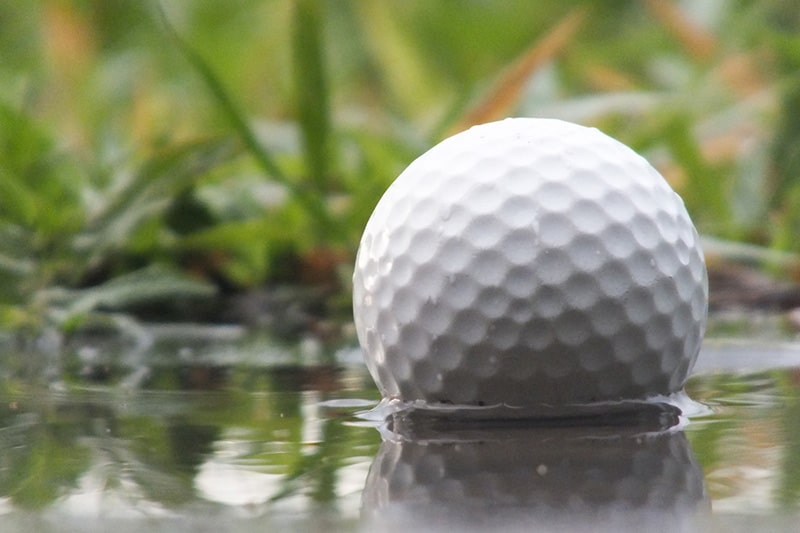 Once the golf ball is waterlogged, it can lose the advantage in terms of spin and distance. Particularly, golf balls will become lower spin as they have lost their compression.
Moreover, golf balls also won't travel as long as before due to an additional water layer that adds extra weight to the ball. Learn more about how much does a golf ball weigh here.
If the golf ball has not yet got waterlogged, it still suffers from some impacts such as losing the finishing coat, logos, and other printed things.
How Long Does a Golf Ball Last?
As explained, all golf balls get worse over time, so there will be a time that your golf ball becomes severely worn out and is not suitable for playing anymore.
However, it's difficult to answer how long a golf ball can last because several factors can affect the lifetime of golf balls. In addition to storage conditions and how you use them, the quality of each ball is also an important factor.
For example, soft golf balls like Titleist are excellent at enduring scuff and scratches, while harder types like Bridgestone or Callaway are better susceptible to rough ground and errant strikes.
How would an old golf ball affect your performance? How to tell when a golf ball is worn out? Keep reading to find the answer!
1. How Do Old Golf Balls Affect Performance?
Getting old doesn't mean the ball should be tossed off, because the performance of old golf balls may depend on their conditions.
If the ball only gets dirty, you can refurbish or clean it, and the performance is not very different from a new golf ball.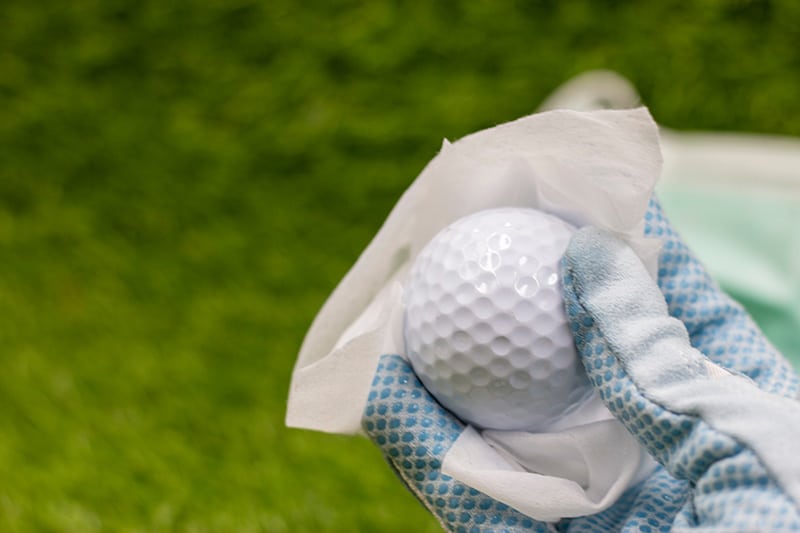 However, if the golf ball is severely scratched, cracked or even waterlogged, frozen, the performance may decrease significantly due to the loss in properties.
The aerodynamics may change depending on the situation, leading to worse performance in distance, roll, spin, and flight.
2. When Should You Replace Your Golf Ball?
As very old golf balls may limit your performance, it's better to store the golf ball carefully and replace it once it's worn out. Normally, a typical modern golf ball without visible damage, under frequent use and normal storage, can perform well up to seven 18-hole rounds (source: Golf Digest).
However, that number is only a reference, as it can go up or down depending on how you use and store golf balls. So, when should you change your golf ball?
Here are some tips for you to tell if your golf ball is still good for use or not!
Examine the golf ball cover
Cracks and scratches have a significant impact on your golf ball's performance. Therefore, if there are any visible signs of damage on the golf ball, it means you should change to a new one.
To check, you only have to take a close look at the surface. Also, check the dimples to see if there is any severe deformation. If yes, you should consider replacing the golf ball.
Check floating ability
Another way to check if there are cracks on the golf ball is to put it into water. It doesn't mean that you submerge the golf ball or put it in freshwater, because it will sink.
Instead, put the ball in a glass of saltwater and leave for minutes. If your ball can float and there are no air bubbles, it means that everything is totally fine.
Bouncing test
A bouncing test is an easy way to test the golf ball's properties. Simply take a new golf ball and drop it simultaneously with your ball to compare.
If the old ball is close in performance, it is still good for use. However, make sure that you drop both golf balls with equal force, from the same height, and onto the same surface.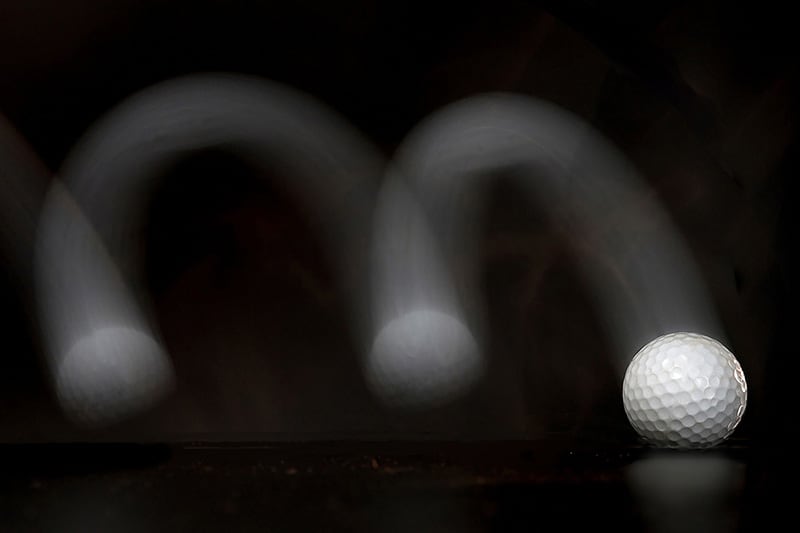 What to Do With Used Golf Balls?
It's an interesting question, because many people may have problems dealing with old golf balls. In fact, there are many ways to get rid of used golf balls.
The most common way is to clean the golf ball. However, it's only applicable to those with some dirt. For golf balls with cracks and damage, they are not suitable for playing no matter how carefully you clean them.
In that case, you can consider recycling or refurbishing the ball. These processes can be done by yourself or a third party like golf ball manufacturers.
If you love DIY, you can also try to decorate the old golf balls by painting them. By doing this, you can own a very unique golf ball.
FAQs
Until here, you may have had enough understanding of how golf balls go bad and how to deal with it. Besides such knowledge, here are some additional queries people may have regarding golf balls going bad.
Have a look and explore more interesting information!
Are 8 Year Old Golf Balls Still Good?
It's hard to answer exactly, but depending on the storage and usage. If a golf ball is unused and kept at room temperature (70-80°F), it can maintain good conditions for 10 years.
However, if the golf ball is used, how long the ball can last also depends on the frequency of use.
Do Unused Golf Balls Go Bad?
Theoretically, unused golf balls can last for 10 years in normal conditions. However, modern golf balls are not going bad at all without being exposed to extreme conditions.
Therefore, you can play a 10-year-old unused golf ball as normal. However, it may miss out on some upgrades or technical advancements during such a long period.
How Much Distance Do You Lose With Old Golf Balls?
In fact, being old does not affect the golf ball's performance at all. However, old balls with cracks or other problems may change their aerodynamics.
The extent of change may depend on the level of damage. For example, golf balls with micro-cracks may reduce the distance by about 6 yards.
Conclusion
So, have you totally understood the question "Do golf balls go bad"? I hope that my explanation is informative and helps clear all your confusion!
If you find what I've shared useful, don't hesitate to share it with your friends and golfmates! Also, please keep supporting my other content!
Thanks again and I hope to have your interest!