Golf is one of the most elegant, healthy, and popular sports in the world. Referring to golf, people immediately think of a sturdy club and a flexible ball. Looking at the small ball flying on the field, are you curious about how to make a golf ball?
Well, the answer is dependable and could vary according to the time and region in which they are made. This article will focus on the making of modern golf balls. Let's get started!
How Golf Balls Are Made – Manufacturing Process
Golf balls, at first glance, are quite simple. However, the process of creating them could be more complicated than it looks.
Before reaching customers as a complete golf ball, each ball must undergo 7 basic stages, including center forming, injection & compression molding, polishing & painting, logo printing, drying, quality test and packaging.
More details about these stages are available here in the following part!
1. Forming Ball Center
First, the manufacturer will mix the substances to create chemical reactions, resulting in a rubber compound. Then, the solid rubber piece is molded into a circular shape of 1.5-inch. This molded core is the center of the ball.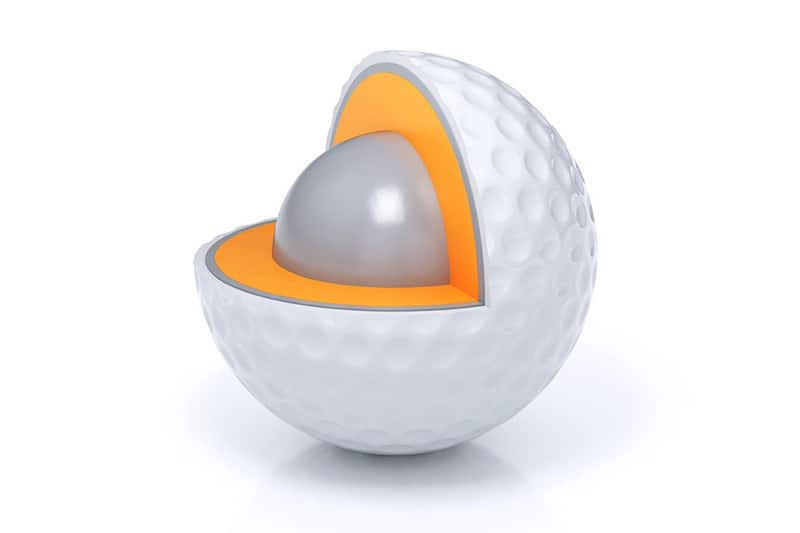 Besides the core size, the amount and mixture of ingredients are also calculated carefully with a close ratio to ensure that the ball is conformable to the standard weight.
2. Outer Shell and Dimple Making
Once the central core is completed, the manufacturer will continue to give it a coat by injection or compression molding.
Both of these two processes involve the utilization of heat and pressure. A heat capacity of up to 300ºF and a maximum pressure of 1 ton are normally required.
Depending on the construction, particularly the number of pieces the ball has, this stage of making the outer layers could cost differently, or require different technologies and periods.
Injection molding
When applying the injection molding method, the material is pulled into a hopper by a screw to heat up, then injected into a mold cavity. Hot plastic like surlyn or urethane is commonly used for producing two-piece balls to create the hard outer with dimples.
For balls with more layers, injection molding can cause some inconveniences such as shrinking the rubber threads. However, some manufacturers still apply this method for three-piece balls since the percentage is minor.
This method is great for fast and productive manufacturing of similar objects. Manufacturers can also control the heat and pressure effectively with minimal labor.
Compression molding
With this method, the material is placed in the mold cavity to be heated. Then, plugs are inserted to seal the mold cavity and press into a sphere.
This method is low-cost and ideal for mass production of various shapes and sizes. Compression molding is especially great for thick walls, so multi-piece golf balls often use this method so as not to deform or even break the rubber thread.
With a different number of pieces, the completion time is different. Typically, two-piece balls do not need to use compression because it is more time-consuming. Meanwhile, three- and four-piece golf balls will take up to a month to make using this method.
3. Polishing and Painting
Scratches or any rough spots left after the molding process will be smoothed out and covered with 2 coats of paint. In this stage, the ball is placed on the rotating shaft so that the paint can be applied evenly by an automatic spray gun.
4. Logo Printing
Usually, the balls have a logo, brand name or some designs, patterns printed on the outside. This logo is formed by the process of a giant stamp covered with ink and glued to the surface, which is still known as Pad Printing.
After that, a layer of polyurethane is applied as a finishing coat to protect the ball from external deterioration and damage.
5. Drying
Once the golf ball is finished, the manufacturer will put it into a large barrel to dry. At this point, the ball has completed the production process and is ready to be used.
6. Quality Test
Before hitting the market, each golf ball needs to undergo quality tests. This testing step is very important since it ensures that the golf balls hitting the market can meet the needs of golfers.
To verify the operation of the ball under USGA standards, the manufacturer used a True Temper Mechanical Golfer machine, also known as Iron Byron.
The device has many different swing modes to suit all types of clubs for versatility and higher accuracy.
To check if the ball trajectory meets the standard, experts will use the Ball Launcher machine. Based on that, the manufacturer figures out the distance each ball travels in the air and its rolling distance on the ground at different speeds.
7. Packing
Once a golf ball is completed, it will be packaged in beautiful boxes or packaging with the logo and company name printed. After that, the golf balls will hit the market and reach consumers.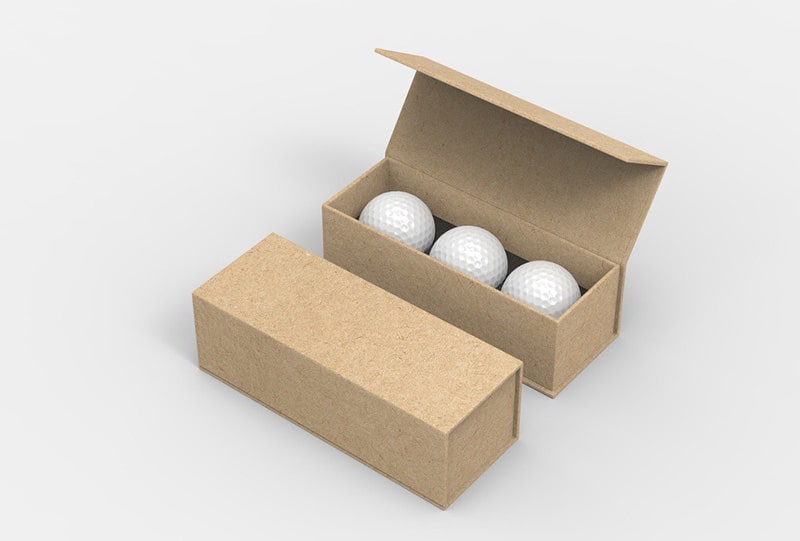 If you want to understand more about how golf balls are made, watch this video!
History of Golf Ball Development
Golf originated from the Scottish hobby of hitting stones with sticks. Over time, this game developed into a popular sport all over the world. Therefore, the ball's sizes, materials and making procedures have changed accordingly across history and regions.
Quickly read through this part to see how the golf ball has developed throughout history!
1. Wooden Ball
In 1400, materials were not as diverse as they are now. Therefore, wood – a natural and inexpensive material, has been chosen to be honed into rough, round shapes. The first ball was formed like that.
The wooden ball is heavy and incapable of moving far. It can also cause serious harm if you accidentally hit someone in dangerous positions. However, for players, this is a great design to help them satisfy their fun.
At that time, this game was popular with people from all walks of life. Everyone regardless of their social stratification loved to hold a stick and push this circular object into a hole.
As the market for golf balls has grown strongly, wooden balls are considered the most profitable products of the time.
2. Feather Ball
After a long time of having fun with wooden balls, the first improvements to golf balls were made in 1681. Instead of rudimentary spheres, a ball became feather-stuffed.
The glossy shell is made of 3 pieces of leather sewn together. Then the goose feathers are wetted and stuffed. When the bristles dry, a spherical ball appears. To give it a unique look, people also painted it with color.
See Also: 10 Best High Visibility Golf Balls in 2023
The process of making a feather ball is quite time-consuming; as it will take you 8 hours to stuff the feathers, wait for it to dry, and paint. The light feather ball can fly high and far, but it is not as durable and does not last as long as wood.
Because of the high-grade materials and a more complicated making process, feather balls are more expensive. Therefore, this sport gradually narrowed down and was only for the rich and the elite.
3. Gutty
Two hundred years later, a new golf ball reform takes place. In 1848, the Gutta Percha or gutty ball was widely introduced to golfers. People heated the sap of rubber trees, a popular tropical tree, to create golf balls.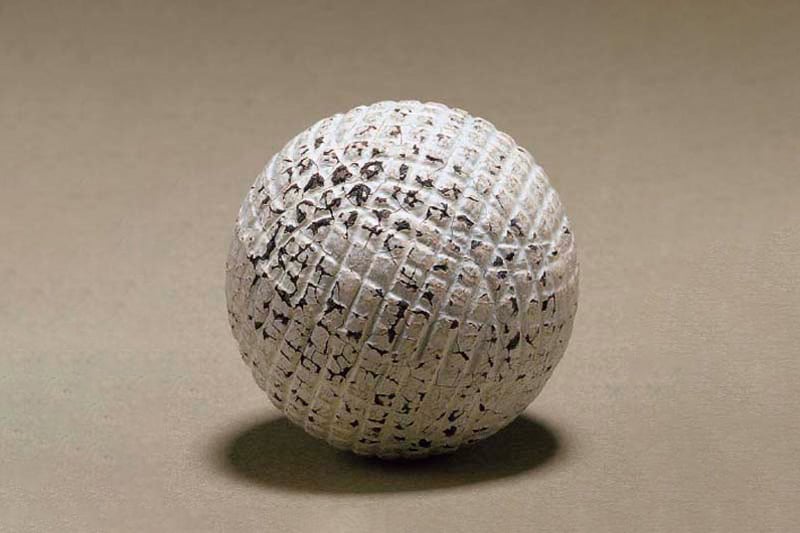 The method and manufacturing cost are much cheaper with feather balls, but the durability is significantly improved. Besides, the ball also has patterns that help the ball to be beautiful and fly better. This improvement has given golf-loving farmers a chance to pick up the trigger again.
By 1890, a mold had been created to make packaging production the standard process to make a series of identical balls. Therefore, the time and effort of finishing Gutty balls are saved, and it is more suitable to produce cheap balls.
Balloons now have spherical protrusions on the surface that increase their ability to fly and roll farther when landing. Of course, the durability is also much longer-lasting. This "Bramble" model is also the origin of today's modern golf balls.
4. Haskell
By 1898, golf balls continued to innovate. At this point, someone named Coburn Haskell introduced everyone to a ball made of a solid rubber core with rubber threads wrapped around it and wrapped in gutta-percha.
In 1905, these balls had the same dimples as today's balls and could go up 20 yards. With that outstanding feature, the Haskell ball quickly became a popular product.
5. Standard Ball
The modern golf ball has its standard inherited from the Haskell ball. Based on that standard, each golf ball is created with different technology and properties to serve various areas of the game.
However, they must also be made under the rules by the USGA. Particularly, golf balls must be spherically symmetrical and should not weigh more than 1.62 oz. The velocity of the ball must be within 250 ft/s, with the overall distance standard of 280 yards.
By that way, it is easier to unify the production process while providing a quality ball. This also helps golf become more professional and mainstream.
Today, any manufacturer, whether using materials or manufacturing processes, must comply with those indicators. No matter how beautiful and expensive the ball is, it is nothing more than an illegal golf ball if it does not meet the requirements.
Types of Golf Balls
In today's game of golf, balls are normally classified based on their construction, spins, and compression. Each type of ball is specifically designed with certain properties and features, in order to serve different players and areas of golf.
Here are some basic types of modern golf balls divided into 3 categories that you may want to know!
1. Construction
Currently, golf balls have different parts, ranging from one-piece to five-piece. The more parts it has, the softer and bouncier it becomes.
When choosing golf balls for slow swing speed players, it is better to stick with one-piece balls. The reason is that these constructions will create less backspin, thus decreasing the hooks and slices for a straighter flight.
Despite the limitation of flying distance, one-piece balls are more solid and have excellent durability. They also require less time, cost, technologies and labor to manufacture, making them the best ball for women, kids, seniors or beginner players.
Two-piece is probably the most common one because it offers both control and distance. Therefore, it is an especially suitable type of ball for average players and casual golf courses.
Unlike one or two-piece balls, multi-layered balls provide more spin separation and feel. Therefore, they are used for performance purposes so that professionals could have more control to customize the ball flight.
The multi-layer ball is also a great choice for distance and speed, as each layer has its own properties and can react to your shots and swing speeds to improve your performance.
2. Ball Spin
Regarding the ball spin, there are 3 types, including Low spin, Mid spin and High spin golf balls.
Similar to one-piece balls, low spin balls provide less spin and straighter flight. This type will not travel as far as higher spin balls, but would increase the ball roll once it hits the land. Therefore, it is the best ball for slice and distance on the ground.
The mid spin type is suitable for most players, as it can balance the solid distance, softness and feel better than low and high spin balls.
Meanwhile, the high spin balls are designed for increased spin and long carry on the greens. This golf ball type is also suitable for hook or draw shots, making them straighter by increasing backspin.
3. Compression
Compression is an important factor, referring to the ability to compress, as well as the softness of the ball. Typically, golf balls are made with low, mid or high compression depending on the purposes.
Low compression golf balls are those having the rating under 80 mph swing speed. This would provide a softer feel when hitting the ball, while minimizing the power you have to release. Therefore, it is greatest for slow swing speed like seniors.
Medium compression golf balls have a rating of 90 to 100, offering a balance of distance and control for most ordinary players.
Advanced players or professionals should choose balls with a high compression of above 100 swing speed. This type of ball could absorb the force well to deliver greater speed and distance, as well as more control and customize performance.
What Materials Are Modern Golf Balls Made Of?
It is found that plastic and rubber are two materials with high durability, easy to manufacture and give a good bounce to the ball. That's why modern golf balls are made from these materials.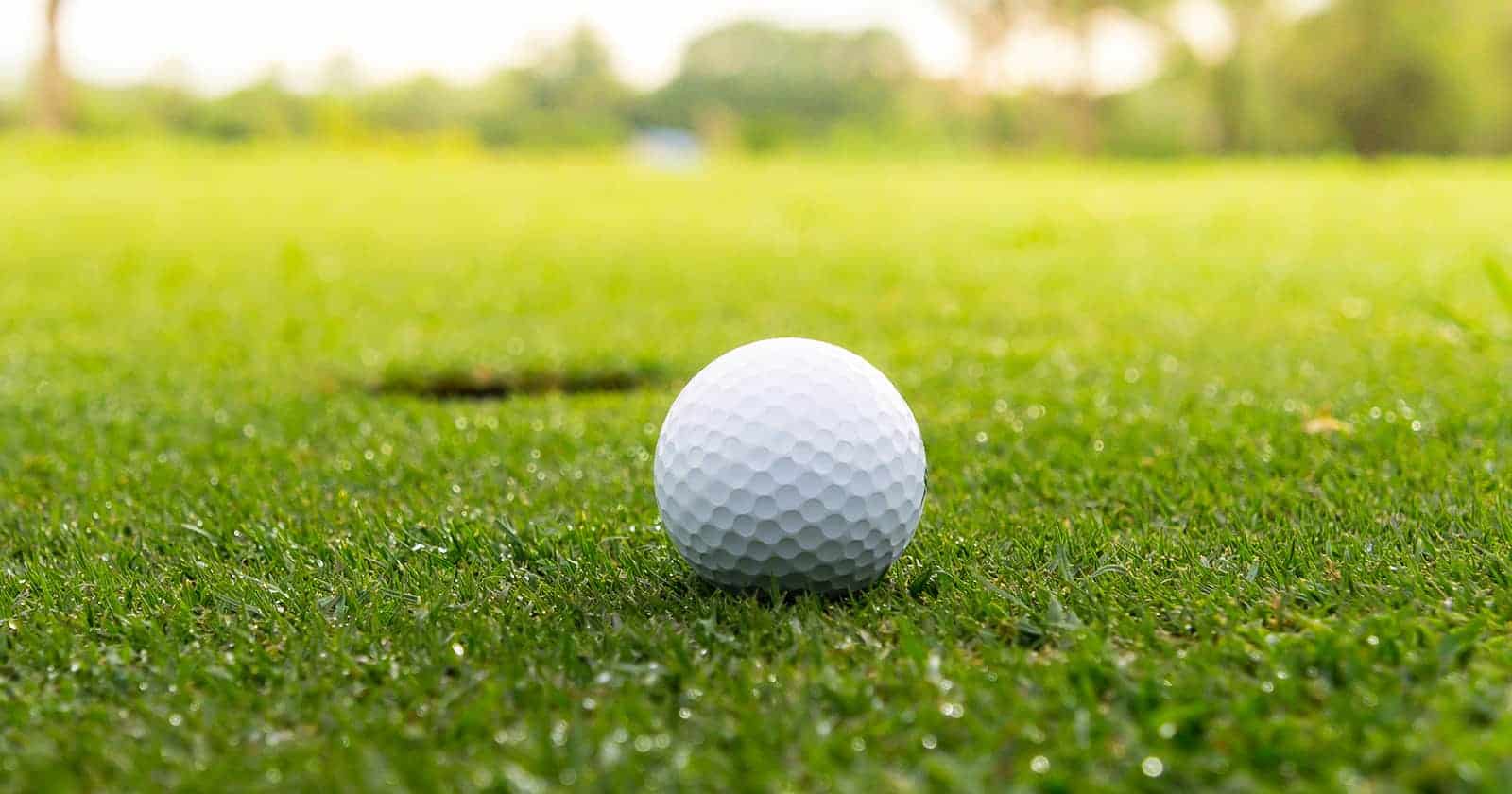 The two-piece balls have a solid rubber core and a flexible ionomer, surlyn, or urethane cover. Meanwhile, the three-piece ball consists of a smaller solid rubber core or fluid-filled center and a surrounding rubber filament. Of course, its shell will be ionomer resin or balata.
FAQs
The above content may not be exhaustive and you need to know more relevant information. So I put together and answer some frequently asked questions on this topic. Check it out!
How Many Golf Balls Are Made?
Beginner golf balls will often be lost due to inexperienced players or falling into obstacles. It is estimated that players will lose many balls in one round, so a golf course is always equipped with a lot of balls.
It is calculated that 1.2 billion balls are produced every year, and about 300 million are lost in the U.S. alone (source nytimes.com). Although golf is not a sport for everyone like it used to be, its popularity is still great, so a huge number of golf balls is needed to serve golfers around the world.
What Is a Golf Ball Made of Inside?
The different balls inside them will be various materials:
The one-piece ball is an inexpensive beginner's ball made of Surlyn resin with dimples.
A two-piece ball is a common ball consisting of a rubber core and a plastic outer covering.
The three-piece ball consists of a solid or liquid rubber core, a fibrous rubber layer, and a protective outer shell.
The four-piece ball is similar to the three-piece ball, but it has an extra layer in the middle to transfer energy from the shot to the hot core.
The five-piece ball has 3 thin layers sandwiched between the rubber core and the protective plastic cover.
The 6-piece ball has a softcore and the next 4 layers harden, and finally a thin plastic wrap.
Why Do Golf Balls Have Dimples?
If you've seen the first balls, you'll realize that the original golf ball was very smooth and shiny. Over time, golfers begin to find the old balls don't fly as far and hit harder. Thus, golf balls with concave surfaces were born.
These balls have the ability to fly farther and quickly attract golfers. As a result, people switched to using products with cuts and dents.
One day, an aerodynamicist spent some time studying this problem, and he realized that the dents are like a turbulent machine capable of creating turbulence around the ball. This reduces air resistance and helps the ball fly further.
In addition, when the ball landed, the roughness in the martial arts class helped the ball roll farther and be more intentional. Realizing those advantages, the manufacturer has gradually switched to making balls with dimples.
These indentations are increasingly being purposefully engineered for better results. Usually, manufacturing companies will constantly work on improving dimple designs to give themselves a competitive advantage.
Does Golf Ball Design Affect Performance?
The design of a golf ball greatly affects its flight speed or distance. For example, a slick ball cannot fly as high and as far as a dimpled ball. Besides, the design and arrangement of the dimples on the ball also affect the ball's speed.
Therefore, the design of the ball is very important in golf. However, that is not all. Flying speed or ability to fly far depends on how the player hits. A newbie and an experienced person will have different results.
Or a pro against a fun player will also yield different moves. Therefore, you need to practice to improve your ability.
In addition, the weather is also one of the factors affecting your performance. It sounds unreasonable but is very convincing because the ball will fly farther in a high humidity environment.
Therefore, if the performance is not good, you should also consider many factors instead of just focusing on golf balls.
Can You Make Your Own Golf Balls?
You can leave a mark or accent your shadows in a variety of ways, and here are a few suggestions:
Personalize your golf ball with your favorite icons, names, images or objects, and animals. Nowadays, such services are widely available. You can find online or reputable shops near your home to do it.
You can make your ball more prominent and recognizable by painting it a non-white color. Of course, the painted color may fade after playing, but if you love and like to take care of the shine, you may consider repainting it as a leisure hobby.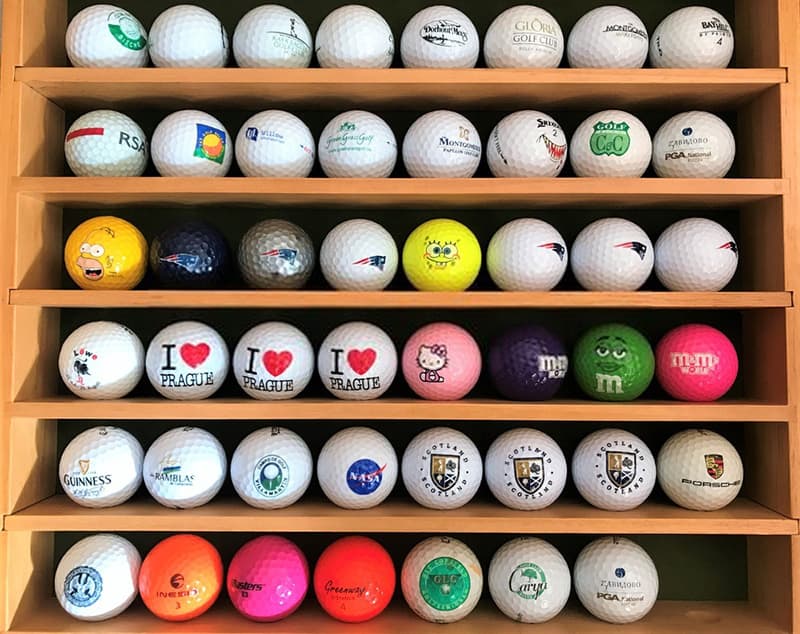 In addition, you can also use this method to make a unique ball and gift it to your friends, especially golfers.
Conclusion
Making a golf ball is not simple, but with the above process, it is not difficult to make a series of balls in large quantities for everyone. Hope the above information has helped you answer the question about how golf balls are made.
So, if you find my writing useful, please share it for everyone to know or leave a comment to encourage me for the next quality content.
Thanks for reading!