Even if you play golf for fun or for any serious reasons, you may need to calculate the amount of time you could spend on your games. In other words, players usually wonder how long a round of golf can take and what factors affect it.
There are so many things that can extend or shorten your time to play a round of golf. These factors can come from the outside, like weather, course design, or how many players are waiting before and after you.
Other reasons come from your skills, the amount of time you need to calculate your ball flight, or joking time with friends. We are not robots, and we usually play golf with friends, so we can do more things to have fun besides swinging and moving to the next holes.
When you want to know how long a round of golf can take, you may spend hours or days researching. Don't do this. Your answer is right here. I did this job for you. Read on now to know the amount of time for a round in golf and my advice to improve it below.
How Long Does a Round of Golf Take?
Golfing is a funny game that you can play with your friends in your spare time. However, there is always a restricted amount of time that is called the pace of play in golf.
In professional competitions, both the R&A and USGA produce rules to prevent slow play from interfering with the enjoyment of others. Let's roll on and clarify the maximum time that a player can use for a round of golf.
1. How Long Does It Take to Play a Round of 18 Holes?
Typically, my friends and I spend about 4 hours playing a round of golf. We take about 30 minutes to finish each hole of the 18-hole golf course, including time for moving between each hole.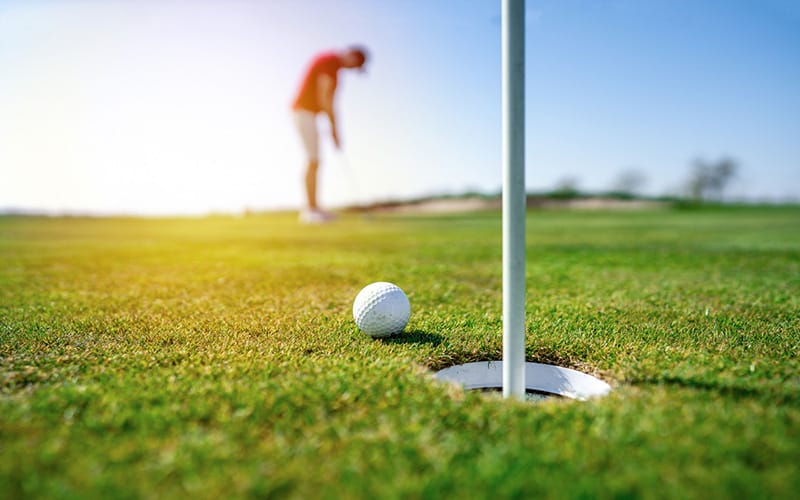 However, we only have that amount of time in the ideal conditions: good weather, an uncrowded course, and none of us are slow-playing. Besides these main factors, some small things can affect our pace of time, like the game format or course design, etc.
Moreover, if your group has more than three members, the amount of time you need to play around to complete 18 holes can be extended to five or six hours. Meanwhile, a large number of members decreases the time-par for each individual.
In some courses, the time-par, the maximum amount of time given to complete each hole, is printed on your scorecard or informed to you before your games. Sometimes, a sign displays the time left to remind you and your members.
2. How Long Does It Take to Play a Round of 9 Holes?
My friends and I don't usually play 9-hole golf games. We have enough spare time to play in a large course and only switch to that kind of game if we can not manage our standard schedule or there are many older members in our group.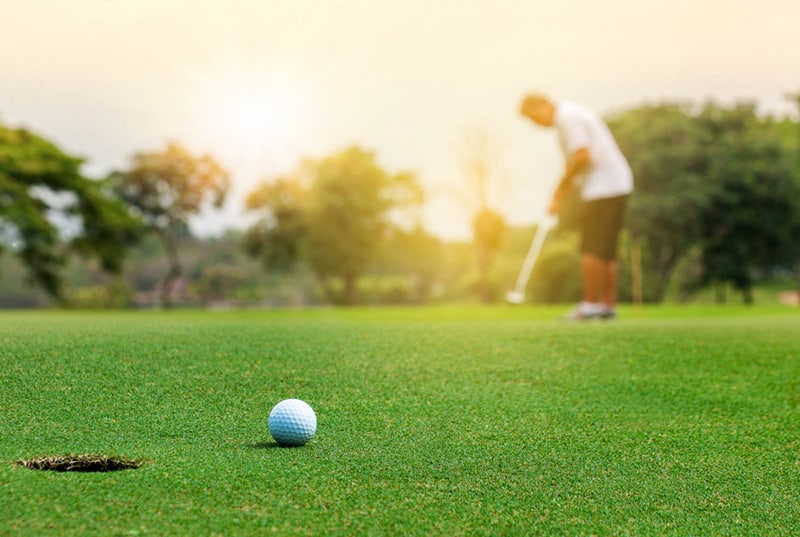 If you have to spend at least 4 hours playing a round in an 18-hole golf game, you may need half of this time (about 2 hours) to complete a round in a 9-hole one. The maximum time for each hole will be the same as I mentioned above.
And even if you choose which kind of golf course, the factors from the outside and inside of you and your group still affect your time for a round. Let's dive in to explore these and see what you can do to improve your playing time without decreasing the enjoyment of you and others.
Factors Affect Time of a Round of Golf
Many things can affect how long a round of golf can take. Some you can notice obviously like the weather, the course traffic or a number of your group members. You can change these factors to boost your time or just avoid them to have a better experience.
1. Starting Intervals
Starting intervals are when you have to wait between each group on the course. The wider the gap is, the better pace of play you have. However, in reality, this factor can not always be long enough for you to feel comfortable.
The number of members in each group is not equal. Yours may have three, but other groups can have more than four. If the course administrator limits the maximum number of group members, you are lucky and don't hesitate to play.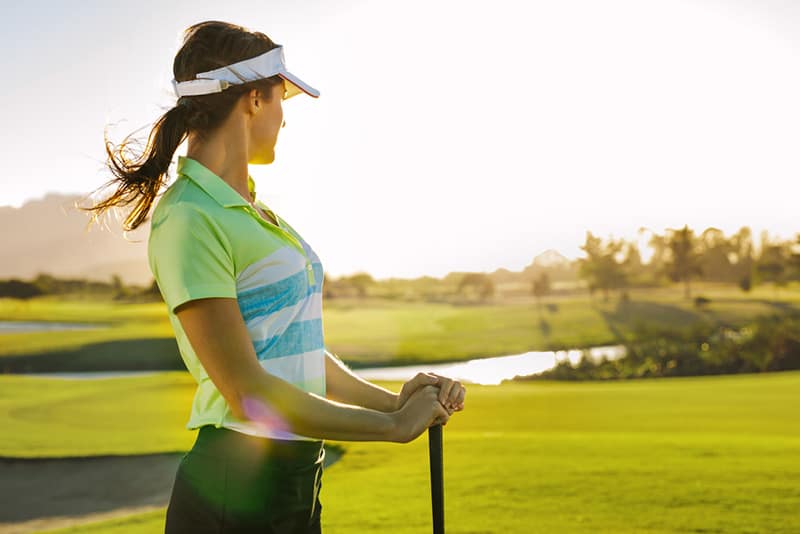 I notice that the overflowing situation usually happens in resort golf courses. The owners try to make as much money from the travelers as possible and don't care about the pace of play management.
According to the R&A manual, the starting interval should equal the time you need to complete the quickest hole on the course. If you play two balls, the recommended time is eight minutes. Similarly, it should be 10 to 12 minutes with three or four balls.
2. Number of Group Members
When playing golf, how many players in your group are a real matter in the pace of play. Obviously, the more that number is, the longer time your group needs to complete a round. If four golfers use four different balls, the amount of time can be extended more.
In some courses, the administrators restrict the number of members in the golf group. Sometimes, they also limit the balls your members can use.
The large golf group can cause longer starting intervals and make others in the queue for a hole. To prevent that, you need to limit the number of friends when inviting them to play golf with you.
3. Game Format
Golf is an exciting game that provides you with many formats to play. You can choose which kind of golf game you like to play based on the time you need to complete a round of golf. Usually, we have stroke play, match play, bogey competition, foursome, etc.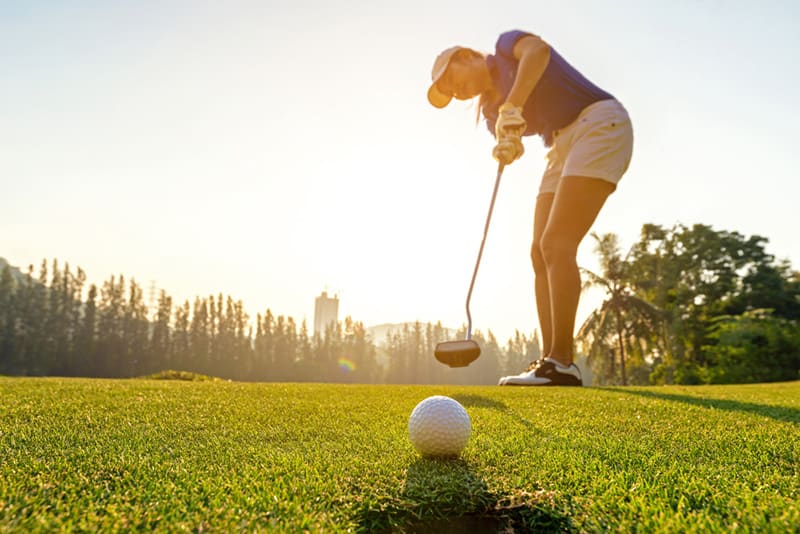 Among these game formats, the regular stroke play lasts the longest. Players need to complete every hole to get scores. If your group has more than two members, the amount of time for all of you to complete a round may bother many others on the course.
Switching to other games that don't require players to do the same as stroke play can shorten your time. Matchplay or bogey competition are great replacement ideas.
4. Weather
If the other factors I mentioned above can be changed easily, the weather is irreplaceable. You can not control the sky to get a sunny or windy day. However, you can avoid the bad weather and play golf in the good one.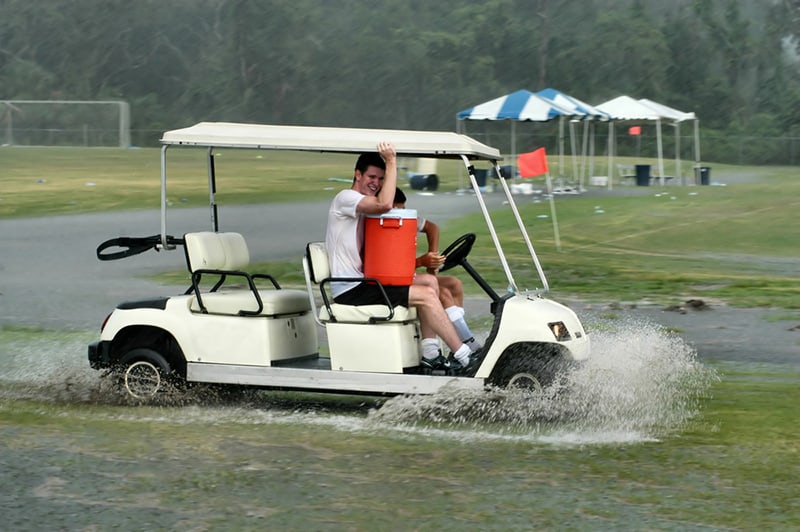 The weather plays an important role in how long a round could be when playing golf outside. If it suddenly rains or has strong wind, you need to wait or even cancel your game if it is getting worse.
My advice here is always to notice the weather forecast when planning to play golf with your buddies. This news may not be 100% right, but it can help you prepare well.
See also: Top 7 Best Golf Balls for Cold Weather in 2023
5. Course Size and Design
Golf courses are varied in length, size, and design. Those differences help golf attract players and keep them playing and conquering challenges. However, if you are an average player and want to control your pace of play, it's essential to choose a suitable course to play.
The distance from green to tee affects a lot of the time of a round in golf. If the course is too long, you need to spend more time moving between each hole and vice versa.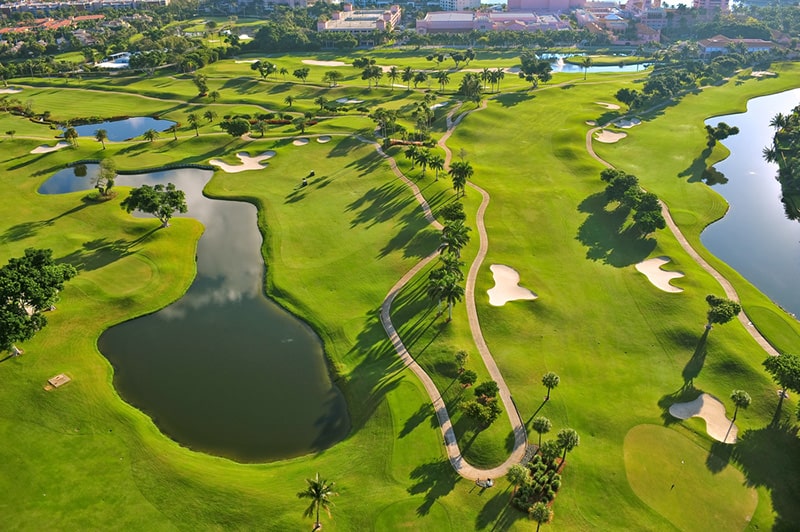 Besides, we usually create unwanted shots, and it's a waste of time finding a tiny ball in a large course. The fairway width and rough height also play a role in your situation. The higher grass and narrow fairway are not ideal for putting backspin on your golf ball.
A bad green surface makes it difficult to succeed in chip shots. The more times you try, the longer others have to wait.
Moreover, the obstacles on the course, like ponds, sand traps, etc., affect your round time too. These hazards belong to the course design. You can not change them, but you can avoid them from the first step when considering the right place to play.
6. Course Routing
There are some easy holes in a golf course that average players can get through effortlessly. However, some difficult ones called bottlenecks take more time to complete.
Changing course routing is a good solution for you. It is better to play the challenging holes first instead of getting through these later. Besides, you can also save your moving time between holes by changing course routing.
The shorter distance in the golf course means the better pace of play you have for a round of golf.
7. Tee Options
Various tee options on the green can enhance the pace of play. We all know that players on the course do not always have low handicap digits. Most of them are average players and try to practice or play golf for fun. Teeing suitable for all kinds of players can save time.
On the course, players who use shorter clubs will go first. They often use tees and make simple straight shots. The long irons like fairway woods or hybrids are harder to control, andbeginners or high handicappers usually make mistakes and take a long time to hit these right.
Therefore, players using lofted clubs have more chances to finish a round when the course offers different tee options. Then the pace of play is shortened afterward.
Besides, when choosing how to move to the next tee, you may need to consider the time between walking and driving a cart. Your priority should be put on the closer tees that require less distance to ensure the pace of play for you and your group.
8. Player Behavior and Ability
In a group of three or four members, not all of you have the same ability. The differences between players in yours and others can lead to dissimilarities in time to complete a round of golf.
Usually, average players like us play 85 – 90 shots to complete 18 holes. If players' abilities in other groups are higher, they may play only 60 – 70 shots. These numbers can make a big difference in the pace of play.
Besides, the course difficulty level can be an obstacle for you and your buddies. Some courses will have warning signs, and some don't. Please notice the course and the abilities of your friends to ensure there is nothing over their control.
The player behavior seems similar to the golf etiquette of each individual on the course. You may hear others say that you are a slow player. Don't be angry with them. This is not a complaint.
Others have responsibilities to suggest that you should change something to be quicker. It is not impolite to you because they have good intentions, and you can ask them how to enhance your pace of play.
Moreover, we should always be ready to play. Please prepare for your shots while your friend is right before you are going to strike. You can put on your gloves, do some calculations and choose a suitable club while waiting.
This video will show you some other necessary things you need to do before a round of golf:
Doing these steps before your turn means you are a well-prepared golfer. In the R&A pace of play manual, the researchers prove that if each member in a group of four saves 5 seconds on courses, the total time to complete a round of golf can move faster by more than 25 minutes.
Besides, your group can express good behavior when allowing other faster groups to go through. If your members have any difficulties in completing a round, you can invite the group that waits behind you to move on.
How to Speed Up a Round of Golf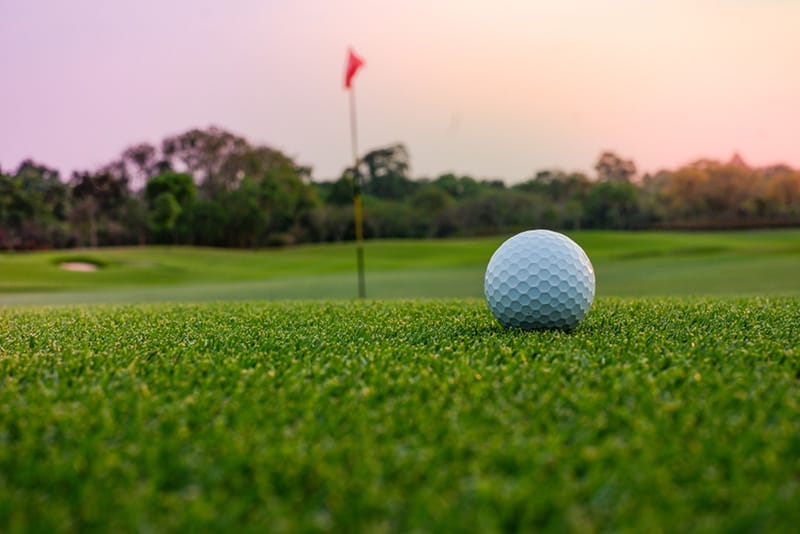 After analyzing the possible factors that can affect your time for a round of golf, I think you may want to know what you can do to speed it up. I will show you some positive ways that you can definitely do it by yourself below.
1. Be Ready Golf
Ready golf or ready to play has the same meaning. As I mentioned above, it belongs to your golf etiquette. Keeping people waiting because of your lack of notice is impolite and can make others feel uncomfortable.
If you are in an unwanted situation and can not play when it's your turn, let someone ready hit the ball first. You need to estimate what time you need to prepare for your shot to prevent that.
When the player before you is searching for his ball, you can use that time to choose your clubs, clean your grooves and balls, put on the gloves, etc.
Besides, you need to choose the right tee or know precisely how long you have to play your shot. There are more players behind you, and don't extend the queue.
2. Play Off-Peak
Rush hour in golf courses surely can make your round last longer than you can expect. Playing off-peak is a wise way to avoid that while making sure you and your members enjoy the golf games.
Most courses will let you know what time in a day or a month they can be full. You can adjust your time to get a suitable schedule before playing.
Besides, playing golf in cold weatheris another exciting choice if you need more space and time to practice. However, you have to make sure you and your buddies can stand the low temperatures and prepare suitable facilities like high-visibility golf balls and warm clothes.
3. Rules Change
According to the R&A, there are rules for the pace of play in golf. These prevent players from unreasonably delaying and make sure all players enjoy their golf games.
Each time a player does not conform to the rules, there are punishments. The first breach gets a one-stroke penalty; the second one gets a general penalty (two-stroke penalty in stroke play and loss of a hole in match play).
In the third breach, a player is disqualified and out of their position.
These rules can change to be suitable for the situation on any course. The administrators can adapt these and announce them to the players before and during their games.
Conclusion
If you are new to the game or have played golf long enough and wonder how long a round of golf can take, you may not want to miss my article. I hope the research and experiments that I shared above can help you figure out your ideal pace of play.
How long does it take for you to complete a round of golf? Do you have any other ideas about this topic? Please share your thoughts with me in the comment box below. I love to hear any feedback from you, and remember to share my article to discuss with your friends.