How to clean a golf ball properly? This is a question asked by many people. Because, after each match, it is very easy to get the ball dirty or scratched. Not only does it affect the aesthetics, but getting dirty also affects the ability to fly far and the direction of the ball.
In today's article, I will introduce ways to clean balls manually and use a ball cleaning machine quickly and effectively. Let's take a look at a few issues to ensure golf balls are always clean.
Some Useful Items for Cleaning Golf Balls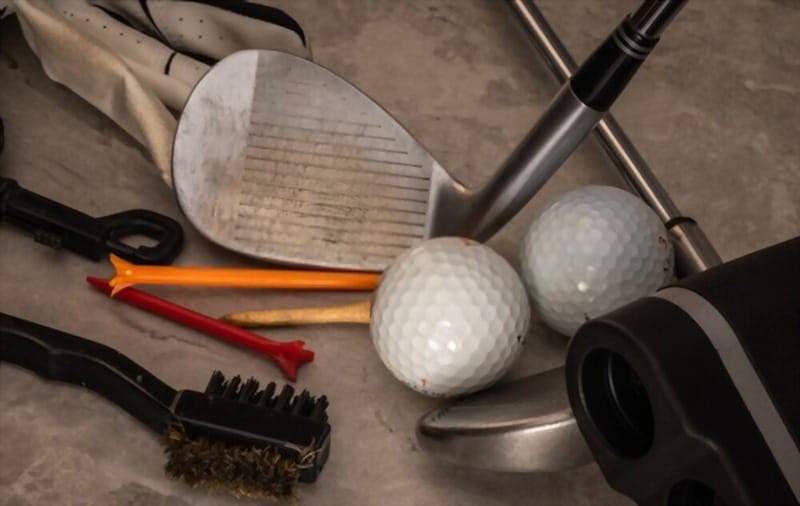 Regular cleaning of golf balls will help increase their lifespan. In addition, clean balls give a more precise path. To clean golf balls, I need to prepare some items such as dishwashing liquid, a small brush, a dishwasher, and a clean towel.
1. Dishwashing Liquid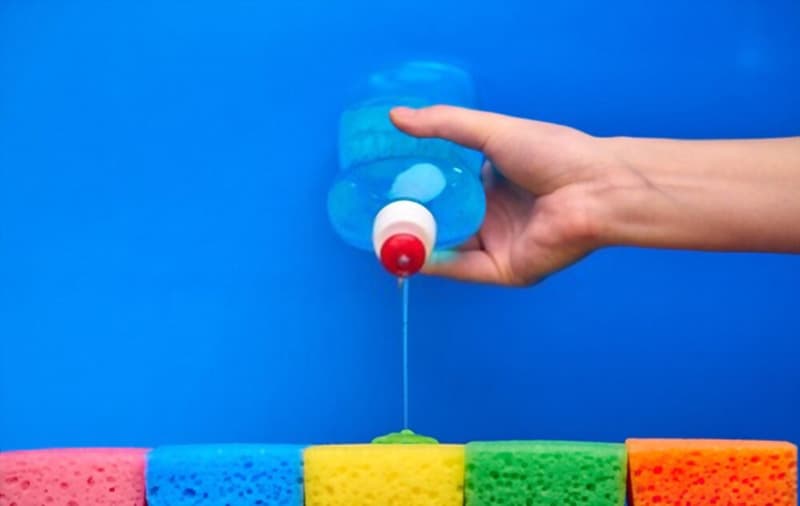 We also know that cleaning will be difficult to achieve high efficiency if you only use water, especially stubborn stains. Therefore, an item that people often choose is dishwashing liquid, a solution with a low detergent concentration.
And a recommendation for you is not to mix any detergents together to clean golf balls because that mixture can affect the coating on your golf balls.
2. Small Brush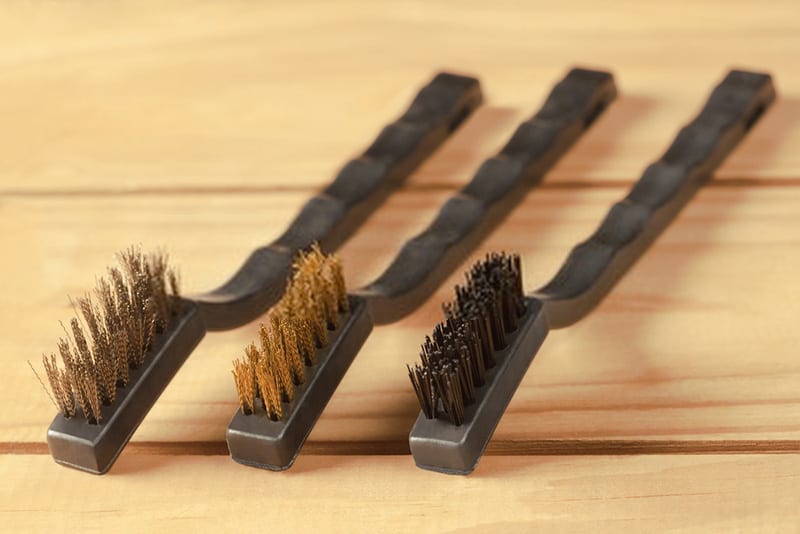 You can choose different scrubbing tools to clean depending on how dirty the golf ball is. You should only use a cloth or sponge soaked in the soap for slightly corroded surfaces to gently wipe the outside.
A great option for you is old toothbrushes. It ensures compactness to help you clean anywhere on the ball and has a moderate softness to avoid scratching the ball.
3. Dishwasher
In addition to washing balls manually, you can also take advantage of the dishwasher in your home to clean golf balls at the same time.
It's very easy to do, and you don't have to worry that your dishwasher will damage the ball. And, you don't even have to touch the water or any ball cleaning solution.
4. Clean Towel
After the ball has been cleaned, it is essential to dry it. Now, you will need a soft and clean towel that will help you dry off any remaining water on the outside of the golf ball.
How to Clean Golf Balls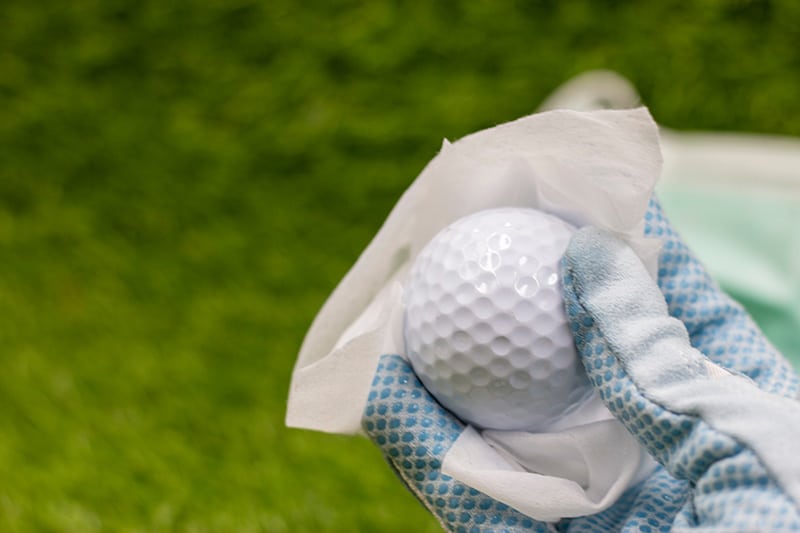 Depending on the level of dirt, I can apply different cleaning methods.
1. Light Stains
For light stains, you can clean them manually or wash them in the dishwasher. The process of cleaning light stains on golf balls:
First, put the ball in a large basin or dishwasher drawer.
Add a sufficient amount of dishwashing liquid to clean. With the manual method, you need to add warm water to the ball, but if you use a machine, you do not need to because the dishwasher will automatically provide warm water during the cleaning process.
A towel or a sponge is enough for cleaning in this case. Or the ball will be cleaned after two cycles of dishwasher operation.
Finally, blot dry the remaining water on the ball.
2. Moderate Stain
For moderate stains, the cleaning process is as follows:
Place the ball in a small bowl and add just enough warm water.
At this point, you need to use some stronger detergent to clean the ball. It could be a ball cleaning solution, ammonia, or vinegar.
Soak for a few hours before moving on to the next step
Then, step by step, rinse the ball with clean water and pat dry.
Users can dry the balls in moderate sunlight to dry them completely.
3. Bold Stains
Some strong stains will be difficult to completely remove even if you have used bleach solutions. Therefore, you need to do a few more operations to be able to clean them. These operations will be added at the beginning.
Mix baking soda in water and use a brush to rub the mixture onto the stained surfaces.
Then follow the process steps such as cleaning moderate or light stains above to completely clean the ball.
4. Bold Pen Marks
In some cases, players want to remove markers from golf balls. At this point, you just need to prepare nail polish remover or brake fluid.
Then, you can use a cotton ball to soak the bleach and apply it evenly or directly apply this solution to the marks.
Finally, after wiping again, the brush marks will be removed. You can do it a few times until you are satisfied.
Will Cleaners Damage Golf Balls?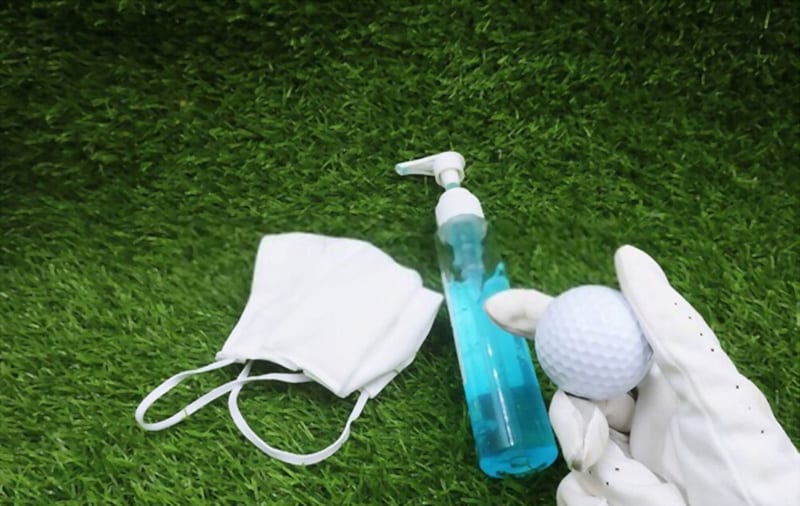 Some stains on golf balls require detergent solutions to clean. Specifically, soaking the ball in bleach can also help renew the ball and remove old and stains during use.
However, you need to choose detergents with the right concentration to avoid damaging the ball, which can reduce the effectiveness of your swing.
And the worst part is the combination of strong detergent and a stiff brush to scrub the ball. This mistake will accidentally create large scratches on the ball, causing unsightly and even damage to the golf ball surface.
A suitable option for golfers is hydrogen peroxide. It will help you completely remove the yellow stains on the ball without having to rub or scrub hard.
If you are still wondering about this, follow the expert advice in the video below:
See Also: How to Paint Golf Balls
Can Golf Balls Be Washed in the Dishwasher?
As mentioned above, you can completely clean golf balls in the dishwasher. However, you should only place the ball in the tooling area to avoid the excessive impact of the ball, which can damage the ball.
Another note is that you should not wash the ball while cleaning the dishes. That can cause your ball to accidentally pick up grease or dirt from the dishes.
In addition to the dishwasher, you can also clean a larger amount of golf balls in your washing machine. Many people choose to put more than a hundred balls in the washing machine and set the mode as if they were washing clothes.
Therefore, a dishwasher or a washing machine is a suitable option instead of looking for a dedicated ball washer. They are also an effective method to help you clean many balls at the same time quickly without spending too much time and effort.
If, after the wash cycle, the balls still have stains, try rubbing them afterward as the stains will be easier to remove after washing.
Does the Scuff Mark Affect the Quality of a Golf Ball?
Usually, very small scratches will hardly affect the quality or performance of the golf ball. Therefore, you will not need to worry about these marks.
However, the golf ball's flight path can be affected by large scratches because it will affect the balance of the impact of the air on the ball.
Specifically, the scratches increase the area of ​​contact of the ball with the air, causing a decrease in the shot's accuracy compared to conventional balls.
How to Remove Scratches?
Many golfers still think that it is difficult to remove even the smallest scratches on the ball. So let's learn how to remove these scratches in the following section. Of course, this will help soften and smooth the surface of golf balls when small scratches appear.
First, use a soft brush (you can use an old toothbrush) to clean the glossy surface.
Next, take a sponge and gently rub the golf ball surface to become smoother.
Conclusion
Above are specific instructions to help you clean your golf ball easily. Whether it is the manual method or the use of ball cleaning machines, the results are very good.
Try these practices to ensure the golf ball's longevity and eliminate problems such as dirty golf balls, misalignment, or low ball flight.
Don't forget to share if you find it useful, or leave a comment if you have a better idea. Thank you for your interest in following this article!