Golf has never been an easy game. It always challenges players with combined requirements of control, accuracy, force, flexibility, and more. There are several difficult golf techniques for different golf games, and hitting the golf ball straight is challenging.
Amateur players often mistake that hitting straight is a must to progress in this sport. However, it's not always necessary to hit the golf ball straight.
So, how to hit a golf ball straight and consistently? Why is it so hard to hit a golf ball straight? Is hitting straight recommended? If you want to explore more, check out the below content!
Should You Try to Hit the Golf Ball Straight?
The answer is no, and it is simple to explain. No matter how straight or curved you hit your ball, the final target is to make the golf ball come into the hole.
Therefore, you are recommended to drive the golf ball flexibly instead of insisting on a straight hit, which is harder and can not deliver a promising result.
Moreover, several factors affect the golf ball's flight, thus making a straight hit less efficient. On the one hand, the hole for golf balls is not always straight, so a straight hit may not be the best choice to achieve the target.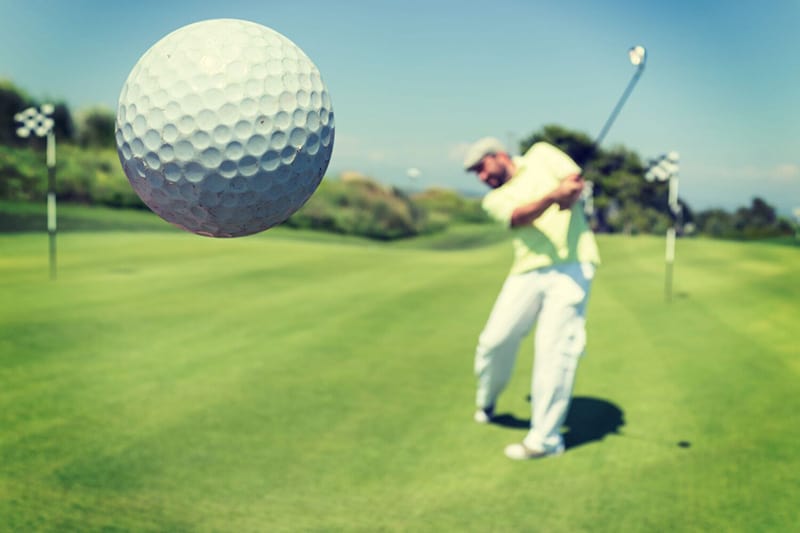 On the other hand, goal flags are often cut into some corners or tricky locations rather than right in front of your position, making straight hits useless.
That's also why pros tend to shape their shot depending on the situation rather than try to hit it straight. That way makes it easier for them to achieve the goal.
Why Is It So Hard to Hit a Golf Ball Straight?
In fact, hitting a golf ball dead straight is nearly impossible, even for pros. There are many internal causes for that, such as players' movements or external forces like gravity, wind, air resistance, terrain, or more.
It's very difficult to guarantee a dead straight hit because it requires an accurate swing as well as the alignment of the clubhead's face with the target at impact.
These two factors are hard to guarantee since you have to be precise in every movement, such as where the ball is in contact with the club's face, angle of the clubface at impact, and wrists' placement or release.
Just a slight difference in degrees would cause the dead straight shot to fail, and you probably can't be exactly precise as a machine. Therefore, it is very hard to hit a dead straight golf ball successfully.
Even if your golf ball tends to go straight, external forces can impact the ball and change its orbit during flying or rolling. As a result, the golf ball could not go as straight as expected.
Moreover, the quality and properties of your golf equipment is also important. It's harder to hit the ball straight if you don't have a ball for straight flight or a great club from reputable brands.
Read more about the 10 best illegal golf balls in 2023 here.
How to Hit a Golf Ball Straight
As explained above, it's nearly impossible to make a dead straight shot due to many internal and external reasons. However, you can still try hitting the golf ball fairly straightforwardly.
Generally, it would be best to make sure that the clubface impacts the golf ball at the square every time to straighten the ball. Otherwise, the ball will spin, leading to a fade, a hook or a slice.
To straighten the ball flight, you may need to reduce spin by using low spin balls and practice and correct your issues.
Check out the 12 best practice golf balls on the market here.
Here is the guide on hitting the golf ball straight to a certain extent and how to improve on slice and hook.
1. Hitting Straight
In hitting straight shots, the most important factor is hand placement and alignment. Pay attention to these and you will have a fair straight shot.
Here are the steps to do:
Step 1: Grip your club with lead hand
This step is important to keep your lead hand in the desired position. Remember to use reasonable force.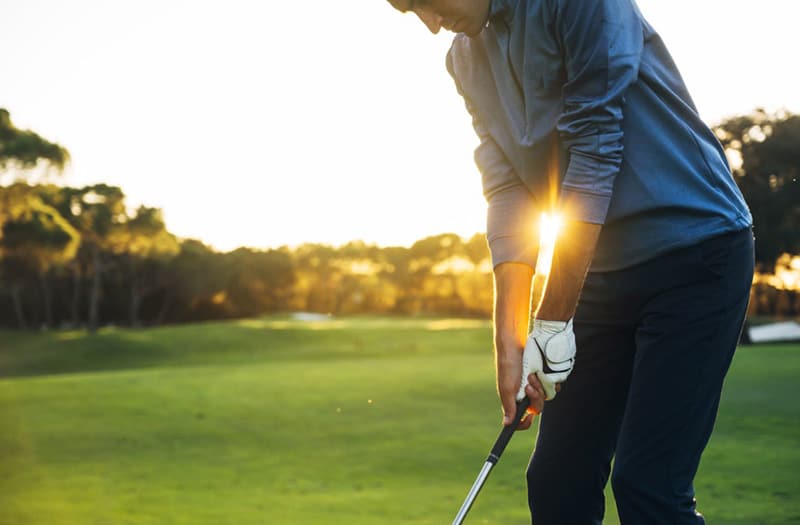 If you don't hold the club tightly enough, it's likely that your hand and club will not align with the target. In contrast, if you put too much power in grasping the club, your muscles would be flexed and your body is not flexible enough for movement.
>> Learn more about the Benefits of Oversize Golf Grips here.
Step 2: Place non-lead hand
Just put your non-lead hand alongside the grip. Adjust the hand placement until you see the sharp bottom of the V between your thumb and index finger align with your non-lead shoulder.
Step 3: Align clubhead, golf ball and the target
Imagine a straight line running toward the target from the golf ball's position and putting the club head perpendicular to the imaginary line. If you find it hard to draw a straight line in your head, you can use another club or something straight as a visual cue.
Step 4: Set your standing posture
How you set your feet is not as important as hand placement. As long as your hand is set properly and the clubface is aligned with the target, you can manage to hit the ball straight with either an open stance, neutral stance or closed stance.
Step 5: Backswing
Remember to keep the clubhead inside of the ball to avoid outside-in swing and reduce spin when you draw back.
Step 6: Hit the ball
Hit the ball with a reasonable force. As long as you have finished the previous step, your golf ball is likely to go straight and consistently.
Watch this video if you want to see how golfers make a real straight shot!
2. Correct a Drive Slice
A slice describes shots where you curve hard to the right side. It's common for right-handed amateur or average players.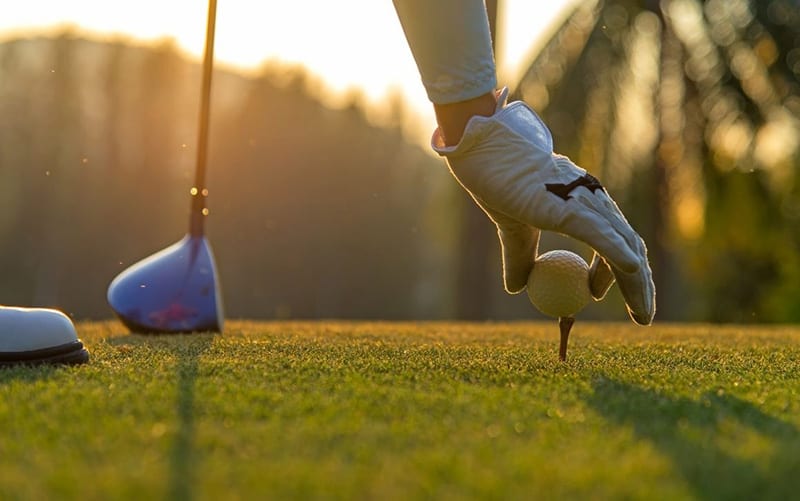 To cure a slice, you need to improve setup and clubhead alignment to avoid inside-out downstring and have a proper square club. Also, consider buying some golf balls for slice or beginner players and upgrading your club for a better experience.
Here are how you should do to improve:
Step 1: Grip the club
Grasp the grip using your left hand. Position it mainly in the left hand fingers in such a way that you can see 2-3 knuckles of your left hand when looking down the club. The V between your left pointer finger and thumb points at right shoulder.
Then, put your right hand on the grip and hold it, the V formed by this hand also points at the right shoulder.
Step 2: Position golf ball and club head
As the slice mostly results from a downward impact angle, you should strike the golf ball on the upswing to improve. Place the golf ball inside of your front foot and set up your club head a few inches behind the golf ball will help boost flight and distance.
Step 3: Swing & hit the ball
Swing back until you feel that the left shoulder is right under your chin. Then, swing down and hit with proper shoulder turn and force. Remember to rotate the outside head of the club over the inside head to have a square clubface.
3. Stop a Hook
Unlike slice, duck hook is shots that curve hard to the left side of the target. If an open club and outside-in path cause the slice, the hook is created by a shut club and inside-out path.
Therefore, the steps to cure a hook is quite similar to the slice:
Step 1: Grip the club
Grip the club with your left hand just as when you correct a slice. Your little finger should rest between the pointer and middle fingers or interlock with the left pointer finger.
Step 2: Swing back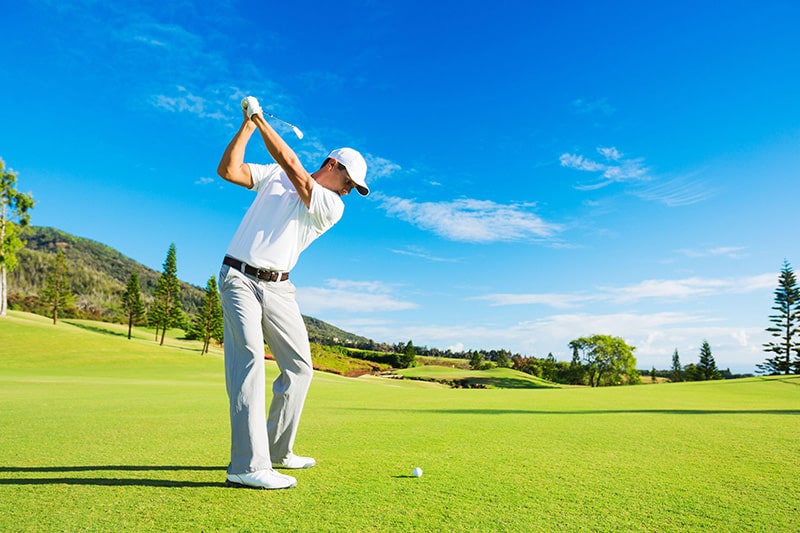 Keep the rounded edge of the club straight up when you swing back. Swing back until your left shoulder is right under your chin. Also, make sure your left arm is straight before swinging down so as to avoid early release on the downstring path.
Step 3: Swing down & hit the ball
Turn your hip toward the target and swing down at the same time. Keep doing like that until the impact happens. Keep the club face square and make sure that your club does not rotate during the swing.
FAQs
Issues related to golf ball shots are really interesting and broad, so it's hard to cover all details in one article.
If you are not yet satisfied and want to know more, check out these FAQs!
Should You Shape Every Golf Shot?
Yes, shaping shots is a skill that pros use to drive their golf balls. It would be best to use different techniques to shape the golf ball depending on terrain, target, and several other factors.
A tip for a successful shape recommended by Jack Nicklaus is to focus on your setup rather than swing.
Why Does My Golf Ball Go Straight Then Right?
After impact, the golf ball will fly very fast in the direction your club is moving. Therefore, you may see the ball going straight at first.
However, as the ball loses the initial velocity, the impact of sidespin becomes more obvious, and that's why you see your golf ball go right.
You can refer to this video for a detailed explanation!
Is It Better to Hit a Draw or Straight?
Every golfer has preferred strike, either a draw or fade, but barely a straight shot. The reason is that a straight shot is not useful in most experimental conditions, as explained above.
Here is a comparison table for an overall understanding of 3 strikes!
| | | | |
| --- | --- | --- | --- |
| | Draw | Fade | Straight |
| Pros | Penetrating ball flight | Less bounce & roll, best for majors | Great distance & roll |
| Cons | Difficult to achieve | Short distance only | Very difficult & not applicable to many golf games |
Learn more about How to Hit a Draw in Golf here!
Conclusion
Have you understood How to hit a golf ball straight? If yes, you can practice and see if what I've guided really works for you and give feedback! However, straight shots are not highly recommended for advanced games, so you can also try hitting with other techniques.
If you find my guide helpful, don't hesitate to share it with everyone who cares about golf! Also, keep reading my other articles and motivating me to create more useful content!
Have a good game day!