Glowing golf balls will be very useful for playing in low light conditions such as backyard or night practice. As a result, golfers can be more confident without worrying about their foresight.
Glowing golf balls are available online and offline in many types, such as UV-powered, LED, or glow-stick golf balls. However, these charging-required night balls are bright, but they may not offer such a great feeling as normal practice golf balls do.
So, how to get glowing golf balls with the best quality and minimal budget? You may be surprised to realize that it's not difficult to make DIY glow-in-the-dark golf balls.
What do you need and how to make glow-in-the-dark golf balls? How long do glow in the dark golf balls last? Can you convert a normal golf ball into a glowing object?
To better understand these questions, check out the information below!
How to Make Glow in the Dark Golf Balls
Instead of buying the company-made glow balls, you can create your glow-in-the-dark golf balls. It will help you save money while still owning a unique glowing golf ball as you want.
You can either put a glowing painting on the old balls or create a totally new bouncy one. However, the latter method is not highly recommended since the ball you make may not perform well as manufactured golf balls.
1. Glow in the Dark Painting
The easiest way is to cover your old golf balls with a layer of glowing paint. This is the most economical and practical method, which also guarantees the quality of golf balls.
There are many ways of mixing glowing paint using various components, but I would only introduce how to make glow in the dark paint from glowing powder. Here are the steps:
Step 1: Choose ingredients
Purchase Phosphorescent powder, or other glowing ingredients. Pay attention to the particle's size because the greater volume of glowing powder makes the ball brighter and results in a rougher and harder finishing.
Then, choose a paint medium. You can use acrylic gel or other paint. However, make sure that the medium works with the selected glowing powder.
Step 2: Mix
Mix the powder with the medium paint. The recommended mixing ratio is 1:5, which means the volume of powder to paint medium is 20%. You can add more paint so it would appear thinner when putting on the golf ball.
Step 3: Paint
After mixing well, you should paint it on the ball within 1 hour. If you want to store, seal the mixture carefully and stir again before using it next time.
2. Homemade Glow in the Dark Bouncy Balls
If you want a 100% DIY ball, you can try the following methods. However, the resulting products are not considered a qualified golf ball. Rather, they are bouncy balls with the same measurements.
You can create bouncy balls either with or without Borax.
Glow in the dark balls with borax
To create a Borax glowing ball, proceed as follow:
Step 1: Dilute borax
Prepare about ½ cup of warm water to dilute the borax (about ½ teaspoon).
Stir until powder is completely dissolved, we have mixture 1.
Step 2: Mix glue, color & cornstarch
In a separate container, mix well glue, fluorescent color (choose the color you want), and cornstarch in a ratio of 1: 1: 1 (about one spoon each is enough). This is mixture 2.
Step 3: Finishing
Quickly dissolve the mixture 2 into the mixture 1 in about 20-25 seconds.
Remove excess water and shape the mixture into a ball about the same size as a golf ball.
You can watch the following video for better understanding of the step-by-step process:
Glow in the dark balls without borax
You can also create a bouncy ball without Borax as follow:
Step 1: Prepare
Prepare 2 tablespoons cornstarch, the appropriate amount of food coloring, and about ⅛ cup of water.
Step 2: Mix & stir
Mix the cornstarch and prepared water in a small bowl, then stir well until a sticky paste is created.
Step 3: Coloring the mixture
Add a few drops of food coloring. You can create golf balls with different colors.
Step 4: Shape the mixture
Shape into a spherical golf ball and wait for it to dry completely.
Types of Glowing Golf Balls
Considering the customers' demand, many manufacturers have provided glow-in-the-dark golf balls for night practice. Some of the most popular types are UV-powered, LED, and glow-stick golf balls.
These golf balls are designed to glow, so they are probably much brighter than DIY glowing balls. However, they may not deliver a similar experience as normal golf balls from recognizable brands like Taylormade, Callaway or Bridgestone when it comes to the quality.
Here are a comparison table for general understanding:
Glowing Golf Ball Types
Pros
Cons
UV-Powered
Best quality, ease of use.
Not very bright & unstable brightness.
LED
Stable brightness, cheap.
Hard to use, can break the head club, not rechargeable.
Glow-Stick
Bright & fine quality.
● Need to change the glow-stick frequently.
● Hard to control & easy to get off course without proper glow-stick insert.
For more details of each type, keep reading in the below sections!
1. Uv-Powered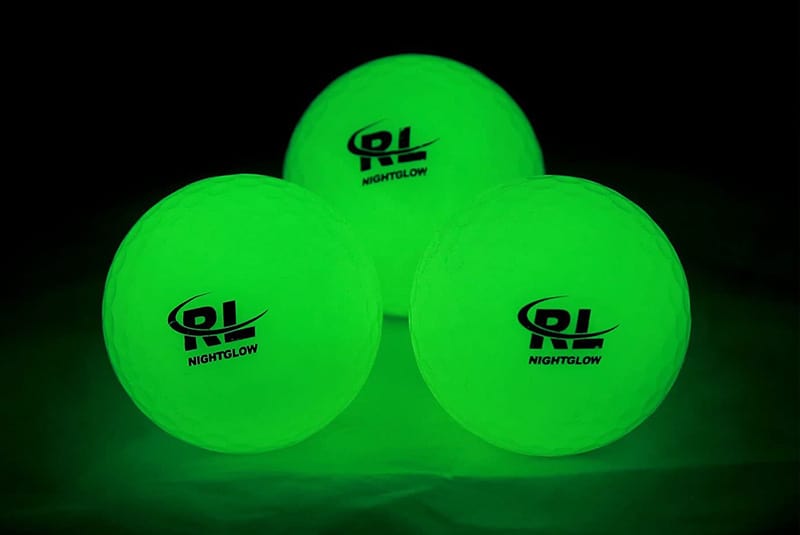 The UV golf balls are rated as the best out of the 3 available types. In addition to the brightness, UV-powered golf balls are also good in performance compared to the other two types.
To light up the ball, you can put it in the sunlight and turn on the UV Power light to charge it just a few minutes before each game.
The ball normally comes in a set with a handy UV light. Therefore, you can use the tool to fasten the charging process or when there is hardly any natural sunlight in your region.
UV golf balls can glow for quite a long time (up to several hours) if you choose the dim light mode. Therefore, make sure to choose the suitable brightness to save energy.
Also, you are recommended to charge up another ball while using the first one, so that you don't need to stop and wait for recharging once the first golf ball runs out of power.
2. LED Glowing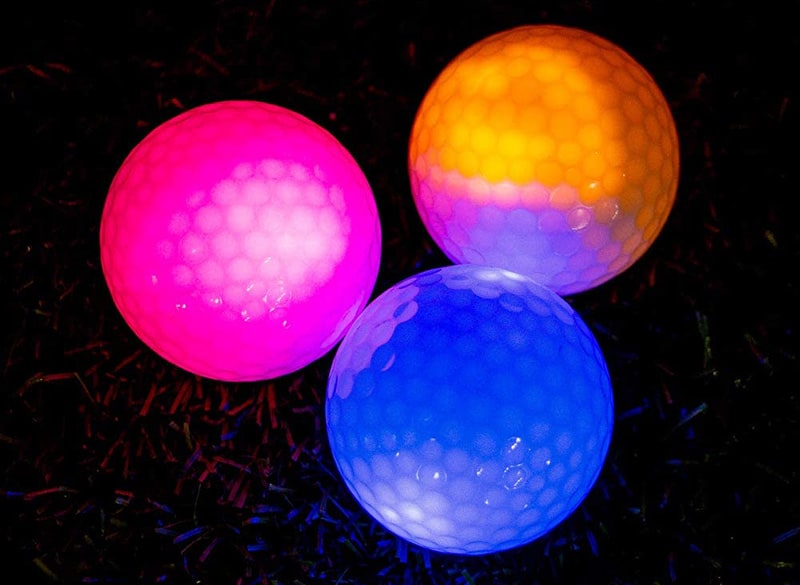 The LED golf ball has a built-in Lithium battery to keep it glowing. With the use of battery power, the brightness is more stable and therefore reduces the flicker that causes eye pain. It's also very convenient to use since you don't need to charge for every use.
Initially, manufacturers designed LED balls to glow automatically after each impact, like hitting or striking. The ball will only light up for about 8 minutes after impact, and you need to hit the ball to activate it again after that.
Due to the inconvenience, this design is gradually replaced by modern LED golf balls. The modern design is very simple as you can switch the light using your smartphone flashlight. Moreover, this light won't disappear until you turn it off.
This LED type is much brighter than the UV-powered one. However, it is a comparatively hard and cheap type of golf ball. Therefore, you should not expect much in compression, spin, or other advanced features.
3. Glow-Stick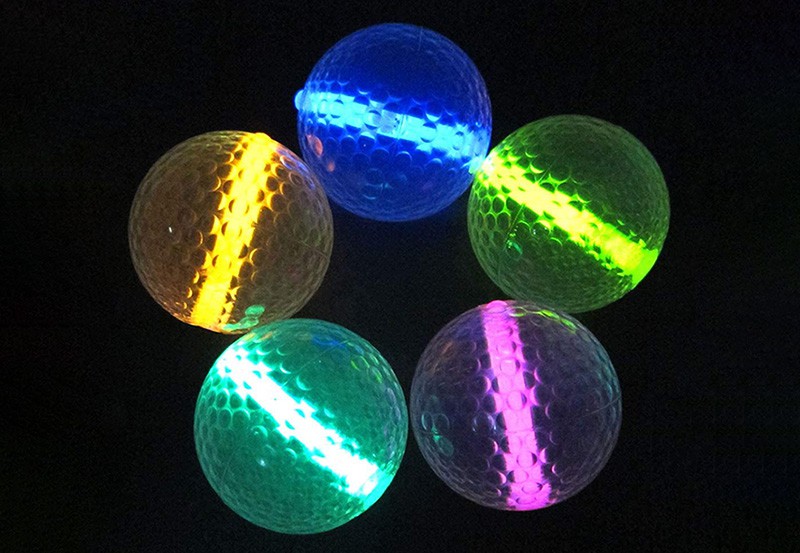 Glow-stick golf balls are specifically designed with a small hole to insert the glow stick. Here are steps to activate a glow-stick golf ball:
First, the glow stick needs to be cracked and gently shaken. After that, you have to wait for a few more minutes to make sure the glow stick is working stably.
At this point, find the small "S" near the hole, at one end of the golf ball. Once you have found it, insert the activated glow stick into the opposite side.
It would be best to reposition the club after each stroke during your play to keep it in the right position. Also, make sure that the stick is at the center of the ball and parallel to the clubhead so that the ball can balance and shine evenly.
Placing the club in the wrong or improper position can cause the golf ball to break or go off course. Therefore, this type of ball is harder to use than the UV one.
If the old club cannot glow, the player can easily replace the glow stick. You will probably need a pencil or sharp-pointed objects to take the old club out of the ball.
Then, continue to insert the new glow stick into your old golf balls following the above steps.
See Also: Recycled vs Refurbished Golf Balls
FAQs
Although the above content is quite detailed, I still try to fully answer some related questions to provide you with useful information.
Are LED Golf Balls Good?
LED golf balls have built-in LED lights. What's more, it's battery operated, which will power the LED light for a total of around 150 minutes.
The manufacturer has created LED balls with suitable hardness to avoid cracking or breaking the head club. Moreover, the cheap price also makes this type of ball chosen by many people.
However, the ball is not rechargeable. Therefore, it will not be able to light up again if the battery runs out.
Does the Light Produced by a Golf Ball Last Forever?
The glow of golf balls in the dark won't last forever. Depending on the type of ball, the glowing time, as well as the brightness, will be different:
LED golf balls can light up for up to 150 minutes. Glow stick golf balls also have a short operating time, but you can change into a new stick to keep them light.
UV-powered golf balls can light up for several hours, although the intensity of its light generated later will decrease due to the afterglow effect.
How to Make the Light of Golf Balls Better?
The lighting of a golf ball will be better when you do the following:
LED golf balls: ensure optimal battery power.
UV golf balls: charge another ball while playing one to keep the golf course continuous.
Glow stick golf balls: change the glow stick frequently to ensure the best light source.
Conclusion
If you are a busy bee all day long and can only spare some time to play golf in the evening, a glow golf ball will be useful for you. Hope that you will have in mind an idea of how to make glow in the dark golf balls after reading this article.
Please share the article with your golf mates or colleagues so that everyone can play golf at night easily. Also, don't forget to keep following related content for useful tips.
Thanks for reading!