After a period of playing, golf balls will get old, scratched, and no longer as beautiful as they used to be. Therefore, some golfers may want to refurbish their old golf balls.
There are various ways to make your golf ball newer or more beautiful. One of the most common ways is to recoat with a new painting layer, and you have the freedom to create something unique.
Are you curious how to paint golf balls? How to dye golf balls? What paints stay on golf balls? Let's explore!
How to Paint Golf Balls
You will probably find many different ways to paint golf balls, but this is the simplest and most effective way you are looking for. This specific step-by-step will save you time, and the results could not be more satisfying.
Step 1: Prepare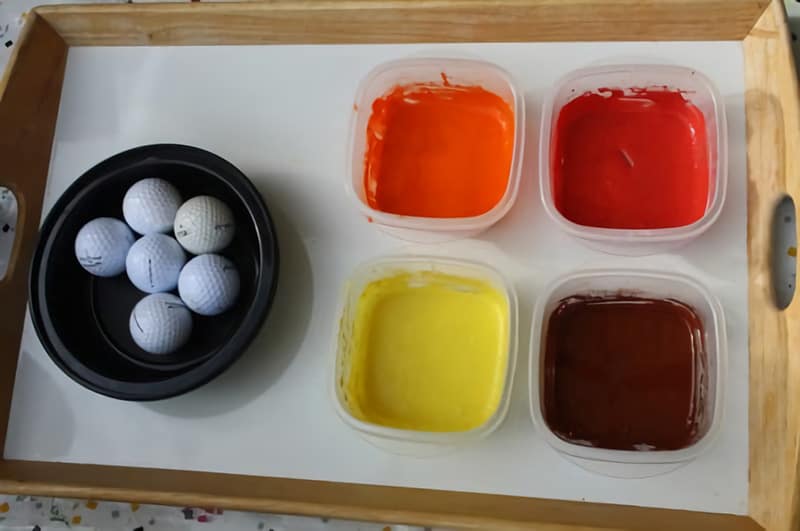 A must-have item is a golf ball, but the ball must not be torn or scratched too much. Paint is also a deciding factor. Depending on what you intend to do, you will choose brush paint or spray paint.
Besides color paint, a bottle of polishing solution is also essential for your polishing process. Of course, you'll also need an egg tray to hold balls after painting and cleaning supplies like water, soap, rags, and some sandpaper.
After you have enough tools, prepare an ideal space for your creativity. Paint golf balls are best used outdoors, where there is a lot of open space and not many obstructions.
Step 2: Clean the golf balls
After being well-prepared, you can start immediately by cleaning all the prepared balls. Just put them in soapy water and dry them with a rag or brush. Then, you can leave them out in the sunlight for a few minutes to dry.
Step 3: Roughen the surface
New golf balls may have a slippery coating, making it hard to paint evenly and for the paint to stay long on the surface. Therefore, you may need sandpaper to remove the slick coat.
Step 4: Paint a coat of primer
Once you're done scrubbing, you put the balls in the egg tray to hold them in place and start painting a primary coat. A thin and even layer all around the balls is enough to give the ball colorfastness later on.
Usually, in this step, people will use spray paint so that the coverage is as thin as required. It would be best to spray at a distance from the ball so that the color can distribute evenly and not condense at one spot.
Step 5: Paint the main color
When the primer is dry, now it's time to paint the main layer. This is an important step that decides whether your work is as beautiful as expected.
Use spray paint or paintbrush to create color. In this step, you need to smooth the ball to ensure even color. Make sure the paint is dry before you flip it over to the other side. If the stain is still damp, it will stick to the tray and lose its smooth finish.
Step 6: Glossy paint
After the paint becomes completely dry, spray the clear lacquer to finish. This coat will protect the paint better and give your balls a brighter shine.
In this painting step, you do the same as when painting the main color.
Step 7: Dry the golf ball
Once you're done painting, you put the balls in a cool place so that the paint can dry and ready to go out on the field with you.
You can also have a look at this video and follow the instructions!
How to Dye Golf Balls With Food Coloring
To color a golf ball, you also can dye it using food coloring. This method does not take as much time as painting, but the new ball still looks good.
If you are also interested in 'doing experiments', you can refer to this interesting way of dyeing golf balls.
Step 1: Prepare
First, you need to prepare a golf ball. All types of balls can be used for this coloring method, regardless of illegal ball, low compression ball, practice ball, or used ball.
Because the process requires some cooking, the kitchen area will be convenient for your work. You may also need plastic wrap or newspaper to make the cleaning job easier.
Also, boil a pot of water. You should prepare the amount of boiled water depending on the number of golf balls you dye.
Step 2: Prepare the color
Divide the water into several containers (bowls, buckets, etc.) and make sure each container is deep enough so the ball can totally be submerged.
Shake the food coloring well, then put it into the boiling water and stir well.
Depending on the desired color tone, you can add the appropriate amount of dye. Dark colors need more colors and vice versa, you can search for the mixing color and ratio online for reference.
Soak a paper towel or cloth in the color bin and observe to test the color. If it's too light, add more color; if it's too dark, add water.
Step 3: Dyeing
Once you're satisfied with the color, put the golf ball into the mixture. If you dye with dark colors, it can take 4-5 minutes, but light colors may take about 15-20 minutes.
When the ball has been colored, take it out, wash it with soap under warm water and dry it. Now, you have owned a golf ball with your favorite color.
See Also: 10 Best Golf Balls for Kids in 2023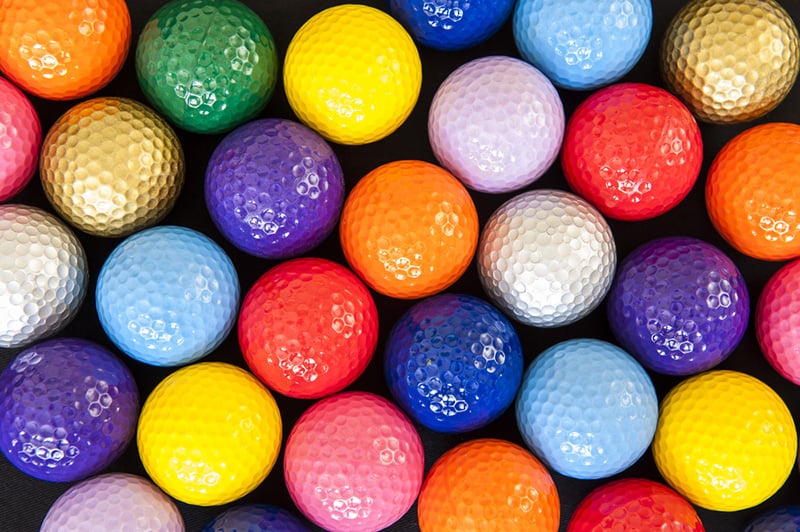 If you're interested in this unique method, check out the video below to see the experts do it step by step.
Notes to Know When Painting Golf Balls
If you follow the above instructions step by step, you will surely have a cute golf ball. However, a few notes below will help your ball look good for a long time. Besides, you also don't spend too much effort and time dealing with unexpected troubles:
Cheap balls do not affect the coloring process. You can use these balls or old balls to save costs.
Paint color is very important, so you should choose high-quality types for a better look and longer color stay.
Between each step, you need to give enough time for the ball to dry completely. That way, your next paint job is easier and the color golf balls also look better.
After glossy paint, it is difficult and may take a long time to adjust. Therefore, be careful in every step.
FAQs
If you have some more questions in mind, look through these FAQs to see if you can learn more about golf ball coating.
How Long Does the Paint Color Last?
There is no proven data on how long paint stays on golf balls. Therefore, I would say that it depends on whether you use more or less gloss.
Additionally, a ball used frequently or in harsh conditions will fade faster. Besides, high-quality paints can last longer and withstand extreme weather better than cheap paints.
What Paint Is Best for Golf Balls?
Both spray paint and acrylic brush paint provide a good grip on golf balls. Therefore, you can use either or both types for the coloring process of golf balls.
However, spray paint will be more time-saving and convenient for coloring, so it will often be used more. Meanwhile, acrylic paint is often used to create patterns or cute drawings.
Does the Gloss After Painting Affect the Flight Path?
Balls with poor-quality paint will create bad flight paths. Uneven colors will create dents on the surface. Such a ball is very hard to control, leading to accidents or displeasing golfing.
Are Colored Golf Balls Legal?
Previously, the USGA approved only white golf balls to appear in official tournaments. But now, colored balls can occur at these competitions. However, you are not allowed to change colors during the competition.
That is, when you initially choose a yellow ball for the tournament, all rounds from start to finish you must use that yellow ball.
Conclusion
Now that you know how to paint a golf ball, you can create several beautiful and unique balls for your own, give your dears or even make money by selling them.
If you find this coloring guide useful, don't hesitate to share it to let more friends know!
Each reader's support is a great motivation to help us create more quality content.
Thanks for reading!