Is golf a dying sport? Is everyone leaving it? I bet you will ask yourself these questions because of all the bad news surrounding you. However, the future of an elite sport like golf does not depend only on these indexes.
All of us have to admit that there was a time when the popularity of golf decreased. Many players quit the games, and many golf courses were not in use for a long time. Even the most optimistic person like me thought that golf would disappear one day.
Luckily, in the last few years, golf has made some impressive improvements. And people who love it have the right to think about a bright future ahead. Golf is not a dying sport. Let's roll on and explore the reasons why.
Is Golf A Dying Sport or Not?
There must be at least a reason why people ask whether golf is a dying sport or not. If you are new to the game or just want to clarify that question, let me analyze for you the context and the major factors that affect the existence and improvement of golf below.
1. The Tough Time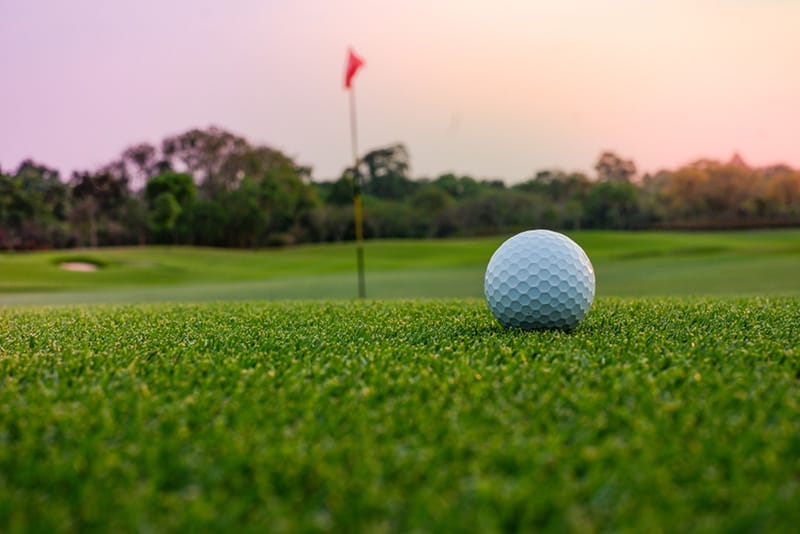 According to bleacherreport.com, golf declined at both professional and amateur levels from 2006 to 2011. The number of golf enthusiasts (who played eight rounds and more per year), golf course closing, and American golfers who made up the Top 100 worldwide ranking had fallen.
From 2007 to 2011, there were more courses closing than new ones being built. The dropping of player numbers was the main reason. Both the number of loyal golfers and weekend ones decreased. And some courses did not have any visits for months.
In the professional field, the ratio of players in the top 100 World golf ranking was down from 60 percent in 1986 to 32 percent in 2010. It means people were no longer interested in building their golf careers.
Besides, time and cost were the two causes that affect players. If you read my article "how long does a round of golf take", you can easily understand the time issue.
People work for more than 40 hours per week, and that amount of time has been increasing for years. It's hard to take two or four of their precious spare time to be on the course. Americans work a lot, and we don't even feel we have enough time to eat and sleep.
And the most important thing that even a newbie can remember is that golf is an expensive game. I wrote about how much golf clubs cost, and I assume that you have to pay at least 200 – 400 dollars for a single club and a thousand bucks for a full set of them.
Besides the facilities' cost, you have to consider the course fee and annual membership payment. Inflation spreads over the world, and the US is not an exception. Golf is not a hobby for those who struggle to earn a living.
2. Pandemic – The Rise of Golf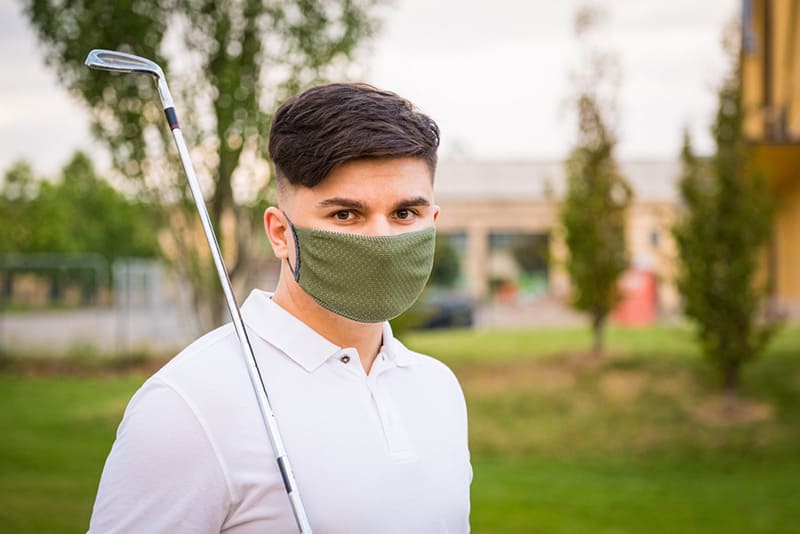 If things continue to be like those I said above – declining and challenging, we can predict the demise of golf. However, life is full of surprises, and the two-year pandemic is an interesting one. And The Washington Post called golf the official sport of social distance.
When the coronavirus spread, people were required to stay at home and keep their distance from each other. The demand for going outside and playing a sport got higher and higher.
Thanks to the rules updating in time of the USGA, PGA, LPGA, and World Golf Foundation, almost all golf courses remained open during the toughest time. Players had all they needed: space, exercise, and distraction from negative news.
The Golf Datatech – a market research company, told the Washington Post that the number of rounds that golfers played in July 2020 increased 20 percent when compared to this month in 2019. It means that more than 10 million golf rounds were played in the pandemic year.
The equipment sales got a big jump too when everybody needed more shoes, clubs, gloves, etc. Since 2007, the $388.6millions revenue in July 2020 is the highest retail sale in a month, said the Golf Datatech.
Golf has provided the most interesting physical and mental release that everyone of all kinds of ages needs. No matter if you are a 6-year-old child or a senior, you can easily grab a club and find your spot on the green.
3. Bright Future or a New Beginning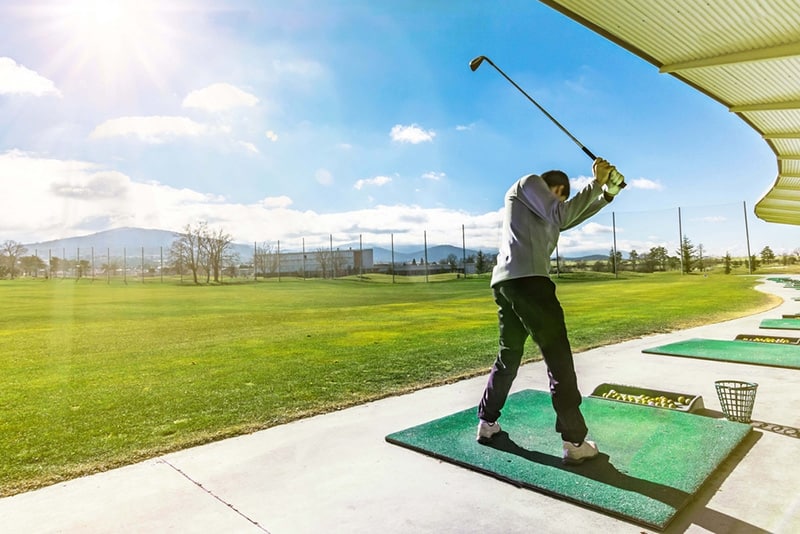 There is a perception that golf is a sport for the old man. It was true, but not for long. The age of players is younger, and the trend of golf is spreading to many countries. There are more and more PGA players who come from Korea, Thailand, Japan, etc.
Younger people consider golf not only an elite sport but also a chance when they can easily reunite with their families and friends. Topgolf and Full Swing offer drinks and food in the range to upgrade the off-course experiences that attract the youths.
Besides, there are many training centers that have simulators and modern technologies to help players save time and calculate their indexes more clearly.
The golf dress code is more casual than ever. Nike and Adidas produce many fashionable and younger golf clothes that are more trendy and matching to gen Y and gen Z.
Generally, I assume that golf is not dying. It had declined, but now it rises, and there is a bright future ahead.
The 4 Reasons People Love Golf
Golf is not a sport for every class in society. However, there are more and more people who love to play it. Let's take a quick look at the four reasons below.
1. Outdoor Demand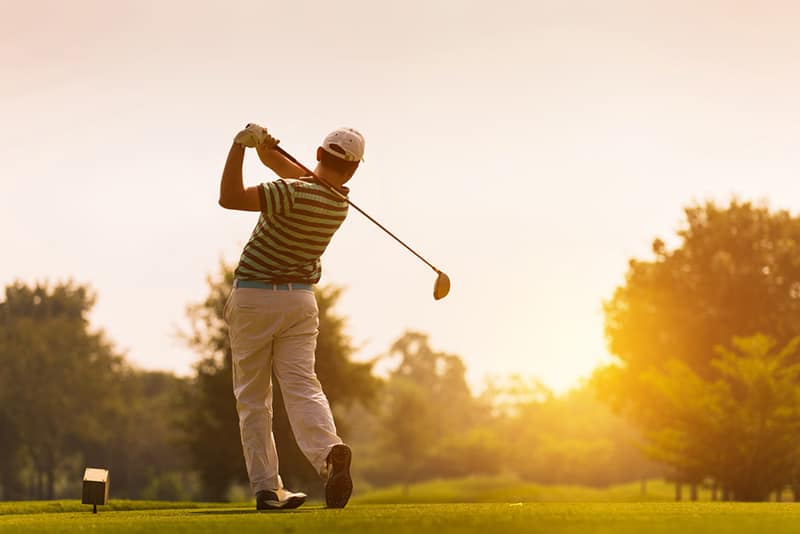 Going out for fresh air is not a demand that people only have in social distance. It is our notorious requirement. The beautiful green meadow, sand, and ponds are perfect places to relax and refresh our minds.
Walking on the golf course can bring you many life experiences that not many sports can bring. You don't need to rush from place to place like basketball or soccer. You can take more time to move and enjoy the scenery deliberately.
2. Exercises
Each golf swing forces you to use many upper body limbs, especially your back. Then you can experience more when you choose to walk from one hole to another. Talking with your buddies while doing this makes you feel more comfortable than walking alone in a park.
Playing golf and loving it can bring enjoyable feelings that make you more relaxed than exercising in the gym or at home.
3. Friendship and Family Bonding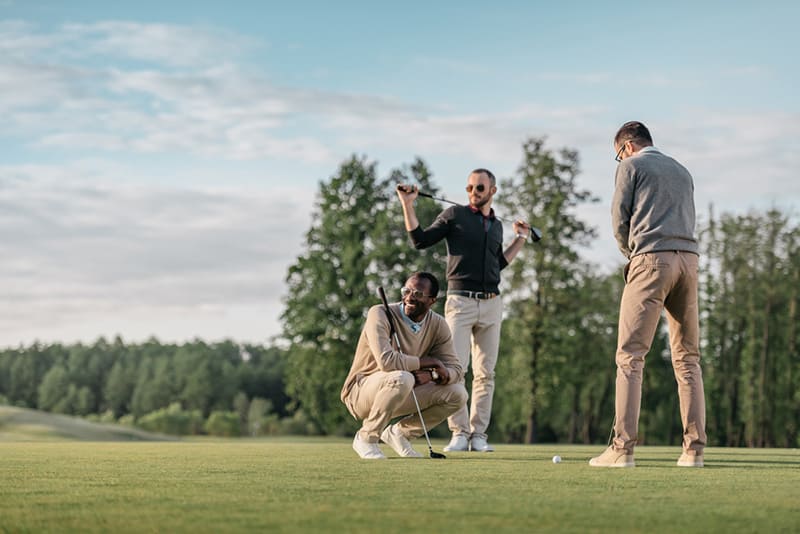 You can play golf alone, but people rarely do that. We always gather a group of two or four. I love comparing my score to others and learning tips from them. At the end of the game, my friends and I can have some drinks and talk about every hole and every challenge we have.
Friendship can start and build from a golf game. So does the family bonding. Golf is one of the traditional union occasions for many American families. I learned to play from my dad and uncles when I was six during our summer vacation.
You can guide your child from the first step of choosing clubs to swing lessons and see these experiences bringing you and your loved one closer together.
4. Challenging and Character Building
Challenges you face from golf can come from your own game or the people around you. Your friends ask you to do better, and it gives you the motivation to improve your set of skills.
More than that, golf has many ways to play. In the same courses, you can face different challenges. This is one of the interesting things that refresh and renew your games and keeps your passion growing.
Golf is a slow-moving game. It means you can have time to recheck and reconsider what you behave and what you can do next. If you feel frustrated, you can have a break to control it before going to the next round.
How you try to control and handle your feelings is the right choice to build your character. It can help you in many aspects of life.
You can see the video of PGA below to know more reasons why people love golf:
Conclusion
If you are searching for the answer to the question "Is golf a dying sport", you are in the right place. I gave you a final conclusion based on reliable sources and analyzed all the reasons why people love to play golf.
Do you agree or disagree with me? Do you think golf is a dying sport or not? Please share your thoughts in the comment box below, and don't forget to share my article to discuss with your buddies.
Have a good game day!