I bet that many ladies wonder what golf balls LPGA players use and whether we can use the same facilities with them. And we also want to know which brand these elite golfers use the most and why they choose these.
There are many golf balls in the market at various price ranges. However, there is the fact that LPGA players always use the most high-quality ones. They can reach the best results and even break their records with these.
When you need the best facilities to upgrade your golf games, the fastest and easiest way is searching for what golf balls LPGA players use. And your answer is right here. I have done this work for you by analyzing the companions of the top 25 elite golfers below.
Golf Balls Played By Top 25 LPGA Tour Players (Updated 2022)
To clarify the goal of elite players' golf balls, I chose the top 25 LPGA golfers according to lpga.com and researched their favorite companions. And the result is this pie chart that can give your further information.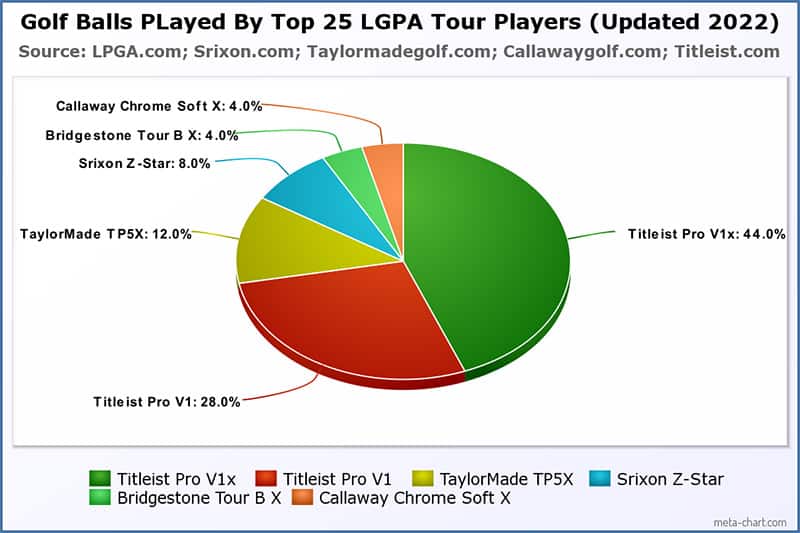 The most significant part in this chart above belongs to Titleist. The same thing happens in golf balls top 20 PGA pros use. Other brands like Srixon, TaylorMade, Bridgestones, and Callaway take minor parts. The smallest amount is 4%.
TaylorMade takes second place in my chart with 12%. Three players use the famous TP5x golf balls. However, this amount does not mean the TaylorMade facilities are not good. More LPGA players are using this brand outside the top 25.
Elite golfers choose their golf balls on tour for severe reasons. They don't do it for fun. Therefore, even if the percentage in my pie chart is large or small, there is nothing to doubt about the quality of these balls.
Let's dive in and explore more about the secrets behind golf ball choices of the top 25 LPGA players.
What Titleist Golf Balls Do Pros Use on LPGA Tours?
Titleist is a well-known golf brand that produces high-quality equipment. I have the list of best Titleist golf balls, including eight items that players from newbie to elite level love the most.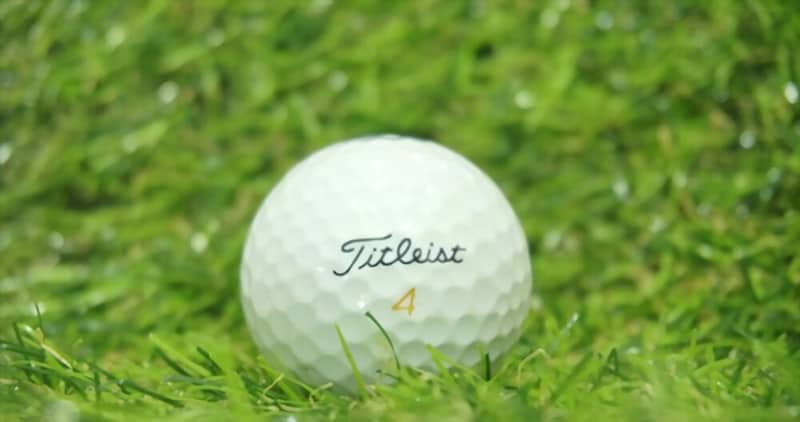 There are some great names that you may play like TruFeel, Velocity, Tour Speed, AVX, Tour Soft… And the ProV brothers are the favorite among these.
In my pie chart about golf balls used by the top 25 LPGA players, eighteen are choosing the Pro V1 and Pro V1x, which is equivalent to 72%. Below is a detailed table about these players.
These names on the table above like Nelly Korda, Stacy Lewis, Hye-Jin Choi can be your idols. They choose the ProVs brothers to conquer their challenges in LPGA tours, and I assume there are some main reasons for their decisions.
The Titleist Pro V1 and Pro V1x are premium golf balls and have high prices. It is because of the multi-layer system and high-quality material.
Both the Pro V1 and V1x are made of urethane elastomer and have a fast-casing ionomer layer inside. The thinner coats can boost your feeling off the tee while the firm layer insides increase the ball speed.
The Pro V1x golf balls have dual-core designs, so these are four-piece ones and have high compression rates (more than 108). The Pro V1 balls have three pieces and also have high rates that are slightly lower than the V1x (101.8).
Players who want to use these balls must swing more than 90 Mph. It can be a hard speed level for average players, but it is a normal condition with LPGA players.
Besides, the ProVs can bring a great sound and have a high ball launch. These benefits can be used to explain why professionals are easy to put backspin on their shots and create magical things that draw the ball near the pin.
What Bridgestones Golf Balls Do Pros Use on LPGA Tours?
In my list of the top 25 LPGA players' golf ball choices, only Lexi Thompson uses the Bridgestones companion, which is equivalent to 4%.
The ball's name is Tour B X. If you usually watch golf games, you can quickly realize that it is the same ball like Tiger Woods and Bryson DeChambeau. Even though a few players use this Bridgestone tour golf ball, we can not deny its quality.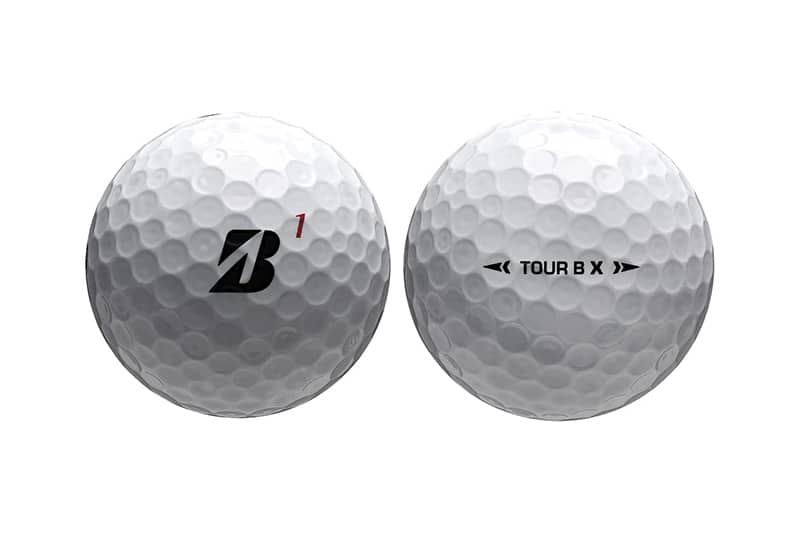 The Tour B X has three pieces with a thin cast urethane coat. Players must swing from 105 Mph and above to control their flight because of a high compression rate (98). I assume it is not a big deal to Lexi Thompson when she owns eleven LPGA victories in her career.
Moreover, there is an exciting design that many players like about Tour B X. It is the dimple patterns. These tiny aerodynamics are created in unique shapes, leading to contact force dimples. They help the balls go further and straighter.
>> Read on: Top 12 Best Golf Balls for Distance in 2023
If you have high swing speed and want to improve your golf games or a fan of Lexi Thompson, you may want to give the Tour B X ball a try.
What Callaway Golf Balls Do Pros Use On LPGA Tours?
Unlike the Titleist golf balls, there is only one LPGA player in the top 25 using the Callaway facilities. However, as I said above, more golfers use this brand when they are on tours, and 4% in my chart does not mean the Callaway golf ball is not good enough to play.
Many friends of mine love Callaway and choose equipment from this brand. Though, not all of us can play the Chrome Soft X golf ball – the one that Madelene Sagstrom decided to use in her LPGA tours.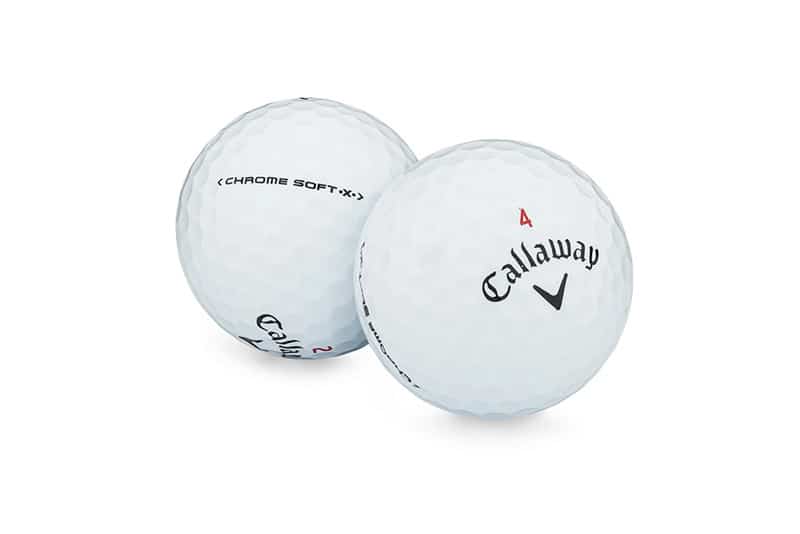 The Chrome Soft X golf ball is a premium facility and is often laid in bags of elite golfers. It has four pieces with a soft urethane cover. On PGA tours, the number one ranking Jon Rahm also put his faith in this golf ball.
There is no doubt about the feeling that a tour-quality golf ball can bring. And the Chrome Soft X can deliver other benefits that go beyond your expectations with its unique construction. A large soft fast core combined with a high-speed dual mantle increases speed and spin control.
All these advantages helped Madelene Sagstrom appear in the top 10 LPGA players four times. However, if you can swing as fast as her, you can refer to my top 12 Callaway golf balls to find other interesting companions that can match your skill.
What Srixon Golf Balls Do Pros Use on LPGA Tours?
In the top 25 LPGA golfers of 2022, two pros choose Srixon golf balls to play: Nasa Hataoka and Inbee Park. And according to the Srixon official website, their common choice is the Z-Star facility.
Like other golf balls in my pie chart, the Z-Star is a premium line that many elite players use. It has three pieces with a tour cast urethane cover. A firm casing layer in between combined with a large gradient growth core can deliver more distance and higher ball launch.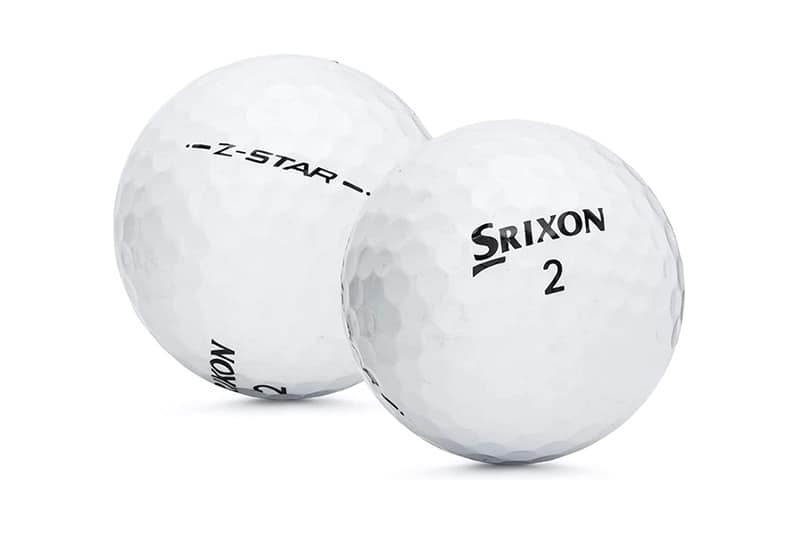 Besides, the dimples are designed to lower air drag and give players a consistent ball flight and easy control to create draw shots. The compression of the Z-Star ball is 88. It is a medium rate that is suitable for mid and high swing speed players.
According to the LPGA website, Nasa Hakota has five victories, and Inbee Park has twenty-seven. If you want to try Srixon balls for the first time, you can choose the Z-Star to experience the winning factor of these two professionals.
What TaylorMade Golf Balls Do Pros Use on LPGA Tours?
TaylorMade golf balls take second place in my pie chart about facilities that pros use on LPGA tours. Three players use these: Brooke M.Henderson, Yuka Saso, and Charley Hull.
All of the three professionals above choose the TP5x golf balls to accompany them on tours. I assume it is the wise choice because the TP5 brothers are the best-selling tour-quality balls of TaylorMade and have received many compliments worldwide.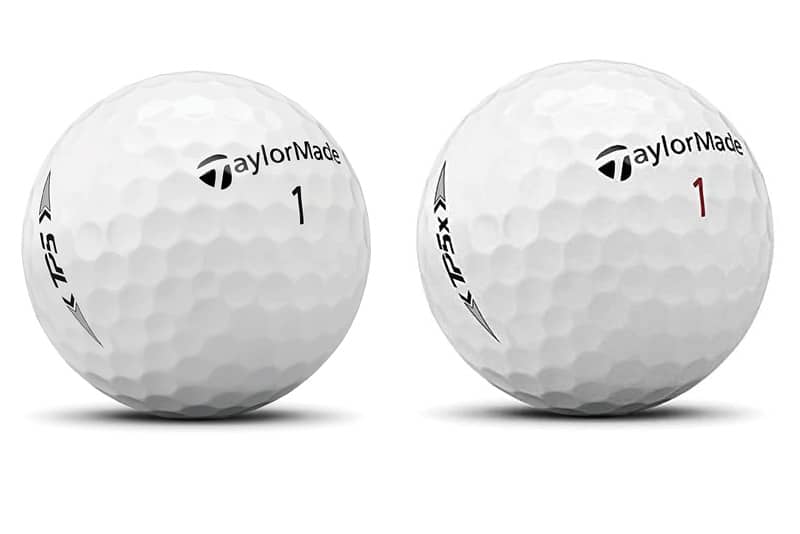 The special and maybe the unique thing about the TP5x golf ball is its construction. You may be familiar with two or three-piece equipment, but there are not many balls in the market that have five layers like the TP5x.
Besides the urethane cover, many advantages from the TP5x golf ball also come from an expanded core and a firm inner layer. These two things can release more efficient energy to create a spring-like effect and deliver more distance and spin on the green.
If you are confused in choosing TaylorMade golf balls, watch the video below for further information:
What Compression Golf Balls Do Pros Use on LPGA Tours?
Some players are born with high or medium swing speeds, while some need practicing more to gain it. And so the professionals on LPGA tours. Their facilities like golf balls must match their abilities to bring the best results.
In my list of golf balls played by the top 25 LPGA players, not all of these are in high compression rate. You can see detailed information in the table below.
| | |
| --- | --- |
| Golf Ball Name | Compression |
| Titleist Pro V1 | 101.8 |
| Titleist Pro V1x | 108.4 |
| Bridgestones Tour B X | 98 |
| TaylorMade TP5x | 90 |
| Callaway Chrome Soft X | 95 |
| Srixon Z-Star | 88 |
The Titleist ProVs have the highest compression rate, all over 100. The Srixon Z-Star is the only ball that has a medium rate. Despite the difference in the compressible index, the common point of all these is that they are premium tour golf balls and are qualified to play in LPGA or other tours.
If you want to try these balls, you need to calculate your swing speed first. The Pro V1 or Pro V1x requires players' speeds over 90 Mph, as do the Bridgestone Tour B X and Callaway Chrome Soft X. If you can not reach that point, you can choose the Z-Star ball instead.
Can Average Golfers Use the Same Balls as the Pros?
Many of us want to play as well as the pros we see on LPGA tours. And, of course, you can buy the same golf balls as your favorite players. However, there are some things I need you to notice before you decide to choose your future facilities.
Firstly, the golf balls that LPGA or PGA players use may differ from the commercial version of these that average golfers can buy. Manufacturers can add or adjust some features to make their products more suitable to the pros.
The evidence for that difference I mentioned above is listed in the conforming ball list of the USGA. The Titleist Pro V1 or the Callaway Chrome Soft X golf balls have more than ten official versions on tours.
Secondly, before playing the same balls as the LPGA pros, you may need to consider your skills, especially the swing speed. If you can not swing fast or you are new to the game, playing tour-quality golf balls can not bring the result you want or even make it worse.
If you are not good enough to play the Titleist Pro V1x, you can not blame it. Switching to low compression golf balls or balls for beginners may help in this case. I assume you should wait until your skills are upgraded to play the same balls as LPGA pros.
Conclusion
If you want to know what golf balls LPGA players use, you may not want to miss my article. I provided you with all the information and indexes I researched about facilities played by the top 25 pros above. And you can save a lot of time before choosing your future balls.
Have you ever played the same golf ball as LPGA pros? What do you think about it? Please let me know your thoughts by commenting below. I love to hear anything from you, and I will be happier if you remember to share my article with your friends.
Thanks for reading!
Related Articles: