What is considered a good handicap? Is it 10 or 15? Or only a single handicapper is good, and others are bad? I bet you have many things about golf handicaps that need to be explained.
Even if you are new to the game or have played for a while, knowing your handicap digit can tell what level you are at and sometimes give you an advantage when competing with others. However, players tend to lower their handicap index, and they must have a reason to do so.
If you ask yourself about what a good handicap is and want to know more about how this digit works, you are in the right place. I will provide you with the information you want and give you some advice based on my knowledge and experience in playing golf. Let's find out more below.
What Is a Handicap?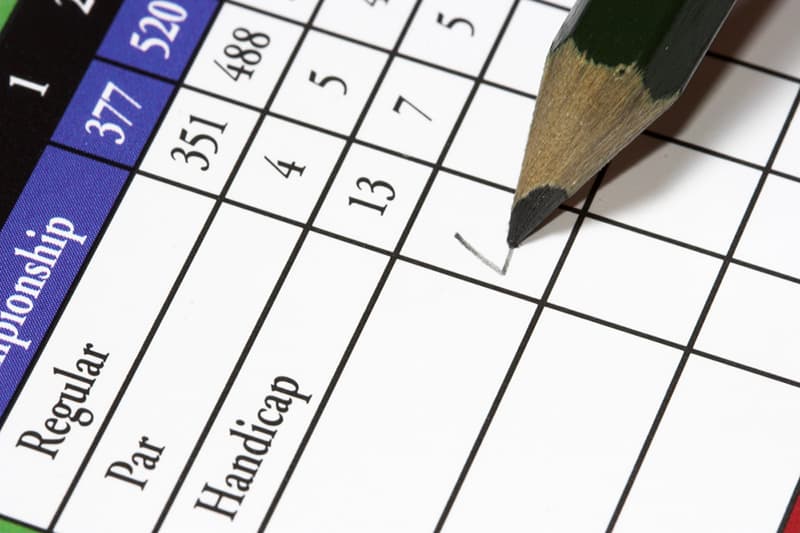 A handicap in golf is a number that indicates your playability. The lower the handicap, the better the player is.
On the course, you can hear people ask each other: "What is your handicap?" or "How low is your handicap now?". They want to know their handicaps and then determine who is higher and how many strokes the better will give the other.
In other words, you can simply understand that handicap is the number of extra strokes over par a player can take on the course.
For example, a 6-handicap golfer plays with a 12-handicap one. The one with a lower handicap must give the other six strokes. This kind of extra strokes calculation is applied in all kinds of games, like stroke or match play.
The action when a low handicap player gives extra strokes for a higher one can be considered as one of the best etiquettes that rarely appear in sport. It makes golf more fair play and equal.
And in most situations, the player who has more strokes to play has more chances to win the game, even if his handicap is higher.
The positive thing about the handicap system in golf that people can easily realize is that average players, even beginners,can play with tour players or pros without any fear of losses.
There is an interesting fact that handicaps can be both positive and negative numbers, and they usually appear with a decimal (for example, a 14.2 handicap or -2 handicap). A player who has a zero handicap is a scratch golfer.
Handicap Classification in Golf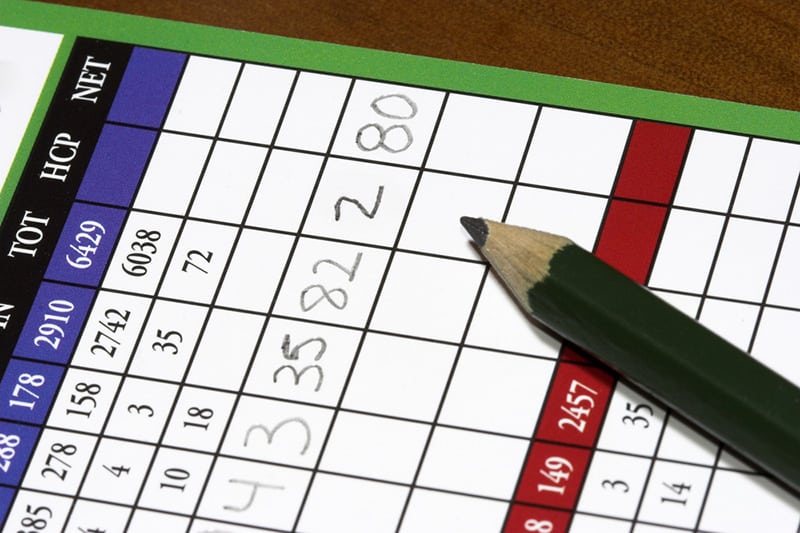 According to the golfweek e-magazine of the USA today, the handicap classification can be divided into three types: the low, the medium to high and scratch golfer.
1. Low Handicap
A low handicap is mostly considered when a player gets a single digit (from 1 to 9). All players who can have low handicaps are skilled, and almost all of them are tour golfers.
However, the definition of a low handicap can change from personal perspectives. People who get one handicap may not think someone who has 8 or 9 one is a low handicapper.
Though for all of us, a single handicap is low, it is an important milestone that average golfers try to reach anyways.
2. Medium and High Handicaps
A medium handicap is between 10 and 18. If you spend more time asking golf coaches and seniors or searching on reliable sources, you can see that they mostly agree that a person who has a ten handicap is a skilled player.
>> Check out the 12 Best Golf Balls for Mid Handicappers in 2023
A player who has an 18 handicap and averages one stroke over par can be considered a bogey golfer. It is not good but not too bad, especially when you are a newbie.
Others who have higher handicaps than 18 are high handicappers. Though, it does not mean they are too bad. In golf, your handicap is affected by the slope and course difficulty when you spend most of your time playing.
>> See the 12 Best Golf Balls for High Handicappers in 2023
A golfer who has a ten or less handicap in an easy course may not play ten strokes over par in another course that has more traps and a higher slope rating.
3. Scratch Golfer
A scratch golfer is the one who can play to course handicap zero in any rated golf course. His handicap is zero or below, and his average score is par or better in one round. However, this kind of player is not usually a tour player or a pro.
Even though a high handicap can bring some advantages, no one wants to be considered a bad player all the time. Most of us want to be scratch golfers one day.
What Is Considered a Good Golf Handicap?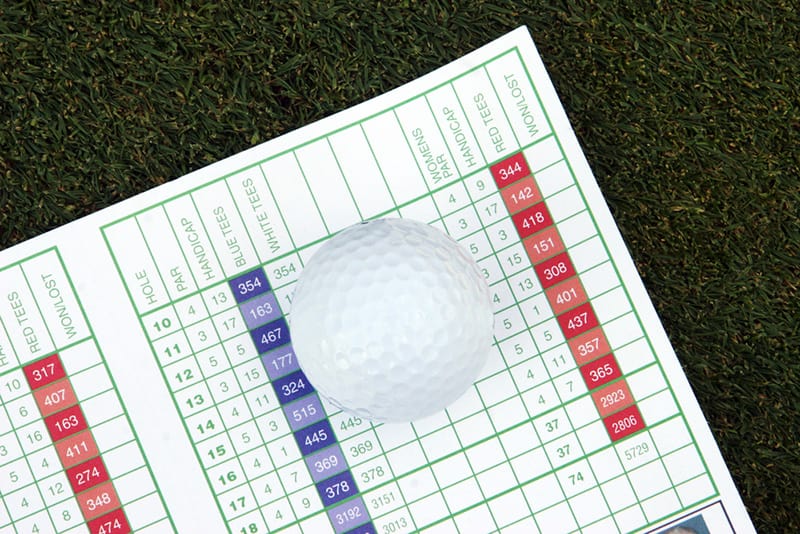 Before going to answer what a good golf handicap is, we should know about the performance of average players of both genders.
According to the USGA handicap index statistics, the average number for men is 14.2 and for women is 27.5.


These indexes above are gathered between two million registered golfers across the USA. Though, there are many who play occasionally and don't have any official handicap. They can be weekend golfers or recreational ones who play for fun.
However, we can base on the two charts of the USGA to conclude that the average handicap lies from 14 to 28. Therefore, a good golf handicap can be understood to be below milestone 14.
Besides, as I mentioned before, a handicap can be seen from a personal perspective. People who have ten handicaps may think this index is not good enough and try to reduce it to 5 or fewer in the future.
How to Lower a Golf Handicap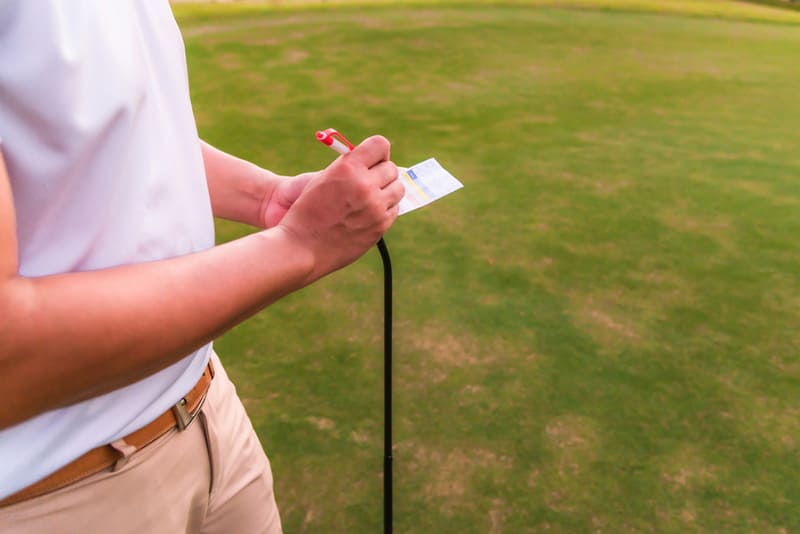 Lowering a golf handicap is not too hard, especially when you have a high one (more than 15 or 20). There are so many ways to improve your situation, but I will give you six tips that have worked for my friends and me for years.
Practice your long and short games: There is no limited time for practice, even in golf or any things you try to improve in your life. So, grab your bag and go to the range; you can ask a coach for help, then fix your posture, swing speed, etc.
Recheck your facilities: It is never too late to recheck the facilities before going out to play or have some fun with your golf mates. The worn grooves on your wedges or an old grip can lower your speed, shorten your yards and make your handicap higher.
Build a core strength: Going to the gym and serious practice stretching can change your game in the most surprising way you can imagine. If you keep your core stronger, you not only improve your swing posture and swing speed but also limit injuries in your games.
Challenge yourself by changing courses: If you play one course for a long time, you can feel too comfortable and loosen your score gradually. Playing in different courses can help you build your skills and freshen your game easier.
Play alone: It may feel boring when going on the course alone, but after doing this, you may thank me later. You can play in winter or cold weather with a special golf ball and an uncrowded course. Then you can try multiple times at one hole without worries.
Track your score: Even when you need to change your wedge or driver distance, or any statistics, tracking what you have done and comparing is a good way to do it. You can easily see whether you have improved or not and adjust your training lessons in time.
If you don't want to change your swing speed, you can see the video below to know some useful tricks to lower your handicap:
FAQs
After reading all the things I provided above, you may have many things that need to be explained. Therefore, I choose the most frequently asked questions and answer these below. I hope you can find what you want.
Is a 14 Handicap Good?
According to the USGA handicapping stats, 14.2 is the average handicap index for men. Therefore, if you have a 14 one, you need to practice more to lower it. And if you are a woman, congrats, your handicap is good.
How Good Is a 20 Handicap in Golf?
If you have a handicap from 18 to 20, you can be considered a bogey golfer. It is pretty bad, and you need to practice more to decrease your index.
What Handicap Do Pros Have?
According to golf.com, the average tour player has a +5.4 handicap. There are some players who have zero and negative numbers.
Is 7 a Low Handicap?
Yes, seven can be considered a low handicap for both men and women. However, handicaps may be seen from a personal perspective. So, a seven score can be higher for some players who have zero or five handicaps.
Conclusion
If you are curious about what a good golf handicap is considered, you may not want to miss my article. I provided you with all information and indexes from reliable sources and based on my experiments in playing golf for years.
Do you agree with me? If not, please show me your point of view by commenting in the box below. I am willing to hear anything from you, and I can be happier when you share my article to discuss with your mates.
Thanks for reading!
Related articles: