The main reason why golf is so expensive is its high cost of equipment, training courses, clothing, green fees, and so on. These huge expenses make the sport less attractive to low- and middle-income players.
However, after knowing what you are paying for in golf, you will assess whether it's worth it. This game costs you an arm and a leg to play. Golf equipment, especially golf clubs, is shocking for tens of thousands of dollars.
It is hard to play golf without spending a lot of money. But do not let the cost scare you because each expense is worth the investment. The following sections are a thorough analysis of the prices involved in playing golf.
Besides, in this article, I will discuss some tips on how to save money while golfing. Let's check it out!
>> See also: Is Golf a Dying Sport?
Top 10 Reasons Why Golf Is So Expensive
People who take up golf can be shocked by its various expenditures, including clubs, bags, balls, fees, and training. It's no secret that you can improve the final result without lots of costly equipment and practice.
So, why does golf cost so much? This section will dig deeper into various aspects that cause golf to be expensive. Scroll down to read more details!
1. Coaching and Mentoring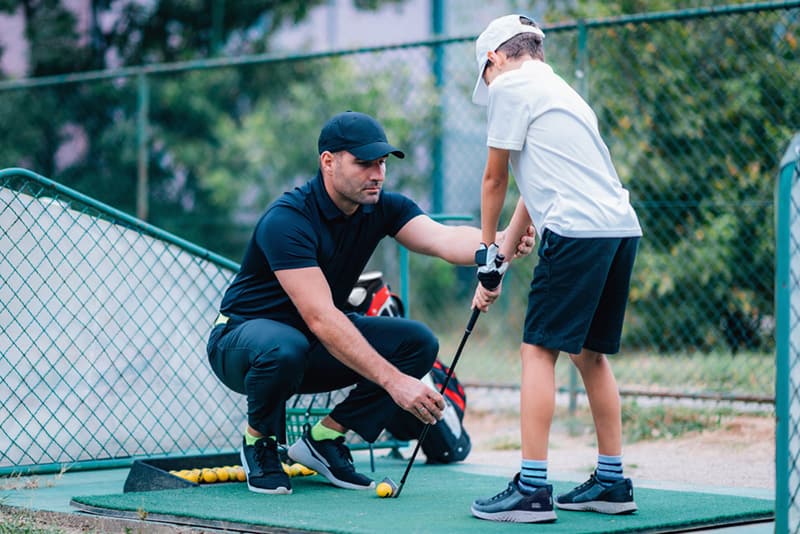 For any sport, constantly learning and practicing is indispensable if you want to become a professional player. Proper training will stop you from forming bad habits, thus achieving better scores in this game. Thanks to that, you will feel motivated to continue playing golf.
However, the fastest way to improve your skills and boost your final results is to take golf training courses. Depending on the type, length, and coach's experience, the cost of a golf lesson will change considerably.
Below is a list of the typical costs for each lesson type. While some courses focus on correcting your posture through a few specific methods, others emphasize golf technology, swings, and game-specific tweaks.
Private lessons: $25 to $75 or even up to $100 to $150 per hour session.
Group lessons: $20 to $40 per hour session.
Partnered playing lessons: $75 to $150 per hour session.
Spending thousands of dollars a year to make a massive difference in your scores is prevalent in the community of intermediate golfers.
Sometimes, novice golfers need long-term mentoring and guidance to become advanced, which means the cost will add up quickly. Nevertheless, this is regarded as an imperative investment for people who are serious about their golf careers.
2. High Price of Golf Equipment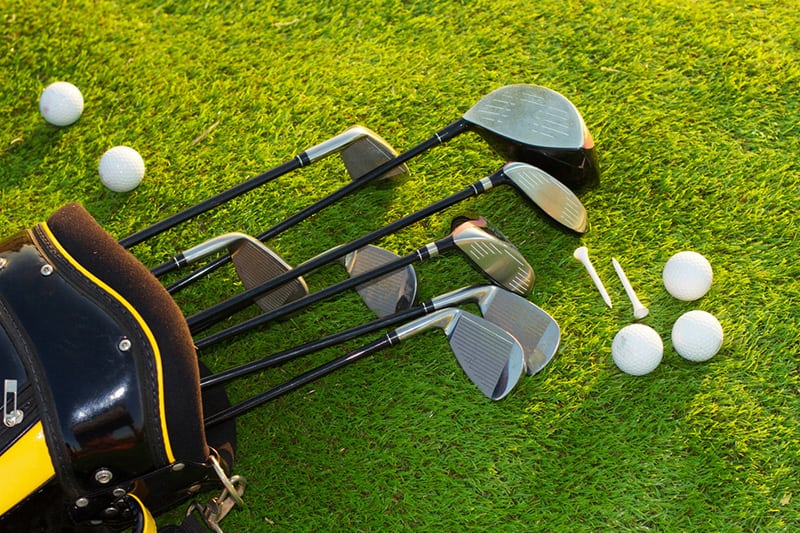 Without a doubt, the cost of golf gear always accounts for an enormous percentage of your budget. That's because you must spend a lot of money buying high-end or at least top-quality items instead of throwing them out the window with cheap models.
I can imagine how frustrated you are when you must replace your golf equipment with a new one too often. In the meantime, this hardly occurs with high-quality items built to last and consistently deliver high performance.
Besides, technological advancements are also an essential factor. The price of golf equipment gets higher every year since leading companies try to modernize their products. They incorporate artificial intelligence while updating the latest golf technology into new versions.
Many golfers, mainly advanced players looking to challenge their limits, will love trying these newest models, no matter how expensive. Besides, anyone who desires to improve at this sport must keep their tools up-to-date continuously.
It is not critical to replace your equipment each year, but most golf gear is terribly outdated after every five years. Therefore, updating your golf set in pieces rather than all at once is a good idea. Remember that all tools are an expensive upfront cost, and they will last for many years.
Buying a pre-used golf set is indeed much more reasonable, but for some people, peer pressure and a mentality force them to own brand-new qualified products.
3. Expensive Accessories
No matter how experienced you are in golf, owning basic equipment, including a club, ball, and cart, is imperative. These tools are compulsory, although you simply want to play golf for fun or enjoyment.
However, professional golfers tend to expand their list with add-on items such as GPS systems, rangefinders, simulators, golf bags, golf ball retrievers, club covers, etc. Each gadgetry could cost between $1000-$1500!
These optional accessories even cost hundreds of dollars, but you still need some of them to become a great player. GPS units provide feedback on course layout, while rangefinders tell you how far you are from the golf hole; thus, ensuring your golfing shots will go right.
Additionally, you can combine your pair of alignment sticks with simulators to practice creating perfect pitches. Remember that buying a golf set is always more affordable than individual golf gear. In addition, golf accessories are only vital for some players.
Nevertheless, due to the popularity of these items, more and more people accept that they cannot play a round of golf without them. Another reason golf is so expensive is that you have to update and change these accessories quite often, which requires extra costs.
A standard golf bag allows players to keep up to 14 clubs inside. This means that you have to pay thousands of dollars to own all types, such as wood, irons, wedges, and even a putter. Therefore, golf clubs are undoubtedly one of the most expensive pieces to replace.
It is still a huge investment whether you spend money on a used or brand-new set. Moreover, as a seasoned golfer, I do not highly recommend you buy a standard set for $10 from any thrift shop. That's because there is no guarantee of its quality and performance.
Depending on your playing levels, the cost of golf clubs varies considerably. Beginners should get started with between $250 and $600 sets, while mid-handicappers should go for a set ranging from $700 to $2000.
That's because an intermediate's set will be equipped with at least one hybrid club while novice players do not need this. In addition, at this price range, mid-handicappers can freely choose to add a wedge to their sets.
Experienced players definitely want a full high-end set which often ranges from $1,300 to $2,000. Thanks to that, they will have a soft feel of blades and a forged design for better spin control and workability.
Among various types of golf clubs, the drive is commonly the most expensive one. A brand-new golf club set usually costs between $1000 and $2000, and only a driver costs $500. The cost of golf clubs is based on the material they are made from and how many pieces come in a set.
It is possible to play golf without a full set of golf clubs, which means that budget-friendly golfers can buy them one by one. Generally, they opt for a basic set with a Driver, a Putter, and an Iron, which costs $50-$60 per club.
>> See Also: How Much Does It Cost to Get Fitted for Golf Clubs?
In the comparison table below, I give an overview of the estimated costs of each club.
Golf clubs
Highlights
Prices
Drivers
● Fly the golf ball further.
● Easy to achieve a positive experience with the new version.
● Help your ball travel the farthest when struck correctly.
Mainly between $299 and $599, depending on the material, brand popularity, and specific technology.
Irons
● A perfect combination of distance and accuracy.
● Extra weight on the toe section gives greater forgiveness.
● A blade-like head offers great stability.
● A thinner face creates more distance.
$50 to $150
Woods (3-wood and 5-wood)
● Rounded faces and smaller heads.
● Hit the golf ball off the ground.
$49 to $1,900
Hybrid
● A perfect combination of an iron's accuracy and ease of hitting.
$150 to $299
Wedges
● Overall weight is heavier than that of irons thanks to high lofts, short shafts, heavy clubheads.
● Generate more precise "lob" shots from short distances.
● Perfect for keeping a golf ball out of water hazards.
● Heavy clubheads make it easy to navigate through sand, mud, and thick grass.
● Grooves give more ball contact.
$150-$599
Putters
● Have a flat face under 10 degrees of loft.
● Hit the golf ball on the green.
$159 to $399
Other Accessories
Besides, as I said above, there are some typical accessories you must own to take your game to the next level. Let's check them out in the following table!
| | | |
| --- | --- | --- |
| Item | Function (s) | Price |
| Golf Bag | Carry all your golf clubs and gear | $100-$650 |
| Golf Tees | Hit the ball from them | $5-$10 |
| Golf Ball Markers/ Divot Repair Tools | Fix divots and ball marks on the green more easily | $5-$20 |
| Retractable Club Brush | Clean your golf clubs | $5-$20 |
| Golf Towel | Wipe down your clubs, hands, etc. | $8-$30 |
| Weather Gear (often pants and a jacket) | Enable you to play golf when it starts to rain | $15-$100 |
4. Losing Golf Balls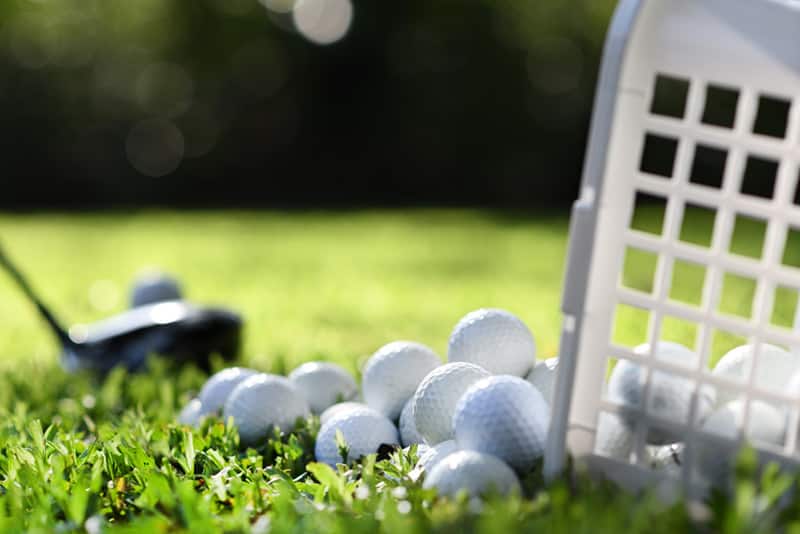 Many golf courses are designed with woods, sand traps, and even water hazards to make playing golf more fascinating and challenging. Although players indeed get enjoyable experiences, this is more likely to cause your golf balls to be lost.
>> Check out the 10 Best High Visibility Golf Balls in 2023
Many golf courses are designed with woods, sand traps, and even water hazards to make playing golf more fascinating and challenging. Although players indeed get enjoyable experiences, this is more likely to cause your golf balls to be lost.
Golf balls are often sold by the dozen, typically from $10 to $50 for 12 units. Hence, if you lose all just after a round of golf, this will be associated with extra costs for buying a new dozen. I suggest you buy golf balls for beginners which contain ionomer instead of urethane covers.
This will save you a great amount of money in case you have to replace a new set too frequently. Although they are affordable items, they still ensure low spin and ideal distance. Conversely, if you are extremely careful and rarely lose one, just continue to play with premium models.
5. Golf Attire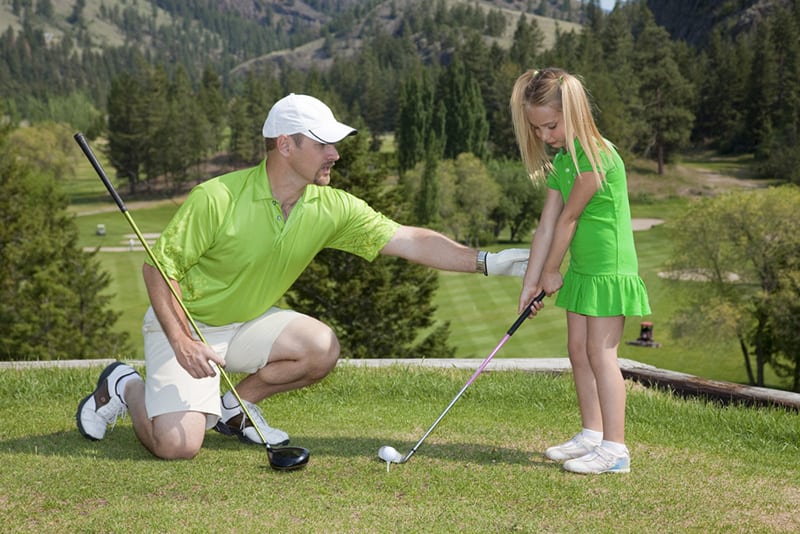 Commonly, golf clothing is more expensive than regular clothes. When you purchase golf jackets, golf socks, golf shoes, or even golf rain gear, it is expected to pay higher prices. For example, a golf shirt always requires you to spend a bit more money than a T-shirt does.
There are two main reasons for this. First, since the majority of golfers have a high level of disposable income, brands manufacture items with higher quality as well as fancier designs. They use premium fabrics combined with excellent fits and deluxe features.
Besides, advanced functions such as UV protection and moisture-wicking technology are also incorporated into many golf clothing options. In the meantime, golf is usually considered an occasion for formal wear, which contributes to enhancing the game's prestige.
Wrong attire will make you stand out and feel embarrassed. Typical outfits for a golfer include a collared or turtleneck shirt, long pants, and shoes. You can also wear a pair of soft socks to prevent blisters and skin burns.
It is a bonus point to wear a hat that keeps your head from getting too hot when you play golf in the summer. Generally, entry-level players spend several hundred dollars on golf attire, including polo shirts and shorts, along with other accessories like belts, hats, and gloves.
People sometimes have these items already at home, which allows them to save a lot of money. However, amateur players still need to buy a pair of golf shoes with notable spikes that provide stability and balance on the green.
See the following table and determine whether golf attire's cost will break the bank.
Item
Reason
Price
Golf shoes
● Help your body achieve excellent balance on the golf course.
$30-$100 a pair, depending on the brand
Golf gloves
● Optional but highly advisable.
● They protect your hand from blisters.
● Give you a better grip so that sweat cannot make your club fly out of your hands.
$10 to $15
Golf pants
● Give a sense of flexibility and comfort during a round of golf as well as walk around the course.
● Their water-repellent finishes help prevent spills and keep you cool.
$30 and $80 per pair
Golf shirts
● Breathable.
● Allow for a full range of motion on your swing.
$10 to $60
Hats
● Keep the sun out of your eyes when playing.
● Offer a nice look.
Models made from moisture-wicking material often cost $36
Belts
● Keep your pants up.
● Add style to your wardrobe.
$20 or much more, depending on the material and style
Golf socks
● Protect you from skin burns caused by sweat.
● Help you feel comfortable when playing golf for a long time.
● Provide a good and solid base for every golf swing.
$15-$25
6. Green Fees
No matter where you plan to play golf is a public, semi-private, or private golf course; you must pay the cost called green fees. Usually, a player has to pay around $20 to more than $500 to be allowed to enjoy a particular golf course.
Green fees cover overall operating expenses for a golf course; thereby, you can always enjoy it with excellent conditions, layouts, and customer service. The higher the green fees, the better services you receive.
Green fees are not a significant expense, but if you play golf every day or a few days a week, they will become a massive deal. For these cases, joining a golf club and paying for a membership is more practical.
Total golf time in a week is also a huge factor affecting green fees. It is apparent that you must pay more to play on a Saturday or Sunday morning instead of a weekday.
7. Golf Memberships
Golf subscriptions cover costs such as annual membership, green fees, cart fees, along with countless other amenities. However, membership initiation fees are really a matter because they range from $1,000 to $100,000 but only include the cost of getting you in the door.
This explains why golf is not an affordable sport for the average person even though private membership packages have been proposed to save money.
If you play golf as a sport to exercise or relax with friends on the weekend, then becoming a golf club member seems unnecessary. By contrast, diehard players will get a variety of benefits from their golf subscriptions because they can save a lot of money usually spent on a driving range.
Owning a private golf subscription, you also have a chance to use a wide range of facilities such as gym, tennis court, and swimming pool. Below are a few aspects of the golf membership fee, including:
Initiation fees: You just have to pay once, and it is usually between $2,000 and $150,000, depending on different golf clubs. Of course, semi-private courses are always cheaper than private ones. And public places are the cheapest.
Food and beverage minimums: $50 to $150 per month minimum on food and beverages.
Annual dues: $3,000 to $10,000 per year, depending on the membership type.
Miscellaneous fees: The costs of ancillary amenities are not included in the annual or monthly dues. They are often used to pay for locker rental, club storage, and cart fees.
8. Course Maintenance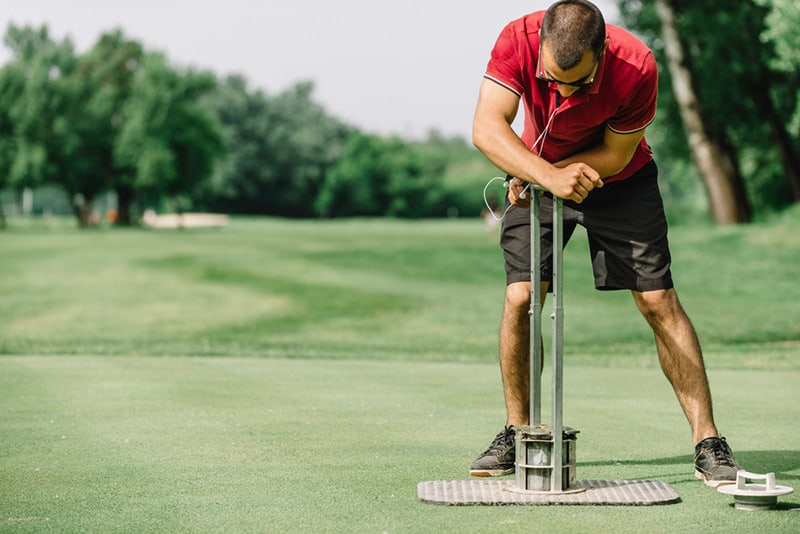 Golf courses must always be kept in pristine shape, and this will not get any cheap. You will need a well-trained staff who daily upkeep your golf course. Besides, special and pricey chemicals and water should be used to maintain excellent conditions.
Golf course maintenance makes your green fees more expensive. However, it is worth paying for them. You cannot improve your skills as well as get better results when practicing on a run-down private golf course.
9. Staff
As I mentioned above, golf courses need staff for daily maintenance. Nevertheless, another important reason is that numerous personnel are hired to teach golf training courses or support amateur players who often encounter multiple problems in the early stage.
Staff on a golf course is regularly hired based on strict requirements. They are professionals, even incredible golfers, who understand this sport clearly.
It is not affordable to train these people, which explains why golf often requires high expenses because it offers you the best services.
10. Large Amount of Land
Anywhere around the world, the land is prohibitively expensive. In the meantime, golf courses take up quite a bit of land, which means that there are countless taxes to pay on the ground and substantial maintenance expenses.
To compensate for all those lease and mortgage expenditures, golf courses must ensure enormous revenue. This leads to higher green fees, cart fees, etc.
11. Additional Fees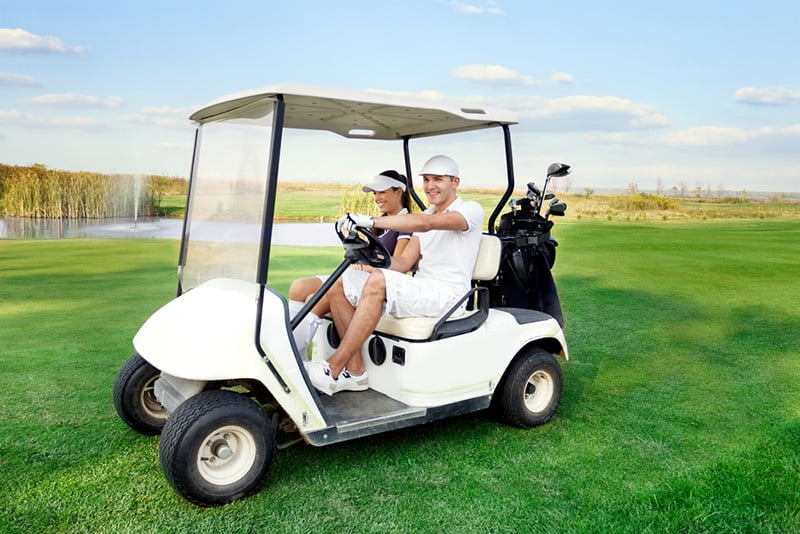 The cart fee is a typical cost in addition to the green fee. While the average cost of the green fee is $35, that of the cart fee is $25. Therefore, some players feel cheated and tend to invest in a push cart instead.
However, the idea of walking across the golf course is only appropriate for some. Some golfers find this slows them down, while others have physical diseases that prevent them from walking. Furthermore, some areas on the golf courses are restricted access.
How to Save Money When Playing Golf?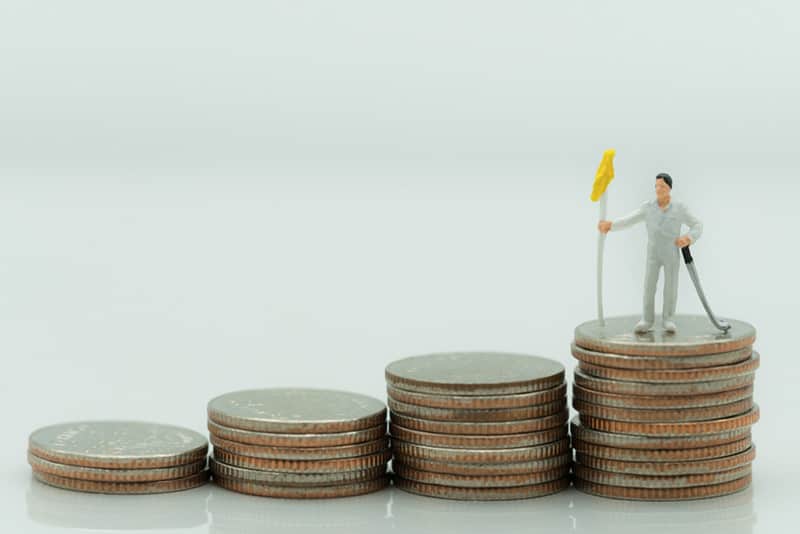 Golf is expensive to play, which makes it less appealing to middle-class players. However, there are some effective ways to save money while enjoying this sport. The standard rule is that you do not need to wear the most expensive clothes as well as use the most pricey equipment.
Here are a few valuable tips for spending less on golf:
Play at public courses:
Although public courses are less well-maintained than private ones, they are cheaper and fantastic enough to play.
Rent clubs:
It is not reasonable to invest in a full set of golf clubs, plus beginners often have no idea which type is the most suitable for their levels. Therefore, it is a good idea to try out a few models from a local pro shop first and then decide to buy your own.
Go for cheap hybrid clubs:
Beginners usually hardly take full advantage of a hybrid club. Thus, there is no need to spend much money on high-end models since they hardly realize the differences in using these golf clubs.
Play with used balls:
Used golf balls are definitely cheaper than new ones. But you should check them for damage before hitting a shot so that the final result accurately reflects your performance.
In fact, golf ball quality does not matter to average golfers. Therefore, there will be no problems with your final results even when you hit inexpensive golf balls. Your score will not be improved if your swing mechanics are poor and your ball striking is erratic.
>> Read more: Recycled vs Refurbished Golf Balls: Which One Is Better?
Join a league:
If you play golf frequently, joining a league is a great way to save money on green fees. In addition, you also have a chance to receive discounts as well as other benefits for league members.
Take lessons:
For novice players, properly developing skills and techniques are essential instead of trying to get the best result. Besides, they also need to avoid forming bad habits. Participating in at least one golf training course will save you much money later.
Do not hire a golf cart:
If you have no health-related problems, I highly recommend walking around the course instead of renting a golf cart. This saves you money and allows you to enjoy picturesque surroundings along the way.
Furthermore, walking is a great way to exercise in winter, which helps to keep your muscles warm by burning calories.
Choose a cheap golf bag:
Wasting money on expensive golf bags is not essential. Just purchase a lightweight, durable, and affordable item!
Buy cheap golf clothes:
There is a common misconception that the more expensive golf attire, the higher the quality. However, in fact, clothing is relatively identical, and you are just paying for its brand.
Frequently Asked Questions
This section will enrich your knowledge by giving the most frequently asked questions as well as their short answers. In addition, if you missed reading some important parts in this article, you can recall essential information here.
Is Golf a Rich Person's Sport?
Yes. Golf is a sport associated with the wealthy and well-off because you must lighten your wallet to play it. Golf clubs come with extremely high price ranges; it can easily cost you a few thousand dollars just for the basic equipment.
Besides, there are tons of other expenses, such as your club membership, training courses, golf attire, and so on.
Can Poor People Play Golf?
Yes. Some municipal golf courses do not require high entrance fees. In addition, used golf clubs and balls can be purchased at affordable price tags.
Is Golf a Luxury Game?
Yes. Golf is an expensive sport that only equipment can cost up to thousands of dollars. In addition, there are tons of other expenses to pay, such as membership fees, green fees, golf clothing, etc. Wealthy people think luxuries like golf are no big deal, but not everybody agrees so.
Why Do Businessmen Play Golf?
Most golfers are people who have high incomes; hence, no wonder if they are primarily entrepreneurs. Playing golf gives excellent opportunities to meet countless entrepreneurs, which expands your social networks as well as discusses your collaboration over a fun activity.
How Expensive Is a Round of Golf?
For a round of golf in the US, a golfer must pay $61 on average. This cost includes green fees and optional items such as golf balls and gear rentals. However, the fee for food and beverages is rarely included in that price. Only golf memberships offer this.
>> See also: How Long Does a Round of Golf Take?
Final Thoughts
Golf is regarded as the world's most satisfying and relaxing sport, but the cost you must pay to play it is not affordable for everyone. Nevertheless, having explicit knowledge of where your money goes will help you understand why all investments deserve higher performance.
It would be best if you had a full breakdown of where your golfing cash goes by now. I highly recommend constructive comments and suggestions since this shows you have read my article carefully. Please put all of them in the comment box below.
You can help other golfers know this valuable information by sharing the post on Facebook, Twitter, and other social platforms. My respective buttons below are always ready to help you.
Thanks for reading!
Related articles: