In addition to the commonly used standard golf balls, you will also encounter some unusual balls with special symbols like those with X-mark. People call those with this distinctive marking 'X-out balls'.
So, What are X Out golf balls? Besides having a special symbol compared to regular balls, is there anything else you should know about them? Why are these marks made? What is the underlying meaning?
To clarify the above question, keep reading and find out the answer in this article!
What Are X Out Golf Balls?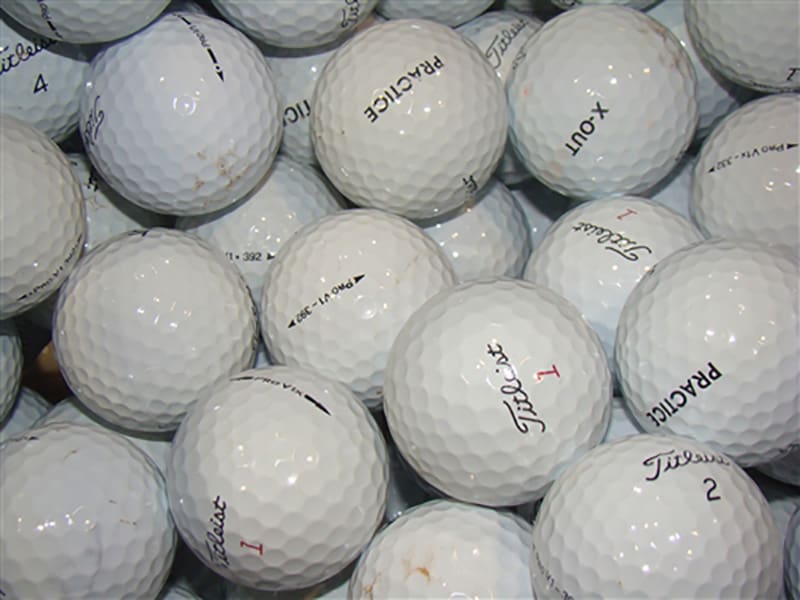 Making a golf ball is probably not easy with several stages. In order to qualify and reach the customers, a golf ball must conform to the strict rules by the USGA. It is a complex process with tons of quality tests to create the perfect ball for the user.
Besides, the demand for golf balls is continuously increasing as the game becomes more and more popular. Therefore, manufacturers have to focus on both the production speed and product quality, making it harder for them to take care of every golf ball with full attention.
As a result, some golf balls may have small mistakes and are not perfect as required. It may result from a mechanical problem, a production line, or an unexpected error in some step that the ball is dented, scratched, blurred, or printed with the wrong logo.
Golf balls with such small mistakes are filtered out by manufacturers as X-out golf balls. However, these mistakes are only aesthetic imperfections without significant impacts on the quality.
Therefore, instead of throwing away these balls, the factory will pack them together in a separate box and mark an X along with the brand name. They are cheap balls for new players or recreational non-pro golfers who prioritize the budget.
How Did the X Out Golf Ball Appear?
As you may know, the difference between legal and illegal golf balls is that the legal one strictly complies with the R&A regulations. Therefore, a qualified ball must undergo several tests and quality check processes before putting on sale.
During the manufacturing process, the maker will continuously eliminate sub-par balls to guarantee homogenous quality. At this initial stage, filtered out balls often have a wide variety of errors, ranging from minor to very serious ones.
X-out balls are balls that appear in the quality screening process. They have all features and quality met the standards; however, not perfect in aesthetics. It means X-out balls are as usable and acceptable as any other standard balls.
Benefits of X Out Golf Balls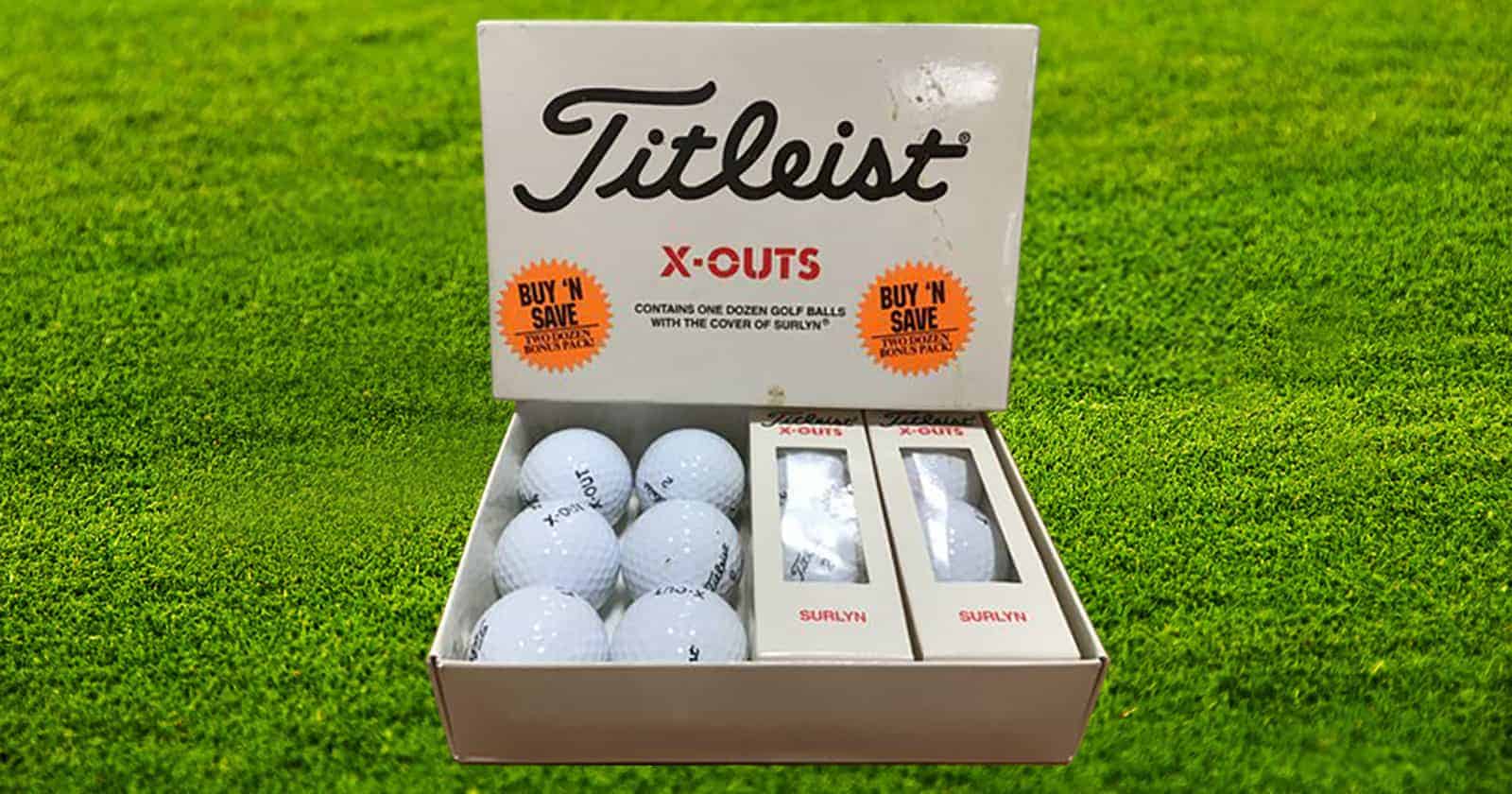 Let's ignore its appearance, and you will see that the X-out is good. This product has many practical benefits for you and your golfers.
These balls often have very few flaws or simply a little aesthetic impact, and their quality is not inferior to any qualified balls of the same type.
Therefore, they are economical balls for practice that all golfers can choose from. X-out balls will help you save a lot when playing a sport that is famous for the rich.
Besides, if you are losing your balls frequently, choosing X-out will also save you an amount. Hence, you can play more comfortably with minimal concerns of losing 'valuable properties'.
Or, if the terrain is not ideal and there is a risk of damaging the ball seriously, a cheap X-out ball is a smart option.
Practice vs. X-Out Golf Balls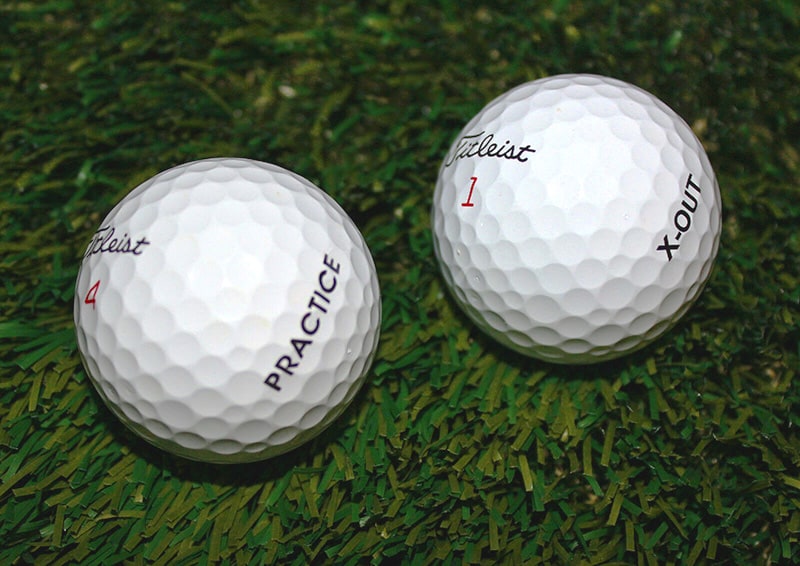 The basic X-out ball is still a qualified ball. They only suffer from one limitation: they do not meet the manufacturer's aesthetic requirements and are not allowed in competition.
Meanwhile, the Practice ball is specifically designed for practice. They are on the current list of legal balls that are recommended for tournaments.
| | | |
| --- | --- | --- |
| | Practice golf balls | X-out golf balls |
| Usage | For practice and training, tournaments | For beginners, non-pros in informal games |
| Features | Light, short distance | Similar to standard balls |
| Appearance | Perfect | Imperfect |
| Price | Affordable | Cheap |
| Distinction | Printed with a circled 'P' or 'Practice' | Printed with X-marks |
In general, X-out balls are defective products that form during the manufacturing process. And Practice balls are produced for a specific purpose to serve a certain group of people.
Although the purpose of initial appearance is different, they have the same characteristics of being cheap and suitable for new players. Both are good products for practicing and playing and having fun with friends.
FAQs
For your better understanding of X-out balls, I've rounded up a few related questions with full answers below. Kindly check out if you are interested!
Are X Out Golf Balls Legal?
As previously mentioned, the X-out ball is not on the list of Conforming Golf Balls regulated by the USSA. Therefore, they can be considered illegal balls that are not allowed to appear in competitions.
That is to say, if the leagues don't apply those regulations, you still have the opportunity to bring your daily practice ball onto the field.
However, to win the competition, professional golfers always prepare competition balls from reputable brands like Callaway or Taylormade.
They will use those expensive balls for important occasions and use old balls, cheaper balls for daily practice. Also, in small tournaments, some players may also choose the X-out ball for its economic benefits.
The reason why the X-out golf ball was not on the USSA golf association's list was because of the manufacturer. In fact, manufacturers do not report X-out balls to the USGA for quality tests, so it was probably not recognized.
Are X Out Golf Balls Any Good?
Yes, for sure. They are not only satisfactory to play but also budget-friendly for the player. Even if the X-out ball comes from famous brands such as Callaway, Taylormade, Titleist, the price is still affordable for everyone.
Therefore, this type of ball is the perfect choice for training sessions. They also make it possible for more people to join the sport.
Where Can X Out Golf Balls Be Found?
These days, X-out balls are very popular. So it's very easy for you to find and buy. You just have to go to golf clubs, golf stores and retail stores for a black or white box that is clearly marked with an X. Those are the imperfect-looking but qualified balls you're looking for.
Conclusion
What Are X Out Golf Balls? Simply put, these are substandard-looking balls that the manufacturer markets at a very competitive price that any golf lover can afford.
Using X-out balls saves you a great deal of budget while guaranteeing the results. Therefore, owning a ball like this is totally a wise choice.
Have you ever used an X-out ball? How do you feel about it? If you find my content useful, don't hesitate to share it with your friends and people around!