As a golfer, you may find it familiar to see different numbers marked on the golf balls. Have you ever wondered about those numbers?
Simply, those numbers help people distinguish. But, what are these distinctions? Also, how many numbers are marked on golf balls? Or why are there different digits?
Keep reading to find the answer for all these questions one by one, together with a detailed explanation of What do the numbers on golf balls mean!
What Do the Numbers on Golf Balls Mean?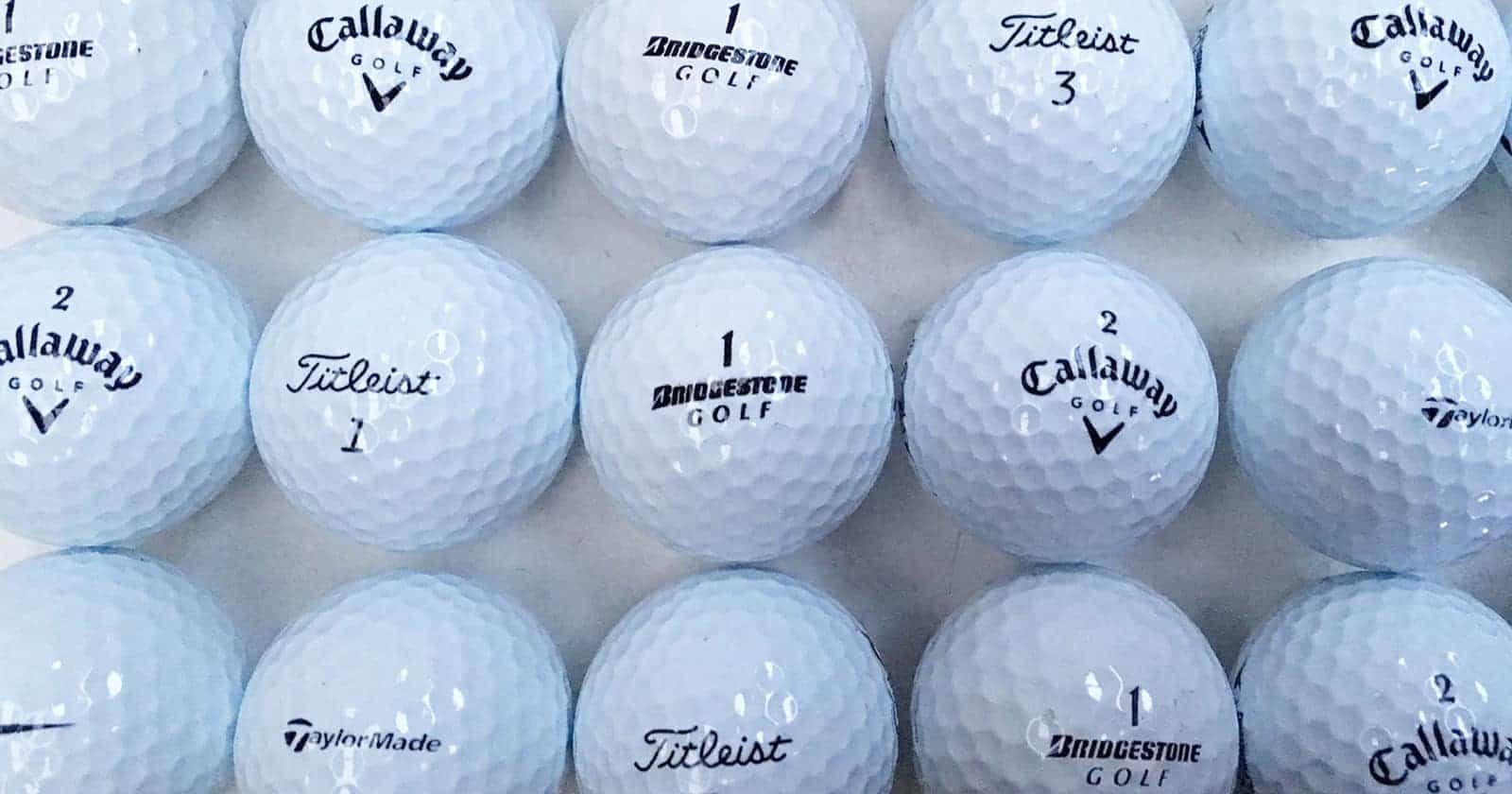 Each number marked on the golf ball has an interesting meaning that you may have never heard about. Below are some common ways of numbering you may notice.
1. The One-Digit Number
Each golf ball will come with a specific number (from 0-9) to distinguish among those of the same types. These one-digit numbers are normally printed right below the brand name, near the horizontal line of the ball.
The most common marks are the numbers from 1 to 4. To explain, many people would purchase golf balls in dozens. As a result, they will normally receive 4 rows of balls, and in each row, there will be 3 equally numbered balls.
In other words, one sequence will consist of 3 balls numbered 1, another sequence will be 3 balls number 2, and so on for the remaining sequences.
The sole purpose of this number is to distinguish your ball from another player. As a result, it prevents taking the wrong ball and helps you avoid penalties in matches.
For example, in a match, players may take their ball from the same ball carriers. In this case, a player with a ball numbered 1 can distinguish his ball with an exactly similar ball that is numbered 2.
If golf balls of the same types come in the same numbers, one solution is to use a permanent marker. Specifically, users can customize the ball by signing, writing their name or leaving any special marks. This is also what most golfers prefer to do.
See Also: 12 Best Golf Ball Markers in 2023
2. The Two-Digit Number
In the 1990s, 2-digit number marks on a golf ball represented the ball's compression. According to these numbers, you may know the compression level of each ball, thus determining which one is softer or harder, bouncier or less bouncy.
At that time, ladies' golf balls often had a low compression index ranging from 70 – 80, while male golfers may need balls with up to 100.
See Also: 13 Best Golf Balls for Seniors in 2023
However, as time passed, some people argued that this gendered way of marking shows discrimination and affects the demand for buying.
Therefore, this meaning is not common for today's golf balls. Instead, the ball's compression rating will be expressed through other factors and indications, like swing speed, features and more.
At present, two-digit numbers are printed for aesthetics or as required by customers. However, if you use old balls from several years ago, you may understand the number as compression ratings.
Besides, some manufacturers may opt for larger numbers to make their balls look more special and distinguishable. Moreover, many players have a 2-digit number as their lucky number, so this is also appealing to them.
See Also: 12 Best Glow in the Dark Golf Balls in 2023
3. The Three-Digit Number
Besides the one- or two-digit numbers on the ball, you may also come across some golf balls with three-digit numbers on them.
These numbers are usually marked from 300 – 500, equivalent to the number of dimples on the ball. But again, that's not common for modern golf balls.
You will rarely see a three-digit golf ball numbering, except for old balls or some limited versions. For example, Titleist added a 3-digit number on its Pro V1: 392 in Pro V1 and 332 in Pro V1x.
I could not deny that the number of dimples will affect the functionalities of a golf ball. However, this is not the only indicator that evaluates its performance.
Of course, if there is no dimple number on the ball, the manufacturer will provide this information outside the box or somewhere else.
See Also: 10 Best High Visibility Golf Balls in 2023
4. Other Numbers on Golf Balls
Many professional golfers will probably choose for themselves numbers of favorites or symbols that are meaningful to them.
For instance, Sergio Garcia used to choose the number 10 for his balls because it marks the Champions League championship of a favorite team (Real Madrid).
Another example is Justin Rose. He said that 'Kate' – his wife's name, is equivalent to the number 9. So he chose the number 99 with the meaning of double luck. He even decided to print this number in gold to commemorate his gold medal in Olympics 2016.
And today, many manufacturers allow players to customize any number on the golf ball to their liking. Therefore, the number printed on golf balls gradually became something of personal preference, thus varying in meaning and mainly acting as a distinguishable mark.
FAQs
Below, I have gathered and answered some of the most frequently asked questions that people are asking in the golf community about what the numbers on their balls mean.
Why Are There Numbers on Golf Balls?
Today, the market has several types of golf balls, but players tend to choose similar models that are popular or come from reputable brands.
Therefore, the numbers on modern golf balls are mainly used as a symbol that helps players distinguish their ball easily in each match. Because as explained, distinguishable balls prevent players from hitting each other's balls and breaking the rules.
What Are the Allowed Numbers on Golf Balls?
Most manufacturers still choose small numbers from 1 to 8 as the main. However, there is no limit to the numbering on golf balls in reality.
Some manufacturers are willing to print larger numbers. Some players will personalize balls with the numbers printed in different colors, mostly in black and a few more in red.
What Is the Difference Between a High Number and a Low Number?
It is common for amateur players to assume that golf balls with low numbers are designed for beginners and vice versa.
However, as explained above, the numbers on modern golf balls are nothing more than a distinguishable mark that is selected based on personal preferences. Therefore, there is no significant difference in meaning between high and low numbers.
How Do You Use a Straight Line on a Golf Ball?
Many people often just put the ball down on the ground without even determining their ball path. Therefore, a straight line marked on the golf ball will help you see the ball center so as to hit the ball with maximum impacts.
Also, the line will point to where you want the ball to go, thus encouraging a straight ball shot. It also helps you adjust the right body positions and movements for a good shot.
What Do the Red Numbers on the Golf Ball Mean?
Many people mistakenly believe that the red ball is a special ball or an illegal golf ball. But in the past, red numbers on golf balls present low-compression balls, while black would indicate higher-compression balls.
However, that doesn't make sense with modern balls anymore. Red or black on these days' balls doesn't represent anything special other than distinguishable marks.
Conclusion
Above are the numbers that can be written on the golf ball and what it means. If people in the past used numbers as indications, numbers on modern golf balls mainly present personal meanings and preferences for the purpose of distinguishing.
Hopefully, the information I share will be useful and help you fully answer the question "what do the numbers on golf balls mean?". Thereby, it would be great if you could choose a suitable number to personalize your own ball.
Please share if you find my content helpful, and don't forget to check out and support other articles as well!